'Beef-eating is the new media frenzy that is being orchestrated to wrongly implicate the BJP government and is reminiscent of the false anti-Christian acts highlighted by the media when the BJP first came to power in 1996,' says Vivek Gumaste.
Illustration: Dominic Xavier/Rediff.com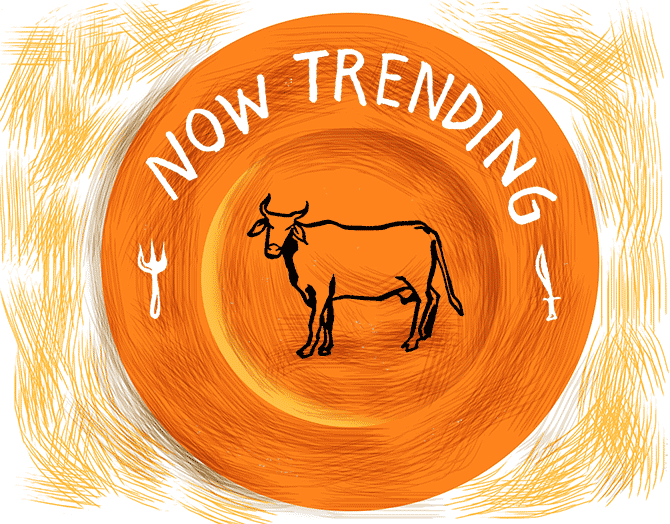 That the brutal stabbing death of a Muslim teenager aboard a Mathura bound train on June 22 over a seat altercation is a senseless, odious atrocity that warrants outright condemnation, there can be no doubt.
That it signifies a serious deficiency in the maintenance of law and order and a disturbing streak of public delinquency, is unquestionable. Needless to say, the guilty must be brought to book and convicted.
But what is even more despicable and troubling is the crass Machiavellian design to exploit this unfortunate tragedy for political and ideological ends by injecting an incendiary element -- beef-eating -- into this secular felony.
Initial reports clearly stated that the cause of altercation was seat sharing.
According to Scroll.in, Sanowar Khan (Junaid's cousin) clarified: 'The fight started because of seats and got worse because they passed communal remarks. They were carrying no meat with them...' (external link)
The Hindu reported: 'A youth was stabbed to death and his two brothers injured when a group of people attacked them inside a crowded train following a dispute over a seat.' (external link)
The FIR registered in the case mentions that the scuffle took place over availability of seats, said the Indian Express (external link), and Haryana's Director General of Police B S Sandhu denied that the incident happened over an argument regarding beef.
Accused of carrying beef, teen killed on train (external link), said The Times of India.
By several accounts, this incident was triggered by a question of seat-sharing which soon escalated into a war of words with communal slurs culminating in a ghastly stabbing death of Hafiz Junaid.
Nevertheless, it is interesting to note how the narrative of this incident undergoes a subtle but ostensibly contrived transformation over the course of the next few days.
Beef eating becomes central to the case; the dispute over seats is relegated to the backburner.
This is typical of a classic modus operandi that has been the strategy of a certain brand of activists.
Pick up a mundane street crime, embellish it with exaggerated shocking details and sell it as an act of communal violence or in this case implicate 'beef' (the current buzz word) as the trigger factor to put your adversaries on the defensive and elicit greater public condemnation.
Beef-eating is the new media frenzy that is being orchestrated to wrongly implicate the Bharatiya Janata Party government and is reminiscent of the false anti-Christian acts highlighted by the media when the BJP first came to power in 1996.
Subsequent scrutiny revealed that the anti-Christian vandalism was a campaign of deliberate fabrication aimed at embarrassing the BJP government (Anti-Christian Acts: Myth and Reality).
In order to make this incident more repulsive than it actually is, disparate cases are being deceptively clubbed together to portray a pattern of widespread diabolism instigated by the charge of 'beef-eating' and primarily directed at Muslims as this excerpt from an op-ed indicates.
Sushil Aaron writes in the Hindustan Times: 'There is no doubt that a form of medieval madness has taken over India in the shape of Islamophobia and regular lynching of Muslims in different states...'
'The lynchings have become so common that we do not know which one to respond to. Should we weep for Mohammad Naeem in Jharkhand or Hafiz Junaid in Haryana?'
'How many remember the details of Pehlu Khan's murder in Rajasthan? Mohammad Akhlaq is now just another milestone in this steady journey of wanton death?' ((external link))
Four isolated incidents are being touted to project a similarity that does not exist and indulge in a sweeping generalisation that is outstandingly suspect.
For one, Mohammed Naeem was killed not because of 'beef eating' nor because he was a Muslim.
He was one of seven individuals killed in Jharkhand by tribals on charges of child abduction.
Three of the seven killed happened to be Hindus (external link), according to the Hindustan Times.
In all honesty, only one or possibly two (if we stretch our imagination) of the four killings listed above can be arguably linked to 'beef eating' vigilantism.
Such writings are a deliberate attempt to distort facts, vitiate the atmosphere and create discord in society; not a display of mature responsibility or upright citizenry.
Criticism of such falsification is not designed to muzzle the expression of free speech or obstruct acts of discrimination being brought to the fore; it is a call to ensure a degree of honesty, accuracy and integrity in reporting.
If these bleeding-heart liberals are under the impression that they are doing a service to the Muslim community by championing their cause, they are sadly mistaken.
On the contrary, they are engendering a fear psychosis and creating an unwanted sense of insecurity in the Muslim community that can make day to day life uncomfortable.
Moreover, such loose talk is certain to provoke indignation and rage that are invariably going to stoke the flames of hatred and revenge and prove to be a fillip to radicalism.
So, whether it be the wanton lynching of a deputy superintendent of police with a Hindu sounding last name (Pandith) by a Muslim mob outside a mosque in Srinagar or the rampant killings of Hindu nationalist Rashtriya Swayamsevak Sangh volunteers in Kerala or the barbaric stabbing death of Hafiz Junaid by a clutch of Hindus aboard a train in Haryana -- all point towards one factor: The disruption of law and order by a combination of police apathy and crude civilian audacity.
By enumerating these three different incidents, I wish to highlight the interchanging identity of the perpetrators and the victims and stress the common strain that runs through them: Lax law enforcement and civilian disrespect for the law.
Also, this cannot be interpreted as an attempt to dilute or diminish the impact of Hafeez Junaid's killing.
By this comparison I wish to inject a uniform standard (as opposed to present double standards) and an impartiality that is vital to maintaining a sense of decorum in a large diverse country with myriad ideologies and conflicting interests.
Instead of getting embroiled in a game of finger-pointing, ideological wrangling and political grandstanding that does nothing more than to distract us from the crux of the matter, it is important that we hone in on the pertinent factor to set right the affliction that ails us: Civilian disrespect and lack of fear of the law and enfeebled police efficacy.