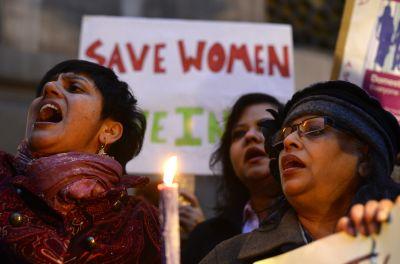 What is going on?! How can an amazing country like India face such highs and lows? Where do these brutes come from? Who are these people who are hijacking the goodness of this country? Who created them? Did we? Can someone please tell me what went wrong with India.
My sister said to me, on e-mail, the other day: India is a very endearing country, in spite of its issues.
Yes, no question about it.
Indiais a very endearing country
But then you open the newspaper, or log onto the Internet, in the morning and read the news of the day.
You are then literally stepping on a roller-coaster of emotions.
Some bits of news just warm your heart.
Other bits quite literally make you want to cry. Weep.
Some news makes you feel both anguished and happy, at the same time.
Other bits make you feel immense sorrow and real fury, at the same time.
Yet another gruesome gang rape is today's awful shocker. This time: in Mumbai. Of a young trainee photo journalist, working on an assignment, not alone but with a male colleague.
My young daughter has spent her free time, between college classes, during Diwali and summer breaks, trying her hand at photojournalism. She is just 18. I have firmly encouraged her to move around, toughly, on her own on buses, on foot, in taxis, in the hot sun or through monsoon deluges, with her camera, by herself sometimes, taking whatever pictures she needed.
It was with complete, soul-shaking horror that I read what happened yesterday in central Bombay.
It could have been my daughter.
I have never felt Mumbai to be unsafe, in a Delhi kind of manner. As a journalist I have moved about without fear, since I was 23, covering news at odd hours, in strange places, during riots, post bomb attacks, whatever.
Indian women journalists as a breed are really tough, admirably tough. Tougher than most women you would ever encounter, and you learn to be that way. Sure there was danger to face and situations to conquer, in a male-dominated world, but not ever rape!
Contrarily I always tell people it is a huge advantage to be a woman journalist in India. When you travel on a beat anywhere -- into slums, morchas, offices of top bureaucrats/the police/ministers/business houses -- you are always treated respectfully, offered a seat, and coffee to boot, while a male colleague could be shown the door.
How can a rape like this then happen in Mumbai, and to a journalist?
You read news like this and what else can you feel but sheer horror and total sadness?
A few days ago it was the obituaries of Dr Narendra Dabholkar. The more you read about him -- about whom you knew so little, embarrassingly -- you realised what a simple, decent, honourable human being he was. What an unusual person to have worked for these aspects of change for India, against such odds. The kind of person you probably will only find in India. Brave. Amazing. Patriotic. Down to earth. His story completely warms you.
And then you view the picture of him lying slain on a Pune street, killed in cold blood. The Death of a Good Soul.
Who could do that?
Why, why, why?
You can only feel sorrow, a deep sorrow. Sorrow that came hard on the heels of that warm feeling you had just minutes before.
Next up is a report about young women being harassed at a heritage monument in Maharashtra. There is a picture of idiot-faced goons shadowing the girls, brazenly face on, with cellphone cameras. It is anger this time. Anger for what every day girls/women have to face across India, powerlessly, including your own daughters.
Are my daughters safe from acid attacks and random vile perverts that are harmlessly and wrongly labelled eve-teasers? What a stupid, inappropriate word for such a destructive activity! It was the unchecked eve-teasers that became the monsters that took a life in December in Delhi. And are probably responsible for the attack yesterday.
Anger. You seethe with it
Then there was a piece by my colleague Sheela Bhatt about a Bengali cook, with a beautiful smile, living across the Yamuna in the National Capital Region, working 20 hour days 24x7. A simple, poor, overworked woman, who has faced an immensely difficult life and earns not much. And she believes her future is good. And she can still smile.
She is able to smile in the face of adversity. Wow. A tale that showcases the beauty of India's people: their solidness, their dignity, their strength, their ability to face despair with incredible fortitude. And not whine. But smile. A story that makes you feel warmed, but also sad; bittersweet.
Further you read about the baba-godman that allegedly raped a young girl and devotee, who came to him for 'treatment' in his ashram in Chhindwara, Madhya Pradesh, while her mother waited outside the door. Another seesaw of emotions. Stark anger.
The next U-turn of mood. A small snippet: 'Palanquin as ambulance' for patients in remote places in Assam. The Assam health minister is organising a hundred palanquins to reach places where its emergency service ambulances cannot reach. If it works that's amazing stuff.
A few more swift plunges in the roller-coaster…
An update about the scores of villagers who were run over by an express train in Bihar, because they were standing on the track trying to board their train at Dhamara station and were ignorant of the fact that another train could come through. More sadness… Pakistani art vandalised in Ahmedabad. Disgust. A young American woman attacked with blades by a pickpocket on a Mumbai suburban train. Shock…
Then a snippet about a 14-year-old girl who was shot on the Bangladesh-India border and her massacred body hung on a barbed wire fence and photos of her corpse were flying across the Internet. Absolute horror.
I can't take it. I close the newspaper. I would rather listen to music.
That's when you ask yourself: what's going on?! How can an amazing country like India face such highs and lows?
Our strengths are so apparent. In a country where life is not easy for anyone, let alone for someone from the poorest segment of society, it is touching to see that India produces some of the finest people one can ever run into. Deeply civilised. Kind. Genteel. Helpful. It does not matter what strata, on a daily basis one bumps into all these gems of human beings.
So where do things go wrong? Where do these brutes come from? Who are these people who are hijacking the goodness of this country? Who created them? Did we?
Is India's famous insaniyat diminishing? Is this some new "rage" we are encountering? Or are these instances being better reported? Are, as a colleague suggested, the "stark economic disparities" that never ever earlier affected India's essential insaniyat, feeding this?
It is my guess that a man like Dr Dabholkar would not have been killed the way he was on Tuesday, 10 years ago.
Nor would a journalist have been raped in Mumbai.
So, please tell me what is wrong.
Is it our democracy that is causing these issues?
But we have a wonderfully raucous democracy. We are happily/unfortunately the most democratic country in the world.
Everyone has a voice. Everyone wants to be heard.
Anyone can take a morcha into the street, even during rush hour in Mumbai. Anyone can build a shrine in the middle of the road. Anyone can take out a wedding procession, with bhangra dancers, horses, band baaja down a narrow but busy road. Anyone can walk barefoot across the country carrying his god…
Has the dheelapan (looseness) of our democracy allowed these brutes to thrive and rule the roost?
Give me an answer, someone.
Why are these things happening more and more in a great, endearing country like ours?