Everything about ISIS had indicated that this would be a violent Ramzan.
A violent, divisive Ramzan sends out exactly the message that ISIS wants to send to religious Muslims outside its fold: It plays on their faith and fears, says writer Tabish Khair.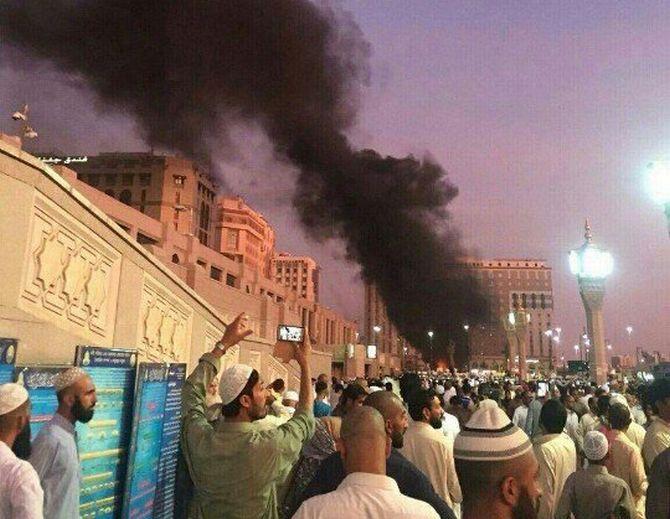 IMAGE: People gather near the Prophet's Mosque, one of Islam's three holiest sites, soon after the blast on July 5, 2016. Photograph: Twitter
I write this essay two or three days before Eid-ul-Fitr is to be celebrated. Eid marks the end of Ramadan, the holy month of fasting for practising Muslims, a month that has to be lived simply and peacefully, with an effort to avoid negative thought and action.
Anger, violence, hostility are to be renounced. Some traditions even claim that, if possible, enemies are to be reconciled in this month.
But I need hardly remind the reader that, this year, the month of Ramzan has been ripped apart by Islamist violence, incidentally claiming its victims mostly in Muslim countries.
Over the past week alone, there have been bombings in Saudi Arabia, and far more deadly attacks in Iraq, Turkey and Bangladesh.
I could list all of them, but I prefer not to repeat stories of villainy and violence in the month of Ramzan.
If I have to tell stories from this week, I would prefer to talk about the 20-year-old Bangladeshi (Muslim) man, Faraaz Hossain, who chose to not abandon his Indian and American friends when he was given that option by the terrorists during the atrocity at the Holey Artisan Bakery in Dhaka on July 1. He was killed along with them.
That date, July 1, is part of the answer to the question that most people are asking today: Why this spate of violence by Islamists during the peaceful month of Ramzan?
There are actually two complementary answers to it. Both the answers have to do with ISIS and its ilk, but, alas, they also have to do with trends among many peacefully religious Muslims.
July 1 was a Friday. The executioners of ISIS who struck at the Holey Artisan Bakery were probably motivated by the common fundamentalist conviction that a Muslim should not be in a bakery on a Friday during the fasting of Ramzan. This grisly logic is nevertheless rooted in a tendency among other (peaceful) religious Muslims: There has been growing intolerance of differences within the communities of Islam.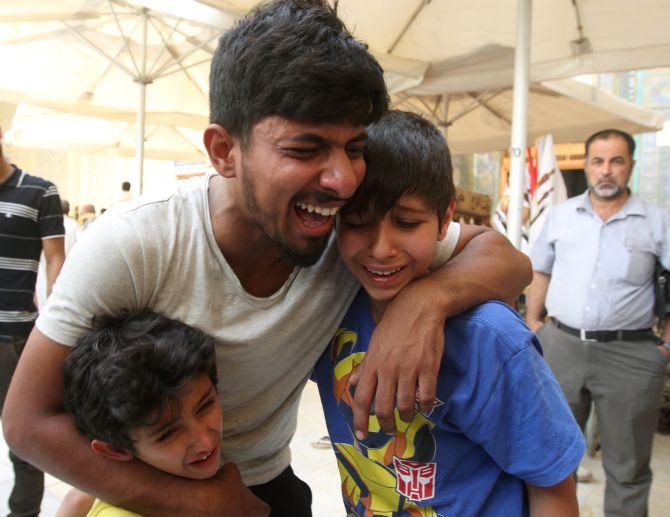 IMAGE: Mourners at the funeral of a victim killed in the horrific attack in the Karrada shopping area in Baghdad, July 4, 2016. Photograph: Alaa Al-Marjani/Reuters
It has become increasingly difficult in many Muslim mohallas to be a Muslim and practise the faith differently. It is possible for most Hindus, Buddhists, Christians and even Jews to practise little or nothing of their faiths and yet to be accepted within large sections of their communities. This is seldom the case among Muslims, if they live with other religious Muslims.
I have Jewish and Christian friends who are confirmed atheists, but can move openly, freely and with mutual respect among religious Jews and religious Christians. This is almost impossible to imagine in most Muslim societies today.
ISIS, in that sense, is a natural outgrowth of peaceful fundamentalist movements like Wahhabism, which have been relentlessly narrowing down the definition of what it is to be a Muslim. That ISIS and its ilk have killed far more Muslims than non-Muslims is a direct consequence of this.
Fundamentalism finally consumes its own children, because it increasingly disowns most of them.
The other answer is the millenarianism of ISIS and its roots elsewhere.
As Graeme Wood pointed out in The Atlantic last year, there is a difference between 'jihadists' -- who can be motivated by many political factors, including nationalist protest in the Middle East -- and the 'jihadists' of ISIS.
Wood noted that much of what ISIS does 'looks nonsensical except in light of a sincere, carefully considered commitment to returning civilisation to a seventh-century legal environment and ultimately to bringing about the apocalypse.' He went on to argue that at least the ideologues of ISIS are, consciously or unconsciously, motivated by a desire for apocalypse.
This is not as far-fetched as it sounds.
Almost everyone who has grown up among religious Muslims at least in the subcontinent knows the mythical prophesy of apocalypse, which follows a period of totally anarchy among Muslims, and then the restoration of Muslim glory for a few decades. This is a central myth in Sunni sources.
Consciously or unconsciously, ISIS sees itself as embroiled in the period of anarchy which has to be crossed before Muslim glory is restored and then apocalypse comes.
This period of anarchy is significant: as it is supposed by some Sunni ideologues that it would be distinguished by violence of Muslims against other Muslims, by a total divisiveness of the kingdom of Islam. Hence, violence during the holy and peaceful month of Ramzan fits this picture.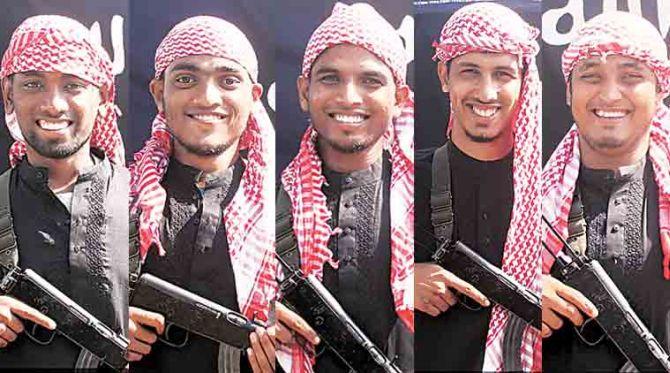 IMAGE: The US-based SITE Intelligence Group published photographs of the Dhaka attackers.
Looking back, and knowing what we know of ISIS, I wonder why religious Muslims did not expect this from ISIS. Everything about ISIS had indicated that this would be a violent month. A violent, divisive Ramzan sends out exactly the message ISIS wants to send to religious Muslims outside its folds: It plays on their faith and fears.
Once again, it is not sufficient for religious Muslims to just disown ISIS. ISIS has not come from outer space; it has grown up among religious Muslims.
While no doubt the many political troubles in Muslim lands, some of them due to external interference and manipulation, continue to provide ISIS and its ilk with their desperate foot-soldiers, the ideology driving such militant organisations is based on tendencies also present among many peacefully religious Muslims. These include intolerance of internal difference and a negative, proto-apocalyptic view of the future.
Sadly, unless religious Muslims face up to these tendencies and do something about them, ISIS -- or something like it -- will always be able to get the odd (vainglorious, frustrated or confused) Muslim to kill many other Muslim (and non-Muslim) men and women during the Ramzans to come.
Eid, I grew up believing, was the festival when you embraced even your enemy. If so, perhaps this Eid, very religious Muslims can try to embrace differences 'within the fold,' including those of gender. Differences 'outside the fold' will prove easier to accept as a natural consequence.
And even apocalypse might start to seem less pressing.
Tabish Khair, an associate professor in the department of English, University of Aarhus in Denmark, is the author of The New Xenophobhia. His latest novel, Jihadi Jane, has just been published by Penguin in India.