'Free India turns 70 this year.'
But 'freedom from whom and freedom for what?' asks Rajendran Narayanan.
Illustration: Dominic Xavier/Rediff.com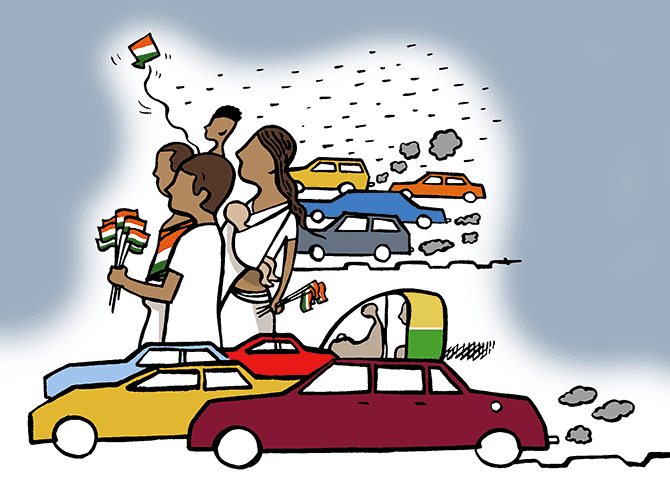 It was around 3 pm and I was walking back from the Centre for Equity Studies near Mother's International School towards Green Park in New Delhi.
As I neared the IIT flyover traffic signal near Hauz Khas, I noticed three children and an infant at the intersection selling national flags.
The flags varied in size from that of a hand fan to bigger ones, which are popular during cricket matches. They were made of plastic sticks with tricolour painted thin plastic sheets stuck to them.
There was a little girl carrying an infant who was selling small flags for Rs 10 each. I bought one from her.
She left soon after selling me the flag, chasing more autos and cars stuck in traffic.
Rakesh, around 10 years old, was selling the bigger flags. I didn't want to buy them as they would have been cumbersome to carry.
A little boy, Hemraj, around seven years old, came running towards us from across the street. His hair had acquired the brown colour -- a typical texture derived from a combination of dryness, grime, dust, and pollution.
He had a broken tooth and a viscous salad of dry and fresh mucous had settled on the bridge between his nose and mouth.
He was selling the hand fan-sized tricolours. His hands were little and couldn't carry the burden of the bigger flags.
Hemraj made me an offer. He was willing to sell two flags for Rs 10. I couldn't refuse the discount. I bought two small flags from him.
Rakesh burst out saying that he may have been better off selling the little flags.
"Nobody here wants to buy big flags," he lamented.
"What is it that you are selling?" I asked.
"Rashtriya jhanda" came the response in a chorus.
"Why are you selling flags now, in January?" I continued.
Once again the response was in chorus, "26 January is in two days, that's why."
Their response indicated a certain obviousness about their enterprise.
"Why is it important to sell flags for January 26? What is so special about that day?" I asked.
Hemraj shrugged his shoulders and looked keenly at Rakesh, hoping the older of the two would have more wisdom to respond to this question.
Rakesh smiled, and said, "26 January is 26 January. That's all. What else?"
I did not wish to probe further.
As the three of us sat on the central divider and chatted, Rakesh announced emphatically that he was adept at making shapes with paper without tearing or cutting them.
He offered to take a Rs 10 note and make an M shape with it. I sought permission from him to take a video of the process.
Rakesh was egged on and supported by Hemraj, who waved the flags behind him as he relented, made an M shape with an old Rs 10 note within a minute. He was proud of his feat.
We sat and watched the video of Rakesh's performance, cheered and laughed at the end of it.
I wondered what the M shape meant.
I thanked them for taking the time to talk to me and agreeing to be videographed.
Just as I was departing, Hemraj laughed out loud, called me, and said, "Bhaiya! remember to buy kites from us before August 15."
I write this on the 67th anniversary of adopting the Constitution of free India.
Free India turns 70 this year. This anecdotal incident raises at least two critical questions.
First, freedom from whom and, second, freedom for what?
The fundamental right to equality, right to education and right against exploitation, all enshrined in the Constitution, are routinely violated every day across the country.
There cannot be any justification to the irony of a seven-year-old being pushed to sell kites as opposed to flying them on Independence Day.
It is agonising to note the acceptance of such violations as par for the course on the one hand and beating one's chest and mouthing pithy phrases like 'India is Great' and 'Unity in Diversity' on the other.
The normalcy about the image of kids dishing out a commodified notion of a nation for a meagre price is not only disquieting, but frightening.
And this at a time of hypernationalism, when the entire discourse of being patriotic is being reduced to rather useless and hazardous binaries.
It should be a matter of grave concern that our 'collective conscience' is not troubled enough to act on such normalised sights, but is instead allayed through numerous instances of retribution and hating the 'other.'
And, as far as what it means to be free in India, I suppose the likes of Rakesh and Hemraj would be more reticent and offer us variations of singer Donovan's words: 'Freedom is a word I rarely use without thinking.'
Don't MISS the MUST READ features in the RELATED LINKS below.