'I wonder how much of the guilt do I bear for having started off the cycle in the first place by giving her a job,' says Keya Sarkar.
Illustration: Uttam Ghosh/Rediff.com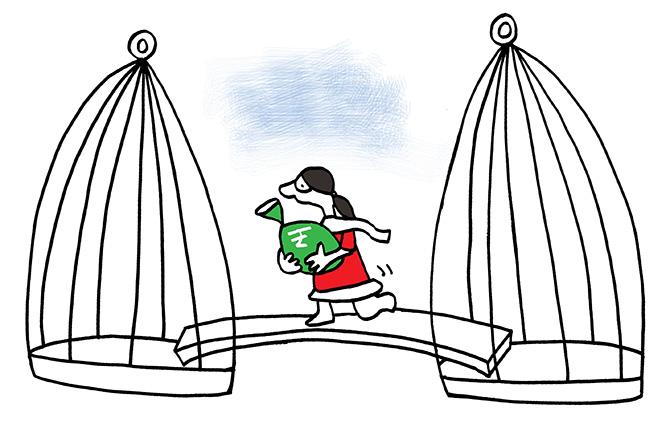 In my 15 years in the crafts business in Santiniketan, there have been a few times when social researchers have come to meet me.
Their agenda is always to figure out the social impact of businesses like mine.
Of all their questions the one which I have come to dread over the years is, whether my enterprise is aiding "women's empowerment".
Many of the girls I work with have in the years that we have worked together gone through a divorce.
The reason is that over a period of time, they tend to earn more than their husbands, given the paucity of well paying rural jobs for men.
With more money in their hands, their expectations and aspirations undergo a huge change no longer compatible with those of their husbands.
Invariably, this leads to love interests outside of the marriage which have become far easier to conduct thanks to personal mobiles.
The girls are also generous in showering gifts on their current paramours.
Soon the husbands find out what's going on and after a few months of efforts at reconciliation, the answer is divorce.
But unlike women in urban upper middle class homes these girls do not have the option of living alone in their villages.
So a divorce invariably means coming back to the parents's house.
As the girls have little in common with their parents's aspirations, the life there is no different from what it was with their husbands: The girls have money but no freedom to do what they wish with it.
Soon the parents start looking for another suitor and strangely they find them too.
The girls invariably have one condition for agreeing: They should be allowed to work after marriage.
After some negotiation, the boy's family agrees.
And then, of course, there is the whole logistics to sort out.
If she is getting married a distance from her place of work, there is much concern about how she will travel.
Is there a direct bus from the village?
Are there other girls who also travel to nearby locations from the village and such like.
After all this has been sorted, the two families set a date and the girl mentally prepares for a new life.
But recently, there seems to be another twist in the tale.
The girls often ask me whether members of her future in-laws family can visit our workshop and meet me.
They are keen to know where exactly their daughter-in-law will be travelling to and spending the whole day.
I invariably agree, curious as I am to know what kind of interrogation I will be subjected to.
My anxiety is unwarranted because village folks are more often than not intimidated by women like me.
They ask a few questions look around the premises, talk to the other women and leave happy to know that the reality of the workplace matches the picture that that their daughter-in-law had painted.
The wedding happens and the girl is seems happy to begin with.
It reflects in her clothes, the glitter of her costume jewelry.
But all too soon, it fades and the conversation I begin to overhear with her colleagues is all about the amount of money she has to spend on the family.
The seeds of discontent are sown.
I wonder how much of the guilt do I bear for having started off the cycle in the first place by giving her a job.
Is this how "women's empowerment" plays out?