The India-Japan joint naval exercises are a strategic signal for China, observes Dr Rajaram Panda.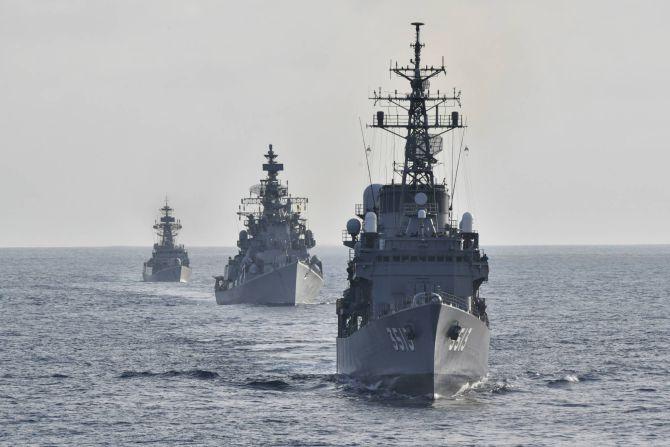 Over the years, India-Japan relations have assumed a multidimensional perspective covering economic, political, strategic and cultural areas.
Backed by historical and civilizational commonalities, the narrative in the current times has not only been shaped by mutual economic interests but is also shaped by regional strategic congruence.
Both are confronting a common hegemon, which is threatening to challenge the existing established global order in utter disrespect to rules of law and global norms that have shaped relations among nations during the post-War years.
In order to cope with this new challenge, countries in the region and also in Europe have expressed concern about China's increasing assertiveness and threat to use of force to achieve its objectives.
China's claim of its peaceful rise is false as evidenced by its recent activities.
How to cope with this new situation? The smaller nations in the South East Asian region individually are no match to challenge China's military muscle.
China's forays in the South China Sea that it claims as its own despite that the international tribunal ruled against China having any legal basis and disregarding the legitimate claims of some Southeast Asian nations, its threat of use of force against Taiwan to integrate the island nation with the mainland, suppression of human rights in Hong Kong, territorial spat with India, pursuing its strategy of economic domination through its Belt and Road Initiative are some of the issues that send alarm bells across the world.
These have prompted the adversarial countries to be prepared to face any eventuality of Chinese wrath.
After eyeing on the South China Sea, China is attempting to extend its strategic maritime footprint into the Indian Ocean region, where India's own interests - economic and strategic - are enmeshed.
In the light of these, several bilateral and multilateral initiatives are being developed to strategise a counter narrative.
In the light of these and amid recent stand-off with China, the India-Japan naval exercise held in the Indian Ocean on 27 June 2020 assumes significance.
Days before this bilateral exercise, Japan and the United States also held a joint exercise in the South China Sea.
China has not only threatened Japan over Senkaku Islands, it also threatens the use of force against Taiwan.
In order to check China's increasing maritime footprint in South China Sea and Straits, the United States also deployed three of its aircraft carriers - USS Ronald Reagan, USS Theodore Roosevelt and USS Nimitz -in the maritime region near China, which did not go down well with China.
If one connects these dots, the joint exercises are to send a clear message to China that its overdrive is unacceptable.
The India-Japan joint naval exercises, though was "largely a PASSEX (passing exercise)", it definitely amounts to some strategic signalling for China.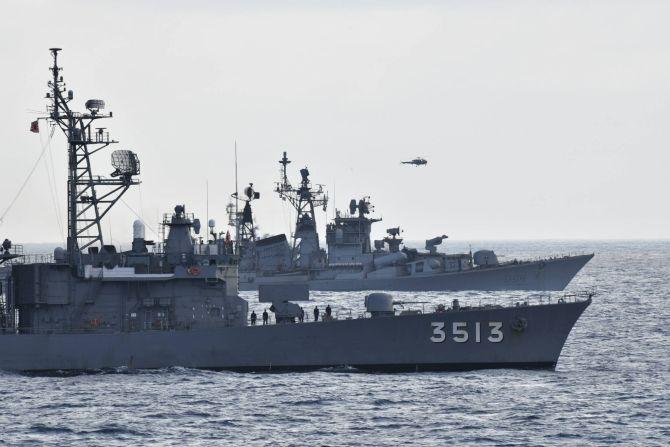 In fact, the Japanese Navy has become one of the principal partners of the Indian Navy.
On many regional issues, both the countries are on the same page and shared concerns, most recently being Japan's public support to India during the Doklam crisis.
Japanese warships JS Kashima and JS Shimayuki of the Japan Maritime Self-Defense Force Training Squadron joined the exercise with the Indian Navy's INS Rana and INS Kulish.
This was the 15th such exercise undertaken by the Indian and Japanese navies in the last three years.
Though naval exercises are now common between the two countries, the timing of the present exercise is significant as it took place amid the military stand-off between India and China in Ladakh.
The Japanese Maritime Self-Defense Force was cautious in describing the manoeuvres as designed to 'promote mutual understanding'.
Indeed, as described by Vice Admiral Pradeep Chauhan, director-general of the National Maritime Foundation, India used the exercises for 'strategic communication' and that the navies were 'not there for combat purposes, but for signalling'.
Toshihide Ando, spokesperson for the Japanese embassy in New Delhi, was emphatic in saying that the 'content of this exercise is tactical training and communication training, with no specific scenario'.
In view of the stand-off in Ladakh, India has put its navy on high alert and deployed its assets to thwart any misadventure by the People's Liberation Army Navy from the sea.
Greater understanding between the Indian and Japanese navies by bilateral exercises compliments the Malabar exercises, which includes the United States.
Though the Chinese are far away from developing a carrier in the Indian Ocean, greater presence of the Indian and Japanese navies can deter Chinese naval assets from making inroads in the Indian Ocean.
So far Indian policy has been to deal with China on issues such as the ongoing Ladakh crisis bilaterally and has shunned outside mediation or intervention, which is why it rejected Unite States President Donald J Trump's offer of mediation.
As regards Japan, it only publicly supported India during the Doklam crisis and only expressed condolences over the deaths of 20 Indian soldiers in the Galwan Valley and made no comments on Chinese casualties.
Japan itself has territorial disputes with China over the Senkaku Islands and has been strengthening its naval capabilities to deter an increasingly assertive China, though it kept on hold recently on the missile defense system that was planned to secure from the United States.
Japan perceives threat both from China and North Korea, with the latter firing missiles that flew over the northern island of Hokkaido no long ago.
However, though the North Korean threat is limited to the North eastern Asia, threat from China spans a larger swath of Asia.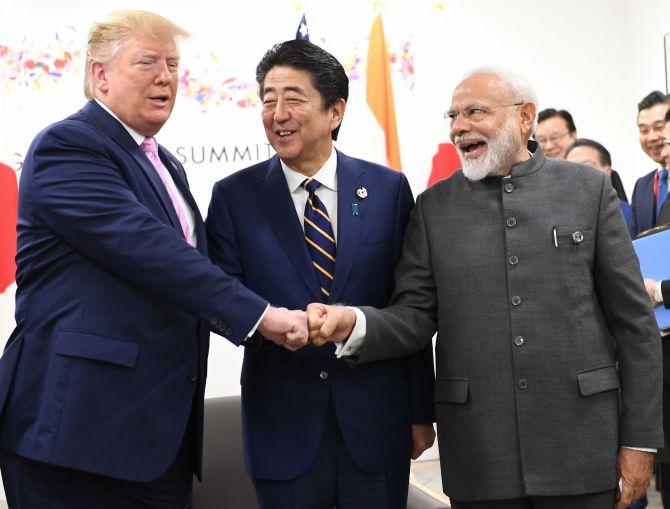 Though Prime Minister Abe Shinzo has made it his life mission to amend the country's pacifist constitution, especially Article 9, in order to convert the Self Defense Forces into a full-fledged army, the challenges he faces are huge.
By reinterpreting the constitution, some of his objectives such as collective self-defence have been achieved.
As a part of the reinterpretation, Abe has allowed the country such as inducting a 'helicopter destroyer' that has some tonnage as India's aircraft carriers and is now building a 'helicopter carrier' which has a full flight deck.
Japan has one of the best non-nuclear submarines in the world and cutting edge anti-submarine warfare technology.
Masashi Nishihara, the well known Japanese defence and strategic expert, observes: 'We are leaders in submarine detection. Not only can we find them, we can identify any variety of submarines.'
Hereafter, the high-voltage Malabar naval combat exercises between India, Japan and the United States are going to be more important.
These three countries, like small neighbouring nations, are concerned about China's muscle-flexing in the Indo-Pacific region, especially in the South China Sea.
There is a possibility that Australia would also be invited to join this war game.
India is keen that Australia joins the exercises as it has already developed deeper understanding on regional issues and signed the logistics agreement recently.
As per reports in the Chinese government owned tabloid Global Times, the Chinese navy will conduct military exercises in waters off the disputed Xisha islands in the South China Sea from July 1 to 5 to send a signal to its rivals in the region.
Therefore, a counter-narrative by other combatants is not irrelevant.
Even while China continues to expand its defence capability, it remains sensitive when other nations make marginal increase in their defence spending to meet their security needs.
When South Korea agreed to the US decision to deploy the Terminal High Altitude Area Defense (THAAD), a transportable, ground-based missile defence system, China claimed that its security was breached.
The THAAD is an anti-ballistic missile system. It was developed after the US experiences in the Gulf War, 1991. THAAD has been deployed in Israel, the UAE, Romania and South Korea. THAAD is capable of destroying missiles by colliding with them.
Similarly, China strongly objected to the India-US Malabar exercise in the Bay of Bengal in 2007 when it was expanded to include Japan, Australia and Singapore.
India had then restricted Malabar to a bilateral one with the US for several years, and included Japan only when the exercise was held in the north-western Pacific in 2009 and 2014, to avoid antagonising China.
The situation has changed now and India does not feel it necessary to take note of Chinese sensitiveness.
Therefore, the Malabar war games have emerged as a significant programme to address the region's security needs.
The Malabar exercise started in 1992 as a bilateral one between the Indian Navy and the US navy in the Indian Ocean.
Japan became a permanent member of the Malabar exercise in 2015.
The last Malabar joint exercise by the navies of the United States, India and Japan was held in September 2019 in Sasebo.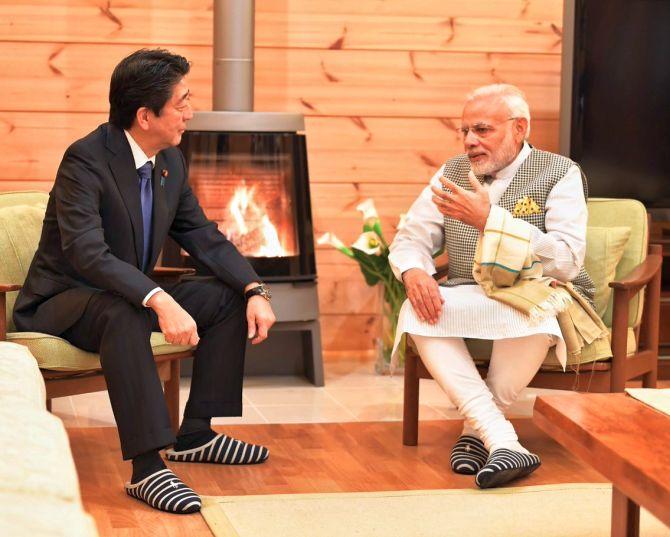 Alongside such exercises, the Quadrilateral Initiative or QUAD will acquire greater salience in the changed strategic environment in the region.
The idea of QUAD was originally floated by Japanese Prime Minister Abe back in 2007, but it did not take off because of Australia's reluctance as it was perceived to be a forum to contain China.
Even within India, opinions were divided.
The situation now is dramatically different.
There is talk of inviting other middle powers like Vietnam, South Korea and New Zealand to join QUAD.
If these seven powers come together to a common platform with a common agenda and discuss issues impinging the region and the world, it will not only contribute to secure peace and security, but also economic prosperity in the region.
The larger objective of checking the Chinese menace would also be met.
Deepening cooperation with other like-minded partners could also be worth-considering.
Besides the joint naval exercises, India and Japan have also bolstered their military ties by conducting an annual joint land military exercise -- 'Dharma Guardian' -- since 2018.
Both countries elevated their relationship by holding their first 2+2 defence and foreign ministerial dialogue in November 2019 and are now finalising a reciprocal military logistics pact to further strengthen their strategic partnership.
Such level of cooperation between the two countries is relevant in view of China's expanding maritime footprint in the Indian Ocean region where it sails its warships and submarines on a regular basis.
---
Dr Rajaram Panda, former Senior Fellow at IDSA, was until recently ICCR India Chair at Reitaku University, Japan.
He is currently Lok Sabha Research Fellow, Parliament of India, and Member of Governing Council, Indian Council of World Affairs, New Delhi.
Feature Production: Aslam Hunani/Rediff.com