'Whichever option India chooses, it should be clear to the government that the China-Pakistan nexus poses a clear and present danger to national security,' says Brigadier Gurmeet Kanwal (retd).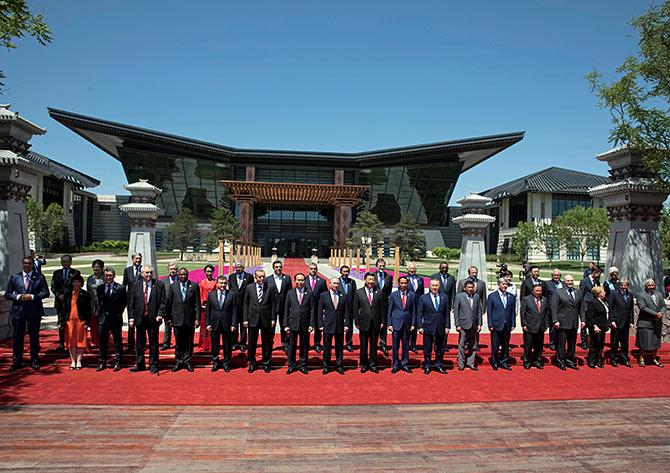 IMAGE: Leaders attending the Belt and Road Forum pose for a photograph at the Yanqi Lake venue on the outskirts of Beijing, May 15, 2017. Photograph: Ng Han Guan/Reuters
Leaders from almost 30 countries gathered in Beijing last weekend to endorse President Xi Jinping's 'One Belt, One Road' (OBOR) initiative, now called 'Belt and Road Initiative,' BRI.
The project is designed to help achieve Xi's Chinese Dream -- rejuvenation of the nation and building a prosperous society. India has wisely decided to stay away from the summit and OBOR.
First articulated in 2013, OBOR is designed to boost China's strategic outreach and, consequently, extend its sphere of influence well beyond its borders.
It is also expected to give a fillip to the stagnating Chinese economy by utilising available cash reserves as capital and idle construction capacity.
By creating new infrastructure and jobs in the countries through which it runs, OBOR will ostensibly aid socio-economic development and, in the bargain, also create new markets for Chinese manufacturers.
OBOR is a carefully calculated initiative to increase Chinese influence.
China will give soft loans to the participating countries to help them pay for the infrastructure that will be created.
The source of funding will probably be the China-sponsored and dominated Asian Infrastructure Investment Bank, AIIB.
As many of the participating countries will find it difficult to repay the loans on time, they will be dependent on China for staggering repayments or postponing them.
In either case, they will be indebted to China.
In military terms too, OBOR will result in a win-win situation for China as it will lead to an increase in the number of People's Liberation Army troops in the countries on China's periphery, much like has already happened in Gilgit-Baltistan.
The Chinese leadership hopes OBOR will make a significant contribution towards the achievement of China's goal of becoming the unchallenged numero uno economic and military power in the Indo-Pacific region by 2049, a century after it won its independence.
The $4.4 trillion initiative will create communications arteries linking manufacturing hubs in mainland China with markets in Asia and Europe.
It will also link China with areas rich in natural resources like mineral deposits.
The project will involve building new roads or upgrading existing ones on land.
It will also involve building ports all over the Indo-Pacific region as part of China's Maritime Silk Route initiative.
Naturally, these ports will act as logistics hubs for the PLA navy and enable it to extend its area of operations. In due course some of these ports could be upgraded to naval bases.
So far, the AIIB has approved OBOR-linked projects in Azerbaijan, Bangladesh, Indonesia, Myanmar, Oman, Pakistan and Tajikistan.
The most notable of these is the China-Pakistan Economic Corridor, CPEC, that will link Kashgar in Xinjiang with Gwadar port, which China is already developing, on Pakistan's Makran coast.
Dubbed a 'framework of regional connectivity', China and Pakistan claim it will benefit them, but also have a 'positive impact on Iran, Afghanistan, India, Central Asian Republic, and the region.'
Besides infrastructure (expressways and link roads, airports, railways and mass transit systems, development of ports, water treatment plants and optical fibre cable), the CPEC will include several 330MW to 660MW coal-fired power plants, hydel projects, solar parks, wind farms, transmission lines, coal and iron ore mines, industrial parks and special economic zones, and colleges, hospitals and vocational training centres.
A major thrust area of the CPEC is agriculture. 'From provision of seeds and other inputs, like fertiliser, credit and pesticides, Chinese enterprises will also operate their own farms, processing facilities for fruits and vegetables and grain' (Dawn newspaper, May 15, 2017).
The CPEC 'plan envisages a deep and broad-based penetration of most sectors of Pakistan's economy as well as society by Chinese enterprises and culture.'
The CPEC projects are in various stages of implementation (external link).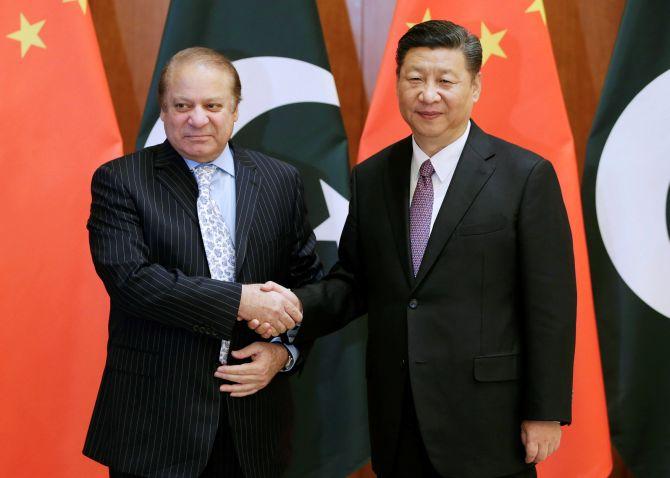 IMAGE: Pakistan Prime Minister Nawaz Sharif, left, with Chinese President Xi Jinping ahead of the Belt and Road Forum in Beijing. Photograph: Jason Lee/Reuters
A product of China's all-weather friendship with Pakistan, the CPEC project is being seen as the Chinese equivalent of the Marshall Plan.
Originally valued at $46 billion, the CPEC project is now estimated to cost $54 billion.
The project is expected to generate up to 2.3 million jobs by 2030 and add 2 to 2.5 per cent value to Pakistan's GDP. The project has been included by China as part of its 13th five-year development plan.
Besides access to Gwadar port for Chinese merchant shipping and the PLA navy, China will be able to link Xinjiang and Tibet to a warm water port closer to the two provinces than China's eastern coast, even though the cost of transportation of goods over the Karakoram range in the Himalayas will be prohibitive.
However, despite the obvious advantages of the CPEC to both countries, the project is getting bad press in both China and Pakistan.
Commentators in both countries have been questioning the long-term viability of the project on the grounds of sub-optimal utilisation.
While the Pakistanis are apprehensive about their country's ability to pay back the huge loans that will pile up, the Chinese worry about Pakistan's ability to ensure the safety of their engineers and staff.
Both sets of arguments have merit.
The Baloch leadership has declared openly that they will not allow the portion of the corridor running through Balochistan to remain open even for a day as the Pakistan government will not pay any royalty to them.
India does not approve of the CPEC project as part of the corridor will pass through Gilgit-Baltistan and Pakistan occupied Kashmir, both of which are under illegal Pakistani occupation and, hence, disputed areas.
Handing over territory in these areas permanently to the Chinese would amount to a violation of India's sovereignty.
As it is, Pakistan has become China's de facto 24th province. Any further Chinese inroads into Pakistan, particularly the presence of PLA troops in large numbers, would be harmful for India's national security interests.
India can sit by and watch the CPEC unravel, as it well might. Or India can provide political, diplomatic and moral support to the Baloch people who may be engaged in disrupting the corridor.
Yet another alternative would be to set in motion actions to create an Indian-led parallel to the BRI-CPEC.
Initiatives like BIMSTECH could be pursued with greater vigour than has been the case till now.
Whichever option India chooses, it should be clear to the government that the China-Pakistan nexus is gaining ground and poses a clear and present danger to national security.
It would be prudent to invest more in defence preparedness and the protection of critical infrastructure.
The present defence budget pegged at less than 1.60 per cent of India's GDP is too little for comfort.
Brigadier Gurmeet Kanwal (retd) is Distinguished Fellow, Institute for Defence Studies and Analyses, New Delhi.