Chances are any such disruption will not occur on the major shipping lanes, but on some edge of the ocean between India and China, warns Subhomoy Bhattacharjee.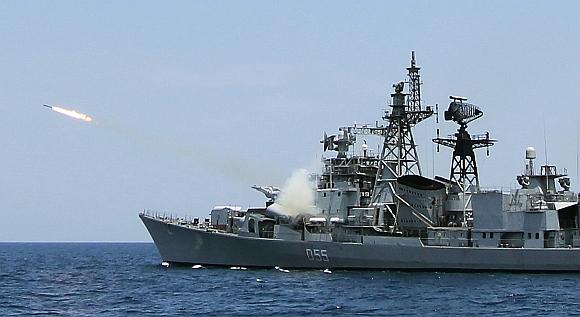 Thousands of kilometres from the barren rocks of the Galwan Valley where Indian and Chinese troops waged a grim battle are colossal stakes between the two countries.
These stakes are the possible disruption of energy trade on the Indian Ocean, home to 13 per cent of world trade.
More than two-thirds of the world's oil and half of the global coal trade passes through these waters.
Disruptions to any of these is an enticing concept for a nation willing to stamp its authority over the world.
Chances are any such disruption will not occur on the major shipping lanes, but on some edge of the ocean between India and China.
Even if there is no actual disruption, the costs of averting one can be punitive.
The setting for this is provided by the energy shortage both countries face.
The promise of renewable energy is still a work in progress, so policymakers on both sides know they have to depend on fossil fuel for at least a decade or more to ensure energy security, which means imports.
China has been scouting for coal, gas and oil from abroad for more than a decade.
To ensure safety on the sea routes for its ships, it is well known that Beijing has begun to develop a series of ports with a military presence on the Indian Ocean, especially to checkmate any blockade at Malacca.
India has followed suit, establishing bases in the Indian Ocean as far south as French-run Reunion island.
But closer home it is exposed in places such as the Bay of Bengal.
A naval blockade real or threatened seems unreal for Asia simply because it has never happened in the Indian Ocean.
Yet it is one of the reasons that India has begun to develop onshore strategic oil reserves.
But reserves for coal or gas are difficult to maintain.
The alternative is to police shipping lines.
In the 21st century, countries do not wage prolonged war.
The Galwan Valley encounter lasted barely five hours but it will impact India-China relations for decades.
It has begun to add to the costs for both economies. A naval blockade could follow the same script.
So which are the possible naval nightmares on the Indian Ocean?
China does not feel threatened at the Straits of Hormuz, having turned down an offer for joint naval patrol with the US last year.
It feels its investment in Iran is good enough to secure its supply lines.
But the People's Liberation Army has opened its first overseas base in Djibouti off the Strait of Mandeb investing over $2 billion.
In the east near the Lombok Strait (an alternative to Malacca) by emphasising control of the Natuna Seas, the Middle Kingdom is, again, exercising its options.
Work on Chabahar port in Iran by India and on Gwadar in Pakistan by China has stalled.
But all things considered, the stakes for India are rising in the Bay of Bengal.
Beijing already has a port at Hambantota in Sri Lanka, but the latest is its plans for a port at Kyaukpyu in Myanmar as the tip of a special economic zone.
China now has three ports in the Bay including one at Payra in Bangladesh and a smaller river port near Sittwe in Myanmar.
The Bay of Bengal is critical: Close to 30 per cent of India's coal supply from eastern to western coast plies on it.
A large percentage of the 244 million tonnes of annual imports from Africa and Asia feeds the power plants dotting the coasts.
Trade in domestic coal from Jharkhand and Odisha to Andhra Pradesh, Tamil Nadu and Gujarat take the shipping route.
Gas exploration basins off Krishna Godavari are not only India' most important basins, there are also plans for massive expansion of the gas grid on the eastern coast.
It includes plans to import gas and trade with Bangladesh.
It might seem to be of little consequence to India if China is merely securing its energy supply lines.
India could just as well secure the same advantages.
But what happens if China insists that shipping liners should not travel into its extended nautical zone? Moves in southeast Asia suggest that it is prone to expansive notions of nautical boundaries.
It will raise costs as ships take longer diversions.
It can get worse if a nation follows up its warning with a possible disruption to even one commercial ship, claiming it an inadvertent strike.
Costs for the nation will skyrocket, with not only longer shipping voyages but also added insurance costs.
China has demonstrated once again at Galwan valley that it is willing to take an unconventional path to make its point.
India with far less naval resources has to therefore try to be original too.
One solution could be the planned Quad naval exercises with Japan, Australia and the US in the Bay.
The other is a tie-up with France.
The two countries have begun working on a joint maritime surveillance in the South Indian Ocean region, which includes possible deployment of an Indian Navy maritime patrol vessel from the Reunion Island from this quarter.
There could be other solutions but all of those will need to be iterative.
There is no possibility of ducking the challenge.
Feature Production: Aslam Hunani/Rediff.com