'We met on a Mumbai local some time ago, but the lessons she taught me about money management and life in general have stayed with me,' says Geetanjali Krishna.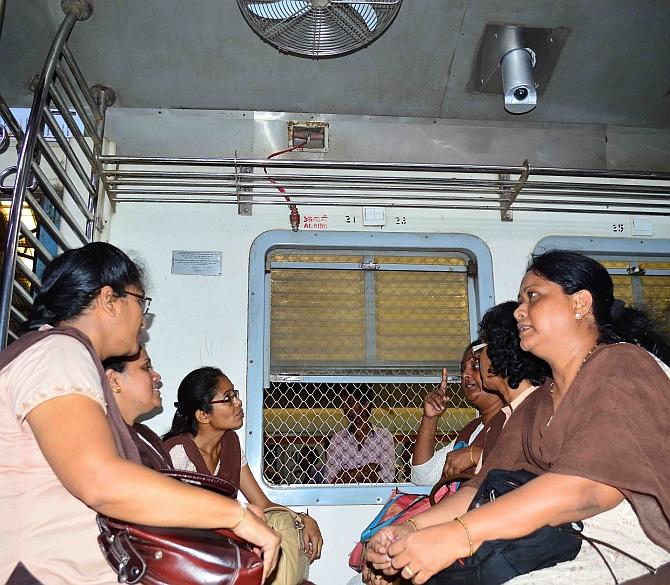 IMAGE: Women on board a Mumbai suburban train. Image published only for representational purposes. Photograph: Sahil Salvi
Independence Day is a time to look at the future as well as look back.
I find myself thinking about the year gone by and about the people who have inspired me. These are usually ordinary people I run into in the oddest of places, rather than corporate honchos or politicians.
Take Vimlaben, for instance. We met on a Mumbai local some time ago, but the lessons she taught me about money management and life in general have stayed with me.
It was evening when I boarded the local just before the office rush -- or so I thought. The ladies' compartment was bursting at its seams, and a vegetable seller was hawking her wares in the melee. That was when I saw her.
A diminutive woman in weather-beaten clothes, she bought half a kilo of okra. Then she pulled out a knife and started cutting the vegetables. Another rummage through her bag yielded an onion, which she proceeded to chop into the bag of cut okra. When she saw me looking at her, she smiled.
"Don't you think this is good timepass?" she asked. "When I get home, all I have to do is cook these cut veggies and dinner is ready in 20 minutes flat."
Vimlaben was a stockbroker, she said and worked out of a tiny cubbyhole on Dalal Street. "Ever since my husband died a few years ago and left me with two children to support, I have worked hard to provide a good life to them," said she.
Her children were in college, she said, and both worked part-time. She had, she said, taught them both the virtue of making and saving as much money as they could. "My daughter goes to college and takes tuition all evening," she said. "My son is studying commerce and interning with a company."
Every day, the hardworking family returned home by 7 pm. "I quickly put the vegetables I've cut on my way home to cook on one burner, and a pot of dal on the other," said Vimlaben. "Then I get up at dawn to clean the house and pack lunch."
They lived such a frugal life, she said, because life had taught her that every penny counted. What were her plans for her children, I asked.
Her son wanted to go abroad for an MBA, she said. "I've calculated how much I'd have to shell out in tuition fees, and am keeping an amount aside for him every month. He, too, is saving his entire stipend, and we reckon that in three years, we'd be able to save enough to pay for one year's tuition. Then he'll have to manage on his own," said she.
Her daughter also aspired to study special education in a good US university. "She is making over Rs 30,000 per month giving tuition, although she has to work very hard. We've calculated that if she teaches for three years after completing college, we'll be able to afford sending her to the US as well."
The train was nearing her station. "See?" she said, "The vegetables are ready for the pan."
I was amazed by her story. By saving money that one would normally spend on luxuries such as a first-class train pass or better clothes for herself, and setting achievable financial goals for herself, Vimlaben was ensuring a brighter future for both her children.
Just then, another lady who'd been listening intently to our conversation, butted in, asking what she'd do once both her children went to the US. Vimlaben shrugged pragmatically: "The children have to make good lives for themselves. As for me, I'll buy fewer vegetables in the local, I guess."