Uddhav Thackeray would do well to remember: Once he decides on a course of action, Bhagat Singh Koshyari never gives up, notes Aditi Phadnis.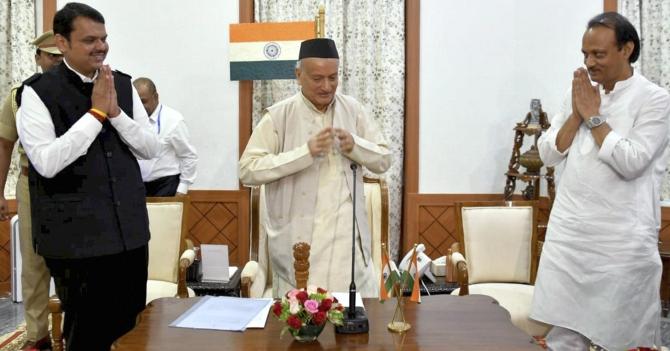 It is quite hard to surprise Sharad Pawar, who in his six-plus decades of public life, can claim with some justification that he's seen it all.
But even Mr Pawar confessed to being shocked at the tone of Maharashtra Governor Bhagat Singh Koshyari's letter to Chief Minister Uddhav Thackeray, in which he asked the chief minister what was taking him so long to re-open temples in pandemic-hit Maharashtra.
The letter, cutting and sarcastic, did not stop at asking the simple question but gave a talking-point to the state Bharatiya Janata Party to launch a campaign, ostensibly for temple-re-opening, but, in fact, aimed against the chief minister's alleged administrative ineptitude.
Once again, in Maharashtra politics, Raj Bhavan was leading the way.
Mr Koshyari has been much more than a disinterested observer from the time he came to the Raj Bhavan in September 2019.
He was not expecting to be uprooted from the politics of Uttarakhand, but had turned 75.
This was the perfect alibi for the BJP high command to get him out of a state unit where he has left a trail of political destruction.
Since he was a pracharak in the RSS, Mr Koshyari has been active in BJP politics, especially after he was elected a student leader in Kumaon and later was jailed for his role in the struggle against the 1975 Emergency.
He came out of Almora and Fatehgarh jail in 1977 but got his first formal political break in 1997, when he became a member of the Uttar Pradesh legislative council.
He felt he had a claim on the leadership of Uttarakhand when it was formed in 2000.
But to his shock -- and that of his followers -- it was Nityananda Swami, born in Haryana but he claimed to be an Uttaranchali because he had grown up in the state, who was made chief minister.
Immediately a campaign began against an 'outsider' and though Mr Koshyari accepted ministership in the Swami government (energy, irrigation, and law), it was with bad grace (he, along with his supporters, including current Union HRD Minister Ramesh Pokhriyal 'Nishank', boycotted the oath-taking initially).
His campaign to get Nityananda Swami out was relentless even though he was part of the government.
A year later, New Delhi had to give in and replace the chief minister with Mr Koshyari.
But for many reasons, the move was not propitious for the BJP.
A year later, the party lost the elections -- the first in a state where the BJP had every opportunity to put its stamp on the administration.
Mr Koshyari found himself leader of the Opposition and also chief of the state BJP unit.
In 2007, when elections came around again, the BJP won all right, but Mr Koshyari was pipped at the post as Major General B C Khanduri (retd) (of 'Khanduri hai zaroori' fame) got the top job in the state.
It really galled: And a campaign began to get General Khanduri out.
By now the party had had enough and Mr Koshyari was asked to move to the Rajya Sabha, resigning his assembly seat of Kapkot.
This caused another crisis as the BJP's majority was extremely slender.
But it was Rajnath Singh, then BJP president, who had the final say -- as he could never forget that Mr Koshyari could not lead the party to victory in 2002 despite having a firm base.
Despite moving to Parliament, Mr Koshyari could not give up his interest in Uttarakhand politics.
General Khanduri did not have a day's peace.
When the BJP lost all five Lok Sabha seats in the 2009 election to the Congress, he resigned and Mr Pokhriyal, a Koshyari acolyte, became chief minister.
It is always a mistake to consider followers acolytes forever.
Ultimately, General Khanduri and Mr Koshyari joined hands and together sought the chief minister's removal.
Months before the 2012 assembly election, General Khanduri returned as chief minister while Mr Koshyari stayed on in Delhi.
However, the war horse hadn't had his fill.
He contested the 2014 Lok Sabha election and won the Nainital Lok Sabha seat.
When the assembly election was held in 2017, the BJP won 57 seats in the 70-member assembly.
Once again, Mr Koshyari was nudged aside and Trivendra Singh Rawat, once his protege, was made chief minister with the blessings of then party president Amit Anilchandra Shah.
At this Mr Koshyari declared publicly that he would not contest the 2019 election -- and the high command viewed the 'threat' constructively, appointing him governor of Maharashtra when incumbent Ch Vidyasagar Rao's term ended.
Mr Koshyari's career path shows that you can take the state away from the politician -- but you can't take the compulsion to run the state out of the politician.
His role in Maharashtra -- installing the Devendra Fadnavis-led BJP government for 80 hours with the help of Ajit Pawar, who crossed the floor but was unable to muster up the promised number of MLAs -- may have been technically correct, but was morally indefensible.
However, it also explains a personality trait that the Uddhav Thackeray-led government might do well to remember: Once he decides on a course of action, Bhagat Singh Koshyari never gives up.
Feature Presentation: Aslam Hunani/Rediff.com