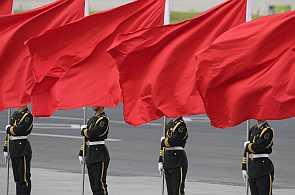 Seeing a sinister design behind every Chinese utterance will only make it more difficult to negotiate a settlement

Listening to a retired major-general thunder at a seminar that China plans to dismember India reminded me of Manmohan Singh bemoaning in the early days of liberalisation that people were accusing him of selling out to foreign interests.

"Who would want to buy this country anyway," P V Narasimha Rao retorted drily. Nevertheless, it wouldn't surprise me if black flags and protest demos greet Li Keqiang on Sunday. The police won't let it happen. But thanks to the revanchist sentiment the major-general fanned, the urge exists.
Of course, we must be cautious in dealing with China. The soothing assurances in the Blue Book the Chinese Academy of Social Sciences released recently need not be accepted at face value. Li's sentimental memories of touring India in 1986 will not change the Peoples Liberation Army's objectives. But seeing a sinister design behind every Chinese utterance will only make it more difficult to negotiate a settlement.
If we lack a sense of history, the timeless Chinese merge past, present and future in a seamless continuum. Zhou Enlai famously replied, "It's too soon to tell" when asked about the impact of the French Revolution. Mao Zedong told his commanders before the 1962 war that China had already fought "one and a half" wars in India. The first was in the seventh century when Tang dynasty troops helped to reinstate an Indian king whom a usurper had ousted. Mao regarded Tamerlane's sack of Delhi in 1398 as the second. The Daulat Beg Oldi episode must be assessed in the context of such precedents.

A second point to remember is that despite all we read about Communism and the PLA's iron grip, China is not culturally monolithic. A frivolous but not inaccurate interpretation of the Chinese saying "Shan gao, huang di yuan (the mountain is high and the emperor far away)" would be "when the cat's away, the mice play!"
I heard it first in connection with what looked like a gigantic Chinese fraud over the $30-billion Suzhou Industrial Park that was Singapore's prize project in China. Soon after it was launched in 1994 the Chinese took the Singaporeans for a ride by naming a nearby state-owned park Suzhou and encouraging investors to believe they were investing in the Singaporean project. Singapore lost about $90 million by the end of 2000 but Lee Kuan Yew didn't blame the central government. He blamed internal competition and the autonomy Chinese states enjoy. They even enjoy some foreign policy powers, explaining the Yunnan governor's visit to Kolkata to encourage trade and tourism.
Third, everything depends on perception. Even maps of Ladakh show a "Chinese Line of Perception" and an Indian "Line of Perception". Of course, India's perception is the truth. But it's possible, as Lora Saalman, a Beijing-based sinologist who recently visited India, confirms, that Chinese perceptions mirror our concerns. They see India cozying up to their adversaries like Vietnam. They say India is trying to restrict Chinese initiatives in Bangladesh, and complain of Chinese nationals facing visa difficulties to work in (or even visit) India. Indian sponsorship of the Mekong-Ganga cooperation scheme eight years after the Asian Development Bank's Greater Mekong Subregion scheme, in which China had a lead role, is mentioned.
It's said the Chinese despise India. If so, they devote a great deal of attention to a despised neighbour. Indians grumble that China's press reports far less about India than Indian newspapers do about China. That doesn't mean the Chinese know less about us. They just don't broadcast what they know. There are only two or three Indian journalists in Beijing against a dozen Chinese in Delhi. "They're spies!" says a Western diplomat. Spies collect and send back information. They aren't sent to a country that is of no account. If we feel ignored, that's exactly what the Chinese want.
Sun Tzu's advice was to keep the adversary guessing. "Be extremely subtle, even to the point of formlessness. Be extremely mysterious, even to the point of soundlessness. Thereby you can be the director of the opponent's fate."
Finally, the fire-eating major-general should realise China can't do without India's market and raw materials. The $23-billion trade gap favours China. Shyam Saran acknowledges Chinese cooperation in climate change and trade negotiations, and says China respects India's role in international forums.
So let's welcome Li and try to patch up differences. But let us not be overwhelmed because he is coming to India first. He is doing so for the reasons explained above, not to oblige India.

Image: Members of the People's Liberation Army guard of honour stand with flags outside the Great Hall of the People, in Beijing | Photograph: Jason Lee/Reuters