Monday's surprise meeting is an admission by the Bharatiya Janata Party that their purported strategy of hoping to ride the popular 'Modi wave' in a Tamil Nadu without Jaya and a bed-ridden Karunanidhi does not have much chance of success, observes N Sathiya Moorthy.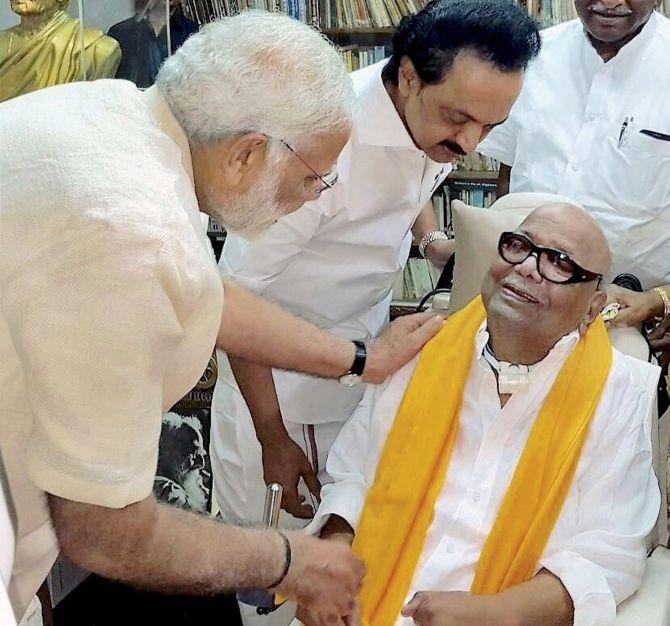 IMAGE: Prime Minister Narendra Modi meets DMK chief M Karunanidhi as party working president M K Stalin looks on at their residence in Chennai on Monday. Photograph: PTI Photo.
By calling on five-term chief minister and Dravida Munnetra Kazhagam supremo M Karunanidhi, who has been bed-ridden for over a year, and inviting him to visit him in Delhi and take rest in his house for a few days, Prime Minister Narendra Modi on Monday has put his best, and charming, foot forward, to woo both the party and its cadres alike.
It's a 'heads I win, tail you lose' kind of spin that Modi seems to be giving in the DMK's case, after doing the same with the ruling All India Anna Dravida Munnetra Kazhagam, both before and after the death of party leader and Chief Minister Jayalalithaa.
The trend continued in the case of the two post-Jaya chief ministers in O Panneerslevam and competitor-turned compatriot, Edappadi K Palaniswami, the incumbent.
Together and separately, they too got the carrot-and-stick treatment, neither knowing what would come first, or what would take turns.
If one were to argue that Central Bureau of Investigation, income-tax and Enforcement Directorate raids were all only a part of the political weapons in the armoury of whoever is ruling Delhi, then and then alone would it hold that Modi was arm-twisting both together and/or alternatively to fall in line.
To recall, despite the ruling Telugu Desam Party in Andhra Pradesh backing Modi and BJP to the hilt at least as of now, the Centre/BJP is known to have applied the same yardstick to them, too.
A female TDP legislator was raided by central agencies months ago, and a concerned party was reportedly told that they should learn to distinguish between routine governmental action and political alliances, full-fledged or otherwise.
For those in Tamil Nadu and elsewhere, who confuse the Modi visit to Karunanidhi's Gopalapuram residence with the pending 2G scam case against the latter's daughter Kanimozhi, MP, and former telecom minister A Raja of the DMK, the message is thus clear.
The 2G case has reached a decisive stage, where special court judge O P Saini in Delhi is all set to pronounce his verdict sooner than later.
So, there is nothing that the Centre as an institution, or PM Modi as the most powerful individual in the land, could do anything about the court process. That is to say, Modi cannot be blamed whichever way the verdict goes, and whichever way the post-verdict court procedures/proceedings gets initiated.
As may be noted, Kanimozhi was present along with other party seniors when the prime minister called on Karunanidhi.
While Modi has now visited Karunanidhi at his home, he did consistently deny an audience to his son and DMK working president M K Stalin, thrice, when sought over the previous months.
Did it also have anything to do with the pending 2G case lest wrong meanings be read into any such meeting?
Now, it remains to be seen if the PMO would dust out Stalin's pending request and offer him an appointment in the coming days or months.
Or, will a courtesy call remain a courtesy call until after the upcoming assembly polls in Himachal Pradesh and Gujarat, as Modi would be busy campaigning?
According to local media reports of the time, the PM could not grant time to Stalin earlier as he was busy with UP poll campaigning, even though the PMO obliged state ministers, including CM Edappadi K Palaniswami, ex-CM and later-day Deputy CM O Pannerselvam, and also the controversial Health Minister, Dr C Vijaya Bhaskar, who too was raided by central agencies.
As may be recalled, the controversial piece of documentary evidence that led the Election Commission to cancel the high-profile R K Nagar assembly by-election, held to fill the vacancy caused by Jaya's death, was picked up from a raid on minister Vijaya Bhaskar.
T T V Dinakaran, then leading the anti-OPS camp, was the candidate for whom incumbent ministers of the Edappadi government had reportedly spent up to Rs 80 crore in the constituency.
Unaffected as yet by the state government not initiating criminal investigation/action against those named in that document, the EC continues to hear the 'Two Leaves' symbol case involving the current factions, led respectively by the CM-Dy CM duo on one side, and the aunt-nephew duo on the other.
Monday's developments could also mean that the BJP high command seems to be reviewing its post-Jaya political strategy for Tamil Nadu, which sends 39 MPs to the Lok Sabha.
Despite exceptions and exemptions to the contrary, national parties and their strategists continue to believe that in 'Dravidian Tamil Nadu', the winner takes all in any election, especially to the Lok Sabha.
By wooing the AIADMK faction(s) first, and purportedly now turning their attention to arch-rival DMK now (if at all there was more to the 'courtesy call'), the BJP and PM Modi seem to be re-assessing their post-Jaya political position and preferences for the state.
That is to say, the BJP is seeking to reposition itself to the middle-path between the two 'Big Two' Dravidian parties, at least in the interim.
In turn, it is an admission that their purported strategy of hoping to ride the popular 'Modi wave' in a Tamil Nadu without Jaya and with a bed-ridden Karunanidhi does not have much chance of success, even if it were to piggy-back on either the AIADMK or the DMK.
Alternatively, it could mean that the BJP would at least want to deny the Congress the chance of having a strong ally in DMK in a state like Tamil Nadu.
It could also be an admission that the Congress and/or a Third Front at the national level with Congress support need not be a total write-off in 2019 as in 2014.
It was acknowledged by those in the know post fact that even while Jaya was screaming at the TN voters to choose between 'Modi and Lady' (herself) in 2014, they were believed to be in touch with each other, with the post-poll situation in mind.
Today, the future beckons. There, the DMK cannot alienate the substantial minority vote-bank that will come its way only with the Congress and/or other 'secular forces' on its side, with substantial add-on from the non-committed vote-bank(s) that have swayed poll results in Tamil Nadu over the past nearly three decades.
In BJP's company, the DMK can only lose its own chances of returning to power early on, whatever be the immediate gains -- as the party's electoral victory as an NDA partner in 1999 and subsequent defeat at the hands of Jayalalithaa-led 'secular forces' showed in the 2001 assembly polls.
N Sathiya Moorthy, veteran journalist and political analyst, is director, Observer Research Foundation, Chennai Chapter.