'The Modi government's greatest blunder is to exploit sensitive external relations in its domestic politics,' says Shekhar Gupta.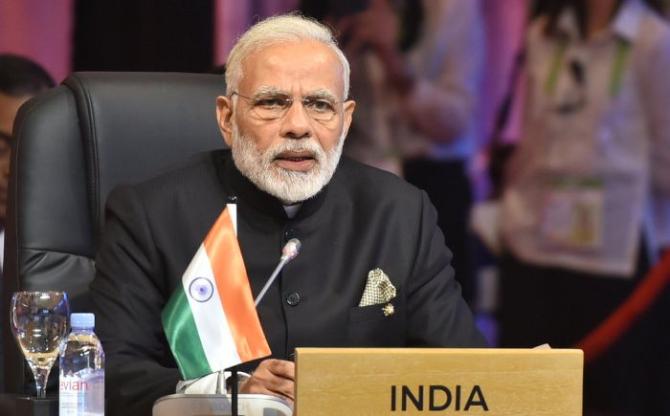 India's external and strategic environment is looking like a train-wreck and it isn't just to do with the American humiliation of 'postponing' the vaunted 'two-plus-two' dialogue for the third time.
The picture today has no resemblance to what we saw until about a year earlier.
Prime Minister Narendra Damodardas Modi was then hopping from one capital to another, hugging heads of States.
India was a rising power and Modi, its powerful, extrovert, energetic new leader, a star.
He wowed the world with his decisive, and positive intervention on the Paris climate deal, for example.
Much of this has unravelled over the past six months.
India's decline from global consciousness has been as rude as its rise was steady and smooth.
Modi supporters will protest. But, while political partisans can be delusional, a nation, with pretensions to great power status, can't duck reality.
We need to examine why a great forward march has fizzled out of gas.
Some factors are beyond India's control, such as a Black Swan event like the rise of Donald J Trump.
At the same time, recent pro-active blunders have made India's external relations a man-made disaster.
Leaders bring their preferred approach to diplomacy.
The Modi enthusiasts in South Block celebrate the fact that his style of diplomacy is transactional.
This is also endorsed in the Bharatiya Janata Party and sections of the strategic community friendly to it, which is nearly all of it today barring the odd, brave sceptic.
As a consequence, we spent the first three years of his government celebrating one 'great diplomatic victory' after another.
India was admitted to three global missile-nuclear technology groupings as a responsible power.
The American policy in the subcontinent was fully de-hyphenated.
A strategic relationship looked a reality.
India's external environment had been improving since Bill Clinton's second term.
Policy continuity, fuelled by 15 years of economic growth, had set the direction.
Modi, with his energy, personal style and a full majority, accelerated it nicely.
What threw the train off the rails?
Two external negatives were not the Modi government's fault: The rise of Trump and a new Chinese assertion.
Trump's actions, particularly the change in Iran policy, directly led to rising oil prices, destabilising India's domestic economy and politics.
The Chinese push for the China-Pakistan Economic Corridor, unmindful of Indian concerns, and its moves in Sri Lanka, Nepal, the Maldives and Bangladesh, showed that China is no longer willing to leave the subcontinent as a zone of India's pre-eminence.
The days when a George W Bush could speak to Hu Jintao on the phone to get India an NSG waiver are over.
Xi Jinping won't listen, but more importantly, Trump won't do it.
Because, if Modi is transactional, Trump is more so.
The Modi government's greatest blunder is to exploit sensitive external relations in its domestic politics.
The first essential attribute of successful leaders in history is strategic patience.
They move firmly, but never get so committed publicly as to deny themselves room for manoeuvre, front, back, sideways.
In building strategic relations, the best leaders bat like Sunil Gavaskar, not Virender Sehwag.
Modi has left himself no such room.
In all major state election campaigns, he made his foreign policy 'conquests' the centrepiece, and it worked.
But there are perils in declaring victory too soon. It narrows your strategic space.
Instead of keeping quiet as the past governments did, it made one set of local, tactical and limited 'surgical' raids into a feat rivalling the securing of Siachen in the spring of 1984.
Indira Gandhi never even whispered about it. And she wasn't stupid or apolitical.
If you use tactical actions for immediate political benefit, you close your options going ahead.
Worse, your enemies know that.
Encouraged by the popular response in the Uttar Pradesh elections, it led to much irresponsible loose talk around the establishment that some such action, albeit on a much larger scale later in 2018, could swing national elections.
A short, sharp skirmish you could end by declaring victory.
With Doklam, and subsequent moves, an alarmed China made it clear that it won't let India flex its military muscle beyond a point. It has left no doubt that Pakistan is under its protection now.
Similar misjudgements were made on trade.
Radical controls on prices of medical devices, especially stents, were made part of election discourse.
It closed your options when Trump, even more transactional, reacted.
His fight for lower duties over Harley Davidson bikes is hilarious. But a handful of large-engine bikes are sold in India and no Indian manufacturer is threatened by these imports.
You could have given the man-child of the White House this little victory, brought in direct subsidies for the poor on stents instead of sweeping price controls, and salvaged the situation.
You can't do it when you make economic nationalism central to your politics.
Definitely not when India's economy has slowed, unable to recover from demonetisation.
India has squandered the clout a decade of near 8 per cent growth had given it.
The most poorly-kept secret in diplomatic circles is the terrible meeting Modi and Trump had in Manila on November 13 last year.
Not only did Trump's behaviour and body language lack his earlier warmth, his conduct bordered on being disrespectful.
This came on top of his leaked videos mocking Modi's manner of speaking.
Then Trump hit India on trade. It coincided with the British action on visas.
It hurts when you've been hailing the rising respect for the Indian passport as your big achievement.
It is risky to keep punching above your weight, as India has been lately.
You have to be cautious, not reckless, egged on by a Boswellian media, commentariat and unquestioning think tanks.
Self-congratulation is a most tempting trap you set for yourself.
For four years India has been celebrating becoming a 'natural strategic ally' of the US, but has let its military decline.
You can't plan high strategy while your military remains tactical, border-defence oriented.
Four years have effectively seen four defence ministers, the current one being an ineffectual photo-op caricature.
Our military pensions budget will exceed the salary budget in two years and both are already way above the capital budget.
This is a baroque, bulky, outdated military power, not a nifty, punchy, strategic one.
You can celebrate the Americans declaring the Asia-Pacific as Indo-Pacific, but you won't carry strategic weight merely by sending a couple of ships to a fancy allied navies' exercise.
The Chinese make three warships per year. We struggle to make one in three and still take a couple more to fit missiles and sensors on it.
After much noise over Make in India and private sector, our achievement is a big cipher.
You can throw stuff at me for saying this, but the world knows it. It won't stop laughing.
Declining military might is compounded by economic slowdown.
You can fool your people by changing how you calculate your GDP. It becomes dangerous when you start believing it.
There has been breathless talk of the rise of India, of how the world looks up to us for wisdom and direction, that Yoga Day has now become a global celebration of Indian soft power and spirituality to rival Christmas.
Watch that speech by Rashtriya Swayamsevak Sangh chief Mohan Bhagwat (at the Pranab Mukherjee event) where he triumphantly declared India is on its way to becoming a Vishwaguru (teacher of the world).
Why then is our relationship with our 'best, all-weather friend' America on the decline, all neighbours in the Chinese embrace, and, barring Bangladesh, hostile and suspicious?
How can Trump dare to be boorish with the prime minister of this Vishwaguru?
How can Nikki Haley, who is really not such a somebody in the Trump administration, come to India and order it to change its Iran policy?
And check how Modi's body language has changed in his engagement with Xi.
How long has it been since Indian leaders stopped protesting that the CPEC is passing through Indian territory in Pakistan occupied Kashmir?
It is time to stop breathless celebration. It will be wiser to take a deep breath, make a reality check, and introspect.
By special arrangement with The Print