There is a chance that Mohammad Shahabuddin, as and when he is out of jail, will wield considerable influence on politics in Bihar... just like he did under an earlier dispensation, says Aditi Phadnis.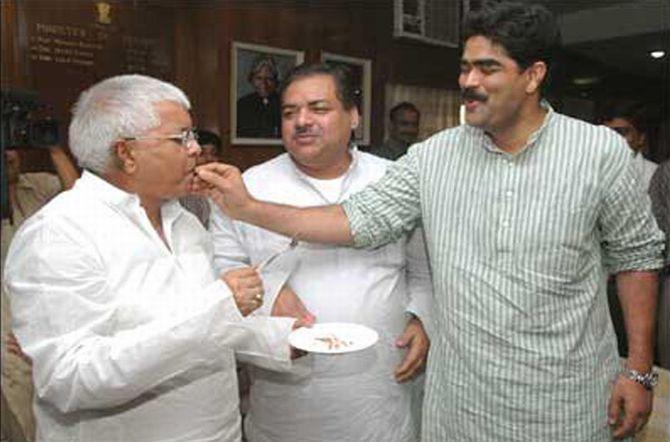 Mohammad Shahabuddin's appeal is pending in a higher court and thus "his politics should not be dismantled because the Bharatiya Janata Party desires so in the brazen absence of any legitimate political instrument."
At least that was how the Rashtriya Janata Dal justified the inclusion of Mohammad Shahabuddin (or Shahabu Bhaiyya, as he is called in Siwan district) in the RJD national executive two months ago.
A year ago, a Siwan court sentenced the former member of Parliament and three others to life imprisonment in a 2004 double murder case.
Satish Raj, 25, and Girish Raj, 20, sons of a businessman, were abducted and killed on August 16, 2004. They were drenched in acid before being killed. Rajesh Roshan, the third brother of those killed, escaped and was an eyewitness. He was gunned down in 2014, three days before he was to give testimony in court.
Shahabuddin is fighting at least half a dozen cases of attempted murder, including firing on a police officer and preventing him from carrying out his duties. He has been acquitted in 14 cases of heinous crime because the witnesses suddenly -- and overnight -- turned hostile.
Siwan borders Gopalganj, the village of Lalu Prasad's in-laws. Rabri Devi's brother Sadhu Yadav was elected to the Lok Sabha from this constituency.
It was Lalu Prasad who gently encouraged the growth and development of Shahabuddin in Siwan. Shahabuddin represented Jiradei in the Bihar legislative assembly before he became Prasad's official RJD candidate for the Siwan Lok Sabha seat in 1996.
If you live by the sword, you must be prepared to die by it. Prasad may have thought that in an area that has 20 per cent Muslims, it wasn't a bad idea to encourage the emergence of a strongman (bahubali -- the word defies translation).
Shahabuddin set himself up as Robin Hood.
Have a marriageable daughter but have no money to get her married? Enter Shahabu Bhaiyya.
Need medical assistance? Shahabu Bhaiyya will fund you and, if necessary, kidnap the doctor and bring him to your doorstep.
In return, Siwan was a tightly sewn-up town where you could not talk about Shahabuddin because you were never sure who was listening.
A reporter says he went in search of a story on Shahabuddin and while driving through Siwan stopped at a pan shop to ask the owner what he thought of the bahubali. The man just shook his head. Suddenly a bunch of muscular men drove up on motorcycles. They had to do nothing -- just stand there and look threatening.
As Shahabuddin's fame spread far and wide, Prasad began getting a bit tired of him. He was becoming just too ambitious. He needed Prasad's backing to rake in the Other Backward Classes vote.
On the other hand, he was becoming too intrusive: He even worked against Sadhu Yadav in the election to the legislative council. Shahabuddin won the Siwan Lok Sabha constituency in 1998, 1999 and 2004.
Suddenly things changed. The police got the green light to proceed against him. Shahabuddin's decline started during President's rule in 2005 when a young IAS officer, C K Anil, took over as Siwan district magistrate. With police muscle from Superintendent of Police Ratn Sanjay, the two officers pushed Shahabuddin into the waiting arms of jail.
His home was raided and on the basis of recoveries, case after case was slapped on him. These were in addition to the ones already pending against him.
Screws kept tightening on Shahabuddin with the Anil-Sanjay duo at the helm in Siwan. And by the time they were transferred, the government in Patna had changed.
Special courts were formed for speedy trial of the cases against him. By the time Nitish Kumar came in office, the state had reasserted its authority and Shahabuddin was the cameo for the kind of person the administration headed by Kumar was trying to put away.
And then, Nitish Kumar made up with Lalu Prasad, fought the election jointly and won. Lalu Prasad was once again a larger than life influence on the government.
Shahabuddin was given bail in the Satish Raj-Girish Raj murder case in March. The state tried, but could not prevent bail. He is still in jail because of other cases against him.
As and when he is out, will he become a pole of power once again?
Already, the widow of Rajdeo Ranjan, the journalist who was gunned down, has said that those who killed him had a connection with someone in jail.
Upendra Singh, who has links with Shahabuddin, has been detained for the last two days in connection with the Hindustan newspaper's Siwan bureau chief's murder. Singh is an active RJD member.
Is Bihar once again a case of the more things change, the more they remain the same?
IMAGE: Mohammad Shahabuddin, far right, then a Rashtriya Janata Dal MP, feeds sweets to RJD chief Lalu Prasad Yadav.