Mohammad Shahabuddin, in prison for over a decade, still inspires fear, a reminder of the 'jungle raj' when political murders were commonplace in Bihar.
Shahabuddin's name has now cropped up in journalist Rajdeo Ranjan's murder.
M I Khan traces the career-in-crime of the notorious thug-politician.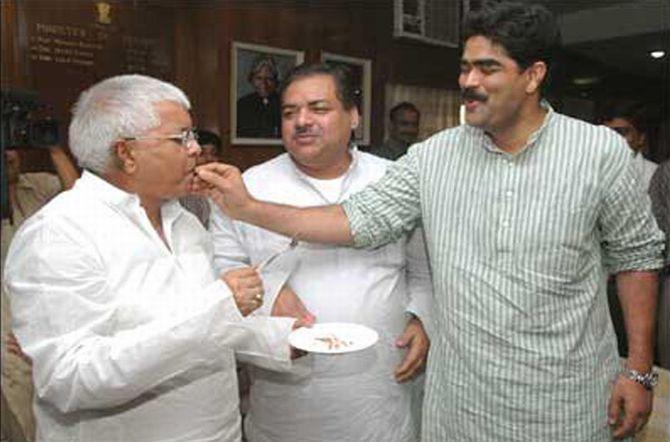 For some he is the sultan of Siwan. Others call him saab and think of him as a Robin Hood of sorts, but for anyone who crossed him in Bihar's Siwan district, he was and is a terror.
Mohammad Shahabuddin is what they call in Bihar a bahubali, a gangster with political muscle. Before his arrest in 2004 he was a Rashtriya Janata Dal member of Parliament, a law unto himself.
Though he has been in prison since, many were quick to suspect Shahabuddin's hand in last week's murder of journalist Rajdeo Ranjan in Siwan.
Indication of sorts followed with the arrest of Upender Singh, a hit man who once worked for Shahabuddin, and Munshi Mian, whose proximity to the imprisoned thug is known -- they are both natives of Pratappur village.
Senior Bharatiya Janata Party leader Sushil Kumar Modi, Bihar's former deputy chief minister, blamed Shahabuddin for Rajdeo Ranjan's murder.
Rajdeo Ranjan, who worked for the Hindustan newspaper, is said to have reported Shahabuddin's terror since the late 1990s. Unconfirmed reports say the journalist released an incriminating video on social media featuring Bihar Minister Abdul Ghafoor's visit to Siwan jail purportedly to meet Shahabuddin.
The video went viral two months ago much to the newly elected Nitish Kumar government's embarrassment.
Shahabuddin gained 'popularity' with 'pro-poor' diktats like ordering Siwan's doctors and lawyers in the mid 1990s to stop charging their patients and clients exorbitant fees. He even reportedly fixed their fees.
He is said to have helped the poor by providing dowry and cash for their daughters' wedding expenses and also paid for their children's higher education.
Behind this populist image, Shahabuddin was linked with the murder of several political rivals, the most infamous being the killing of former Jawaharlal Nehru University Students Union president Chandrasekhar in 1997. Chandrasekhar was associated with the Communist Party of India-Marxist Leninist.
According to political veterans, post Mandal politics in Bihar made it easy for Shahabuddin to enjoy the support of the land-owning upper castes like the Bhumihars, Rajputs and Brahmins in their skirmishes with the CPI-ML, which campaigned for better wages and rights of landless labourers like the Dalits, OBCs and the economically disadvantaged.
In December 2015, Shahabuddin and three others were sentenced to life imprisonment by a district court in connection with the horrific murder of two brothers nearly 11 years earlier./
According to the prosecution, the three sons of an elderly man named Chandrashekhar Prasad were abducted from their home by Rajkumar Sah, Sheikh Aslam and Arif Hussain on August 16, 2004 and taken to Pratappur village where acid was poured onto Girish and Satish resulting in their deaths.
Although one brother, Rajeev Roshan, escaped, his brothers' bodies could not be recovered.
Kalawati Devi, the victims' mother, lodged a case charging Shahabuddin's three henchmen with her sons' murder.
Shahabuddin's name emerged during the investigation and he was charged with hatching the conspiracy.
Rajeev Roshan testified before the judge, but was murdered on June 16, 2015. His killers have not yet been found or arrested.
Shahabuddin represented Siwan four times in the Lok Sabha from 1996 to 2009 as an RJD MP.
Until the October 2005 Bihar assembly polls, the campaign vehicles of other political parties were not permitted on the roads of Siwan. Rival party workers were scared even to put up posters and other campaign material in the north Bihar constituency.
The CPI-ML was the only political force in Siwan that openly challenged Shahabuddin. When no one, including the BJP, dared, CPI-ML leader Amar Nath Yadav contested the election against Shahabuddin at great risk to his life.
All this changed during the October 2005 assembly election campaign, which was held under President's rule. IAS officer C K Anil and IPS officer Ratan Sanjay, then posted as the district magistrate and superintendent of police respectively in Siwan, cracked down on Shahabuddin, externing him from the district on the ground that his presence obstructed the conduct of free and fair polls.
Shahabuddin was convicted for the first time in 2007 for the abduction of CPI-ML worker Chote Lal Gupta. Sentenced to life in prison, he was thereafter convicted in half a dozen other cases.
Since he could not contest the 2009 and 2014 general election following his conviction, his wife Heena was given the RJD ticket, but lost both times to the BJP's Om Prakash Yadav.
Shahabuddin's electoral career commenced in 1989 when he was elected a member of the Bihar assembly from Jiradei.
"Only he was able to sit across Lalooji with one leg crossed over the other. That he could talk to Lalooji while looking him in the eye was evidence of his power," one RJD leader recalled.
Although he has been in Siwan prison for over a decade on various charges of murder and abduction, Shahabuddin still inspires fear outside the prison's walls.
IMAGE: Mohammad Shahabuddin, far right, then a Rashtriya Janata Dal MP, feeds sweets to RJD chief Lalu Yadav.