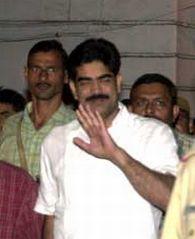 The order to kill journalist Rajdeo Ranjan, the police say, was issued from Siwan jail.
M I Khan reports from Patna.
Authorities in Bihar shifted former member of Parliament and gangster Mohammad Shahabuddin, left, from the Siwan jail to the Bhagalpur central jail, two days after the Bharatiya Janata Party demanded this following his name featuring in journalist Rajdeo Ranjan's murder.
"Shahabuddin has been shifted from the Siwan district jail to the Bhagalpur central jail," Inspector General (Prisons) Anand Koshore said.
A senior police officer in Siwan told this correspondent over the telephone that they have information that the "order to kill Ranjan" on May 13 was "issued" from Siwan jail.
"On the day Ranjan was killed, around 36 calls were made from the Siwan jail to a suspect who was standing near the murder spot," the police officer said, speaking on condition of anonymity. "The suspect, who has not been arrested yet, made the last call to someone lodged in the Siwan jail."
On Wednesday, May 18, the police in Siwan raided the jail in connection with the murder.
The police team searched the prison cells of Shahabuddin and three of his associates during the raid. "We have recovered eight mobile phones, two knives and other objectionable items during the raid," the police officer said.
About 63 people, who had gathered at the gate of Siwan jail on Wednesday to meet Shahabuddin, were detained by the police. Some of them were interrogated and later released.
Ranjan, the Siwan bureau chief for the Hindi daily newspaper Hindustan, a part of the Hindustan Times group, was shot at a busy market near Station Road last week.
The police, who arrested Upender Singh -- alleged to be one of Shahabuddin's hit men -- on charges of violation of the new Excise Act are likely to take him into remand to interrogate him further in connection with Ranjan's death.
According to the police, Singh has confessed that "a conspiracy to eliminate Ranjan had been hatched inside the Siwan jail, where Shahabuddin is lodged."
"At least six to seven people were involved in the plan," police sources said.
Bihar Director General of Police P K Thakur says the police has identified the hitmen involved in the murder.
"The shooters will be arrested soon," Thakur said. "They appear to be supari (contract) killers."
Siwan Superintendent of Police Saurav Kumar Sah says seven people have been detained in the case and believes the case will be solved soon.
Five police teams have been constituted to investigate the case. "Each team has been working on a different angle," Sah said.
The state government has constituted a Special Investigation Team of two deputy SPs, three inspectors and five sub inspectors to identify the killers.