'It will take years for the mission in Islamabad to recover as a top-notch diplomatic establishment,' says Ambassador M K Bhadrakumar.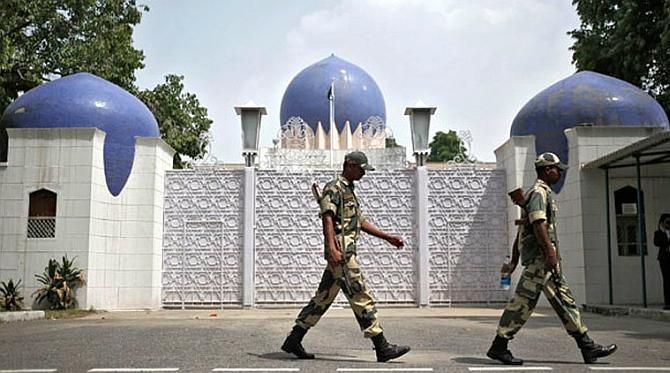 As could have been anticipated, Pakistani intelligence is having the last laugh in the merry-go-round that we kick-started a week ago by breaking an unwritten 13-year-old India-Pakistan code of conduct and staging a dramatic ambush to catch a staffer by name Mehmood Akhtar in the Pakistani mission in Delhi, detain him, 'interrogate' him and thereafter expel him.
Pakistan retaliated promptly by expelling a staffer in the Indian mission in Islamabad. Generally speaking, one would have expected that the score had evened out and the matter ended, and life would move on.
But then, we forced Pakistan to unilaterally withdraw another six diplomats by leaking to the media that Akhtar had 'confessed' during interrogation that there were more Pakistani spies in the mission in Chanakyapuri.
That meant effectively that we 'lost' one guy in Islamabad, while Pakistan 'lost' seven, all in all. That was terrific achievement.
But the sense of triumph proved momentary. Pakistan took another day to get all their 6 diplomats and staffers back on their soil across the Wagah border, and thereafter they hit us below the loins where it really hurts.
There was no crude ambush, no detention violating the Vienna Convention, no 'interrogation', no 'confession', no 'manhandling', no media blitzkrieg.
They scrupulously observed the 13-year code of conduct ensuring that the undesirable alien simply walked back home with bag and baggage.
They simply went on to publicly name 8 Indian diplomats and staffers in the mission in Islamabad as belonging to two Indian intelligence agencies.
Effectively speaking, they made 8 of our chaps 'burnt-out' cases.
At this point, our chaps lost nerve. We should have point-blank rejected the Pakistani allegation. But instead, we decided to withdraw those 8 personnel on the ground that their 'identity has been compromised,' according to MEA sources quoted by NDTV.
Aren't we admitting that the 8 personnel were indeed spies? We should have insisted that these 8 personnel were pucca gentlemen belonging to the Indian Foreign Service.
On the other hand, if the Pakistanis have been spot on, then, our mission in Islamabad has been badly compromised.
Quite obviously, in that case, the Pakistanis even knew the parent cadre of our personnel.
This is a very serious matter indeed. At what point did the Pakistanis get access to such information?
Is this the end of the story? Or have the Pakistanis only partly 'declassified' what they know? A host of troubling questions arise.
To be sure, it will take years for the mission in Islamabad to recover as a top-notch diplomatic establishment. This is not a matter of simply finding 8 replacements. Our mission stands humiliated and crippled.
Technically, Pakistan has not expelled these 8 personnel. Therefore, we can't 'retaliate', either. Funnily, if the latest score is accurate, we seem to have had more spies in Islamabad than they had in Delhi.
That doesn't look good for our 'image' in the international community when Pakistan projects itself as a victim of terrorism.
To my mind, all this is becoming too tragi-comic for words. Isn't there a saying 'Let sleeping dogs lie'? Perhaps, a better one will be 'People in glass houses shouldn't throw stones.' Personally, though, I prefer Winston Churchill's famous saying, 'You will never reach your destination if you stop and throw stones at every dog that barks.'
Why is such a macabre pantomime playing out? Who stands to gain?
IMAGE: The Pakistan high commission in New Delhi.