'Modi's recent decisions to improve India-China relations, adjust India's neighbourhood policies and to rebalance India's ties with the major powers are linked to his political agenda.'
'Of course, the good part is that this agenda is also in the national interest,' says Ambassador M K Bhadrakumar.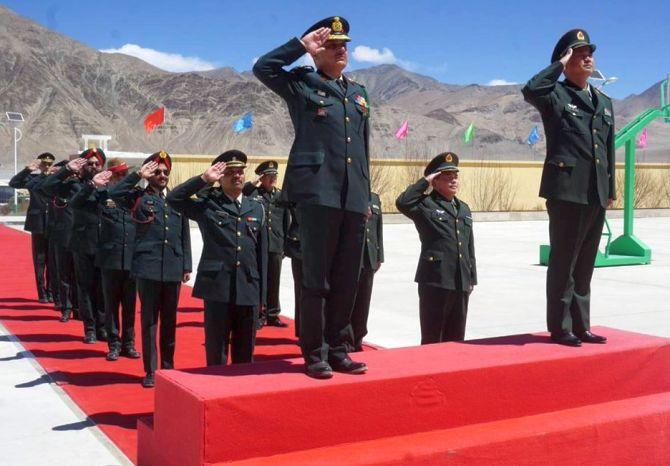 IMAGE: Senior Indian and Chinese army officers met in Chusul, Ladakh, on May 1, 2018, during which both sides resolved to maintain peace and tranquillity along the Line of Actual Control, besides agreeing to work on additional confidence building measures.
The meeting followed Prime Minister Narendra D Modi's meeting with China's Supreme Leader Xi Jinping in Wuhan on April 27-28, 2018.
The anxiety syndrome in the American write-ups on the Wuhan summit is truly tragi-comic.
An analyst at the Brookings Institution confidently predicted even before the summit between Prime Minister Narendra D Modi and Chinese President Xi Jinping that the event was much ado about nothing.
The US government-funded Voice of America in an analysis has now arrived at the same conclusion, after the summit.
Why are these American analysts in such tearing hurry to debunk the Wuhan meeting?
It is geopolitics, stupid!
The prestigious Stockholm International Peace Research Institute (SIPRI) released a report which says amongst other things that India's defence spending rose by 5.5 per cent to $63.9 billion in 2017, overtaking that of France as one of the world's top five military spenders.
The report estimates that one of the main motivations behind India's plans to expand, modernise and enhance the operational capability of its armed forces lies in its tense relations with China.
From the US perspective, the situation is ideal to advance the business interests of America's vendors of weaponry.
Last year, business deals worth $15 billion were chalked up.
Any improvement in India-China relations will profoundly hurt American interests.
Fueling India-China tensions is a major objective of the US' regional strategy.
Alas, there are Indians too who are eagerly serving the US interests.
A prominent Chinese expert on South Asia recently wrote (in the context of the Wuhan meeting), 'Many strategic elites in India are financially backed by the West and hence speak for Western countries.' It is a national shame, but true.
Be that as it may, these guys are missing the plot.
Prime Minister Modi's recent decisions to improve India-China relations, adjust India's neighbourhood policies and to rebalance India's ties with the major powers are linked to his political agenda.
Of course, the good part is that this agenda is also in the national interest.
Take India-China relations.
The Voice of America is stupid to assume that the Wuhan meeting was about border tensions. No doubt, it is important that peace and tranquility prevails on the border with China.
The Doklam standoff was an eye-opener for the political leadership. Hence the 'strategic guidance' to the military issued from Wuhan (which is actually an order from the civilian leadership to the generals) to defuse confrontations during patrols in accordance with existing protocols and mechanisms.
The military people may not like it, but that is how a democracy prioritises butter over guns.
Clearly, Modi's top priority is about Chinese investments in India.
The drivers of the Indian economy in our establishment played a decisive role in bringing about the strategic shift in the thinking toward China -- and in preparing for the Wuhan meeting.
The fact of the matter is that China is already positioning itself as among India's top investors.
In 2017, despite Doklam, China tripled its investment to $2 billion. Bilateral trade touched $84.44 billion in 2017, which is an increase of 18.63% over 2016.
By the way, Indian exports to China went up by 40%.
This year, bilateral trade in the first quarter already hit $22.1 billion, up 15.4% year on year.
In April, the two countries signed over 100 trade agreements, worth $2.38 billion, when a Chinese trade delegation visited India.
According to a report in Forbes magazine recently, India is courting Chinese companies to bridge its infrastructure deficit.
Last year, China's Sany Heavy Industry planned an investment of $9.8 billion in India, while Pacific Construction, China Fortune Land Development and Dalian Wanda planned investments of more than $5 billion each.
Earlier this year, the China-led Asian Infrastructure Investment Bank approved funding of $1 billion for projects in India.
Meanwhile, Chinese investors have been pouring money into sectors outside the remit of government agencies.
In 2015, Alibaba invested $500 million in Snapdeal and $700 million in Paytm.
In 2016, Tencent invested $150 million in Hike, a messaging app, and a consortium of Chinese investors paid $900 for media.net.
In 2017, Alibaba and Tencent announced or closed deals valued close to $2 billion -- Alibaba's second tranche of $177 million in Paytm, $150 million in Zomato, $100 million in FirstCry and $200 million in Big Basket.
Tencent's investments included $400 million in Ola, $700 million in Flipkart and a second round of investment in Practo.
Last year, China's drug giant Fosun Pharma acquired a 74% controlling stake in India's Gland Pharma for $1.1 billion.
Chinese smartphone makers Xiaomi, Huawei and Oppo all are operating manufacturing plants in India, and have had great successes in Indian market, too.
These plain facts may not be significant enough for our 'China hands', but they are a compelling reality for the PMO and North Block.
Let me quote from the report in the Forbes magazine: 'Seemingly, there's a shared belief in both countries (India and China) that a position of hostility undermines their interests, and stabilising relations at a time of global uncertainty will yield economic dividends.'
'India's competitive edge in information technology, software and medicines, and China's strengths in manufacturing and infrastructure development make the two sides natural partners...'
By the way, it is yet to sink in that the single most far-reaching outcome of the Wuhan meeting could be that India is sidestepping the CPEC controversy and is moving on to join hands with China in the construction of the so-called Five Nations Railway Corridor connecting Xinjiang with Iran.
It is a prestigious flagship project of the so-called Silk Road Economic Belt, which was proposed by President Xi Jinping in 2013.
Conceivably, this could be the first step in a long journey. China has shown great interest in developing economic corridors to India across Nepal and Myanmar.
To be sure, Modi travelled to Wuhan with the 'big picture'.