As the country erupts over the CAA and NRC, all I can do is think of Daya Ram from Pakistan in Jodhpur and Tehmina from Afghanistan in Delhi, says Geetanjali Krishna.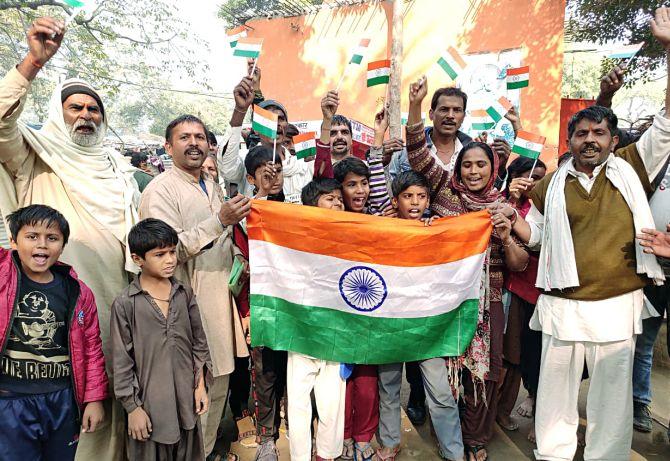 At a time when many of us are up in arms over the contentious Citizenship (Amendment) Act and the National Register of Citizens, I'm reminded of conversations I've had with refugees across the country in the last few years.
I remember Tehmina (name changed) from Afghanistan, whose husband was kidnapped and lost to the Taliban.
She was tortured by her in-laws for years before she was able to flee to India with her three children.
She now lives in Delhi, a non-citizen who can't open a bank account, buy property, get a proper job or live a normal life.
All she has by the way of identification, is the Refugee Card issued by the UNHCR.
I also remember Daya Ram, who fled to India from the Sindh province in Pakistan over a year ago after facing acute religious persecution.
Over the years, he told me, his family fled to India in stages, whenever they could collect enough money to pay for a couple of them to come to India on a 15-day religious visa and pay agents Rs 20,000 per person in "fees".
Daya Ram was the last person in his family to leave his homeland -- where he was reviled for being Hindu -- for India where he is reviled for being a Pakistani.
Till the Citizenship (Amendment) Bill became an Act, I have to say I hadn't given their religious affiliation even a moment of thought.
Call me naive, but to me both Tehmina and Daya Ram have faced similar problems in India.
Refugees and displaced people pouring in from its neighbouring conflict zones have no status in the country.
Both Tehmina and Daya Ram have entered India without official papers.
Both live in a strange limbo in camps and settlements, away from their respective homelands, unable to call India their own.
Tehmina's elder son, now 22, only gets jobs where he can be paid in cash and kept off books as he has no means of identification.
Her eleven year old, has been too traumatised to even go to school.
For years, she has educated him at home.
Daya Ram faces the same prospects as his brother Amir Khan (half his family adopted Muslim names to avoid persecution in Pakistan) who fled to India three years ago, also on a 15-day religious visa.
Both live in the Aanganwa camp for Pakistani Hindu refugees in Jodhpur.
After all this time, his brother has no job.
Around him, neighbours are getting their daughters married younger and younger, to avoid them being "dishonoured" in the close confines of the camp.
"Often I wonder," he said to me, "what is this life worth?"
Which is why as the country erupts over the CAA and NRC, all I can do is think of Daya Ram from Pakistan in Jodhpur and Tehmina from Afghanistan in Delhi.
They have faced the trauma of fleeing from the countries of their birth -- and the problems of fitting into the country they have sought refuge in.
Instead of looking at refugees through the unnecessary lens of religion, India should ratify the 1967 Protocol of the 1951 United Nations Refugee Convention (signed by 140 of the world's 190-odd nations).
If not, then at least the powers that be need to look into the eyes of Tehmina and Daya Ram to see that fear knows no god.
Neither, for that matter, does humanity.