'If Pakistan were to launch surgical strikes, India would not be able to forget it for generations to come,' Pakistan army chief General Raheeel Sharif warned on November 24, days before he retires from office.
'India has to understand that the permanent state of war that exists between India and Pakistan has to be expected,,' says Colonel Anil A Athale (retd).
'The only way to ensure peace or absence of war is to maintain a militarily-dominant position over Pakistan.'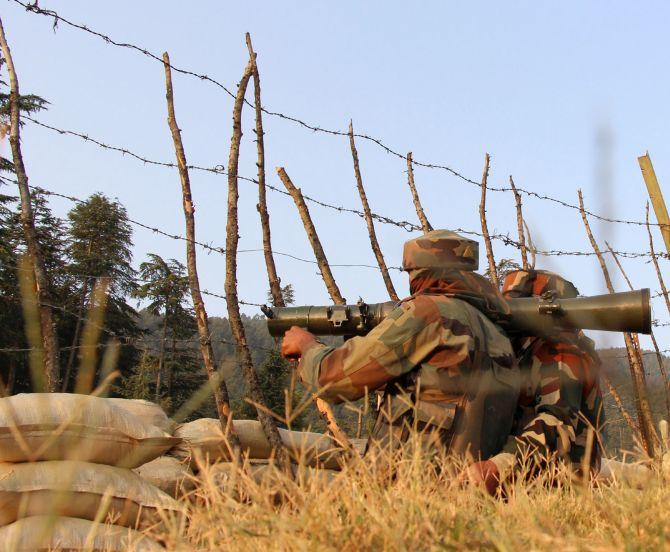 IMAGE: Artillery has been put in ready condition at strategic locations to effectively respond to Pakistan if it fired artillery shells.
'For the first time since 2001, heavy artillery is being used and cross-border firing has become routine,' says Colonel Anil A Athale.
Photograph: Umar Ganie
The Uri attack and in its aftermath cross border operations on September 29, 2016 by the Indian Army have occupied media space for quite some time.
The sheer number of uniformed and ignorant comments by the usual suspects has been overwhelming. But, of course, what takes the cake are some comments from across the border.
As a knee-jerk reaction, some Pakistanis dubbed the Uri attack as a 'false flag' operation, meaning it was India itself that got 19 of its soldiers killed to 'defame Pakistan' on the eve of the United Nations session! That this kind of comment was made even by a retired Pakistani air marshal is a 'real' cause of concern.
This is nothing new.
Much earlier, the attack on Parliament in 2001, the massacre of families of soldiers at Kaluchak in 2002 and the 26/11 Mumbai attack were all claimed to be done by Indians themselves, for what else, to 'Defame Pakistan'.
To claim that Indian intelligence agencies were responsible for these attacks ignores the reality that in border areas like Jammu and Kashmir, the intelligence agencies are heavily dependent on the army for administrative support.
In fact, most of their operatives even live within army garrisons. This is like accusing someone of painting coal with black paint!
Pakistan has been acknowledged the world over as the epicentre of terrorism and already stands defamed.
Frequent Pakistani assertions that it was India itself that carried out these operations is worrisome as that raises serious doubts about the mental health of a large number of Pakistanis.
Pakistan and its media are well known for promoting falsehood.
During the 1965 War, the Pakistanis claimed that fighting was going on in New Delhi's Lodhi Road area.
In 1971, right till December 15, Pakistan boasted of great victories over India. When the Indian Air Force and Indian Navy attacked and razed oil refineries in Karachi, Pakistani television showed those visuals to claim that they were of Mumbai!
In the 1980s, General Zia-ul Haq kept the loss of the Siachin Glacier hidden from the Pakistani public.
At Kargil in 1999, to maintain the fiction that the attack involved 'Kashmiri freedom fighters', Pakistan refused to accept the bodies of its Northern Light Infantry soldiers.
Pakistan's denial that India carried out 'surgical strikes' inside Pakistan was to be expected as admitting the truth would raise a question mark over the image of invincibility built by the Pakistan army.
When the Americans carried out a raid to kill Osama bin Laden in May 2011, the Pakistan army suffered a popular backlash. It was thus natural for the Pakistan army to hide the truth from its people.
Some Indians opposed to Prime Minister Narendra Modi were worried that the surgical strikes were giving his government further legitimacy and therefore joined the Pakistani chorus and questioned the veracity of the operations.
Some claimed that this was nothing new and even earlier cross-border raids had been carried out.
The truth is that this was the first time multiple operations were carried out to specifically target terror launch pads.
The operations had a clear strategic aim -- of driving a wedge between the Lashkar-e-Tayiba and the Pakistan army. The earlier cross-border raids were mostly local affairs with the limited aim of extracting revenge for border violations.
The strikes were called 'surgical' or 'precision' strikes because they only targeted the terrorists and left the Pakistan army as well civilians alone and avoided any collateral damage.
It has been nearly two months since that incident and the tension on the border has increased manifold. For the first time since 2001, heavy artillery is being used and cross-border firing has become routine.
Does it mean that the cross-border raids were futile? I think the they had a limited objective of pushing back the terrorist bases further inland. No sane person thought that this would bring about a change in Pakistani behaviour.
All those interested in peace must understand that Pakistan is NOT a normal State. It is a 'warrior State' on the lines of Greek Sparta or the ancient Assyrians of present day Iraq.
A Pakistani child is brainwashed in school right from his childhood that the highest duty is to fight. Martyrdom is the goal and Pakistan is surrounded by enemies like Hindu India, Jews and Christians.
The Pakistani army and its attitude merely reflects this basic trait.
The Kashmir dispute is thus a symptom and not the cause. Some years ago in a candid moment, General Pervez Musharraf, the then ruler of Pakistan, had confessed that even if the Kashmir issue is resolved, there would be no peace between India and Pakistan.
A majority of Pakistanis are convinced that India is too heterogeneous and will not remain united for long.
This belief forms the core of its policies towards India since Ayub Khan's days when he told President John F Kennedy in 1961 that India will soon break up and Pakistan will emerge as the single largest State in the subcontinent.
This mindset is reflected in the writings of several Pakistani analysts who mistake the 'noise and din' of Indian democracy for imminent break-up of the country.
In their view, even agitations for separate states within the Indian Union are secessionist.
Indian's north-east has been largely peaceful for several decades now. Yet one finds many Pakistani writers harking back to Mizo or Naga separatism to convince themselves of impending doom for India.
In keeping with its warrior ethos, Pakistan has erected walls of hate around itself. India has to understand that the permanent state of war that exists between India and Pakistan has to be expected.
The only way to ensure peace or absence of war is to maintain a militarily-dominant position over Pakistan. Keeping this posture and hitting back hard is the only guarantee to stall future adventurism.
Dr Manmohan Singh's government erred when it did not respond to the 26/11 attacks. This only got us many more such attacks, as Pakistan advanced the boundaries of Indian tolerance.
In reality, India's forceful response and cross-border raids have actually reduced the chances of nuclear conflagration on the subcontinent by imposing caution on the enemy.
The real solution to the Pakistan problem lies within India.
Pakistan was created on the premise that Hindus and Muslims cannot live peacefully as part of one State.
India has close to 160 million Muslim citizens. Indian Muslims have made great contribution in preserving Indian culture, music, arts and sculpture.
By and large, Indian Muslims today acknowledge the fact that they are possibly the safest in India rather than a theocratic Pakistan.
The daily bloodbath and sectarian violence there has had its impact on Indian Muslims. However, there are historical irritants that have been permitted to fester and spoil relations between the two communities.
Majoritarian moves like the beef ban as well as cases of violence against the minorities going unpunished tarnish India's image. None of these are insurmountable and a cultural and social (not religious) mainstreaming of Muslims can usher in a cooperative relationship that was evolving between the two communities in the 19th century before the British intervened with their divide and rule policy.
Peace and a cooperative relationship between two communities in India will falsify the basic foundations of Pakistan and demolish the walls of hate.
The political boundaries will remain, like between India and Bangladesh or Nepal, but the only way to tame the 'warrior State' is by destroying the foundations of hate.