With an unexpected new turn in Kashmir, an ominous Afghanistan, a reliably unpredictable Trump, and an unfathomable reversal with RCEP, Modi may have to reinvent his character, suggests Ambassador B S Prakash.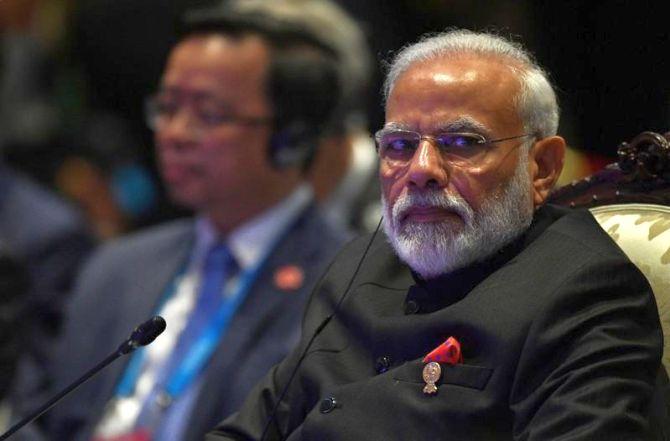 'Do not judge a book by its cover' is a well known saying, but even then I was about to judge the book by its cover: A familiar photo of Modi and Trump holding hands in Houston and beaming at the crowd, Modi looking triumphant and Trump, a bit puzzled.
Some burly and grim American security guards in the background looking troubled by all the cheering Indians.
MODIPLOMACY, screamed the title in two colours.
Not for me, I thought.
I had read enough of that already.
But something else caught my attention.
'Through a Shakespearean prism' said the sub title, in a somewhat smaller font.
And then I saw the author's name.
T P Sreenivasan, it said, a name that should be familiar to Rediff readers.
Ambassador T P Sreenivasan is not only a Rediff columnist for over two decades, but a prolific writer.
But for me, he is first a friend, philosopher and a 'guru' and not to forget, an erstwhile boss, though he never displayed the qualities associated with that appellation.
He wears many hats: Former 'Excellency', educationist, initiator of institutions, motivator for new bureaucrats, writer, and occasionally recipient of awards.
With Modi now in his second term, libraries, the 'right' kind of libraries are already having shelves devoted to him: Biographies, hagiographies, Modinomics, Modiology, Moditva, and so on.
PMs who had short terms and slept through them -- no names mentioned -- have tomes written about them.
It is not surprising that the current prime minister, who has already completed a full term, teeming with thought and action is an attractive and possibly a profitable 'subject' for authors.
Thus, I assume that Sreenivasan had no dearth of competitors, even if he wished to focus exclusively on diplomacy, his own professional expertise.
I, myself, also a foreign policy aficionado, have attended a few book launches already on subjects such as 'Modi and the world' or the 'world according to Modi'.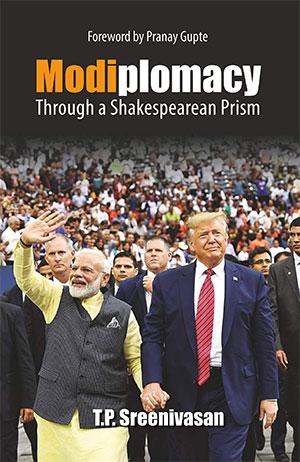 To overcome this problem, Sreenivasan had to find a prism through which to view Modi's engagement with the world.
With his proclivity for innovation, he has thought of a Shakespearean lens, Modi as a major character in a typical play of five acts by the bard.
It is a clever devise and like all devises has its uses and limitations, but the book is enlivened by this framework.
'Narendra Modi is nothing if not theatrical,' as Sreenivasan justifiably says.
He strides on the national stage and is certainly a marked presence on the international platform as well, has confidence and charisma, delivers his lines with force and eloquence.
If one were to continue with the theatre metaphor, Modi can don his costumes with great aplomb and has even contributed an Indian sartorial elan to world gatherings.
Going further, his gestures and body-language -- the jhappi embrace, the two fisted vigorous handshake, clenched hands raised together a la the 'Howdy' event, and so on are analysed by breathless television commentators.
His taste in stage and settings -- a Sabarmati river front, a Mamallapuram beach walk, a jhoola here, a charkha there -- are impeccable showing great directorial skills.
But above all, let us not forget, Modi has to write his own script, direct the play, as well as play the primary part.
How has he fared in the first term?
Sreenivasan's book explains the Shakespearean schema: The protagonist is introduced in the first act and soon sets in motion new developments.
These gather pace and reach a climax in the third act.
But complications and reversals arise in the fourth act causing dramatic tensions.
In the final act a resolution is found or a denouement is seen.
Later, critics can pronounce a verdict on whether the play was a comedy or a tragedy or something else.
The prudent can suspend their judgment too.
The book cleverly applies this format to Modi's first five years, using the roller-coaster relationship with the US as one of the main markers
In the first term, Modi comes to the central stage as a figure different from an earlier hero, Nehru.
Nehru's gaze was fixed on the horizon, his agenda Universal -- decolonisation, disarmament, development.
It is now a different world stage, where Statesmanship is often salesmanship.
Modi is 'transactional'.
Even when his arena is international, his concerns are domestic.
He is full of vigour and energy: Makes sincere efforts to improve relations with neighbours including Pakistan, activates relations multi-directionally, utilises the reputation of NRIs for national purposes, enlarges the base of the stakeholders in India's success.
From a grand opening scene of a majestic Rashtrapati Bhavan where he greets SAARC leaders, the pace of the action increases till it reaches a climax with his own visit to Washington.
Reversals are caused by the usual villain -- who else, but Pakistan, with China lurking in the side wings.
Unexpected twists and turns are caused by the unpredictable Trump! At this point, I must add that this somewhat irreverent narrative tone is mine.
The book is more structured and serious, as it ought to be.
The denouement is declared in the fifth and final act, read, the election of 2019 once again giving a triumphant victory to our hero.
For those, and I know there are many who want to see the trajectory of our diplomacy in the last five years, the book gives much material conveyed in an engaging and refreshing manner.
It is the nature of modern communication technology that events seem dated even if they occurred yesterday.
Hence, I have sympathy for my friend Ambassador Sreenivasan's predicament that even as he writes about the five act play of the first five years of Modi, the stage, the setting and even the characters have changed 'dramatically'.
Are we witnessing a second Act or an altogether different play?
With an unexpected new turn in Kashmir, an ominous Afghanistan, a reliably unpredictable Trump, and an unfathomable reversal with RCEP, Modi may have to reinvent his character.
Only a Shakespeare can imagine a script!
B S Prakash is a former Ambassador and a long-standing Rediff.com columnist whose earlier columns can be accessed here.