'The Gogoi episode can lead to our evolving a rational way to get better people who will head our checks and balances of democracy,' says former Chief Information Commissioner Shailesh Gandhi.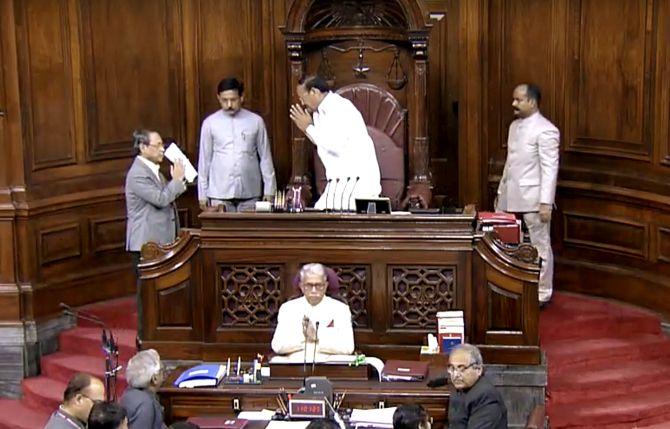 Former Chief Justice of India Ranjan Gogoi is now a nominated member of the Rajya Sabha.
When I first read about Gogoi's nomination to the Rajya Sabha I felt shocked and disgusted. It appeared to be a reward for services rendered to the government.
This appeared to be a sad reflection on the government and Gogoi, who had said in March 2019: 'There is a viewpoint that post-retirement appointment is itself a scar on judicial independence of the judiciary.'
It appeared he had forgotten his own words and conviction.
Leading jurists have also stated that this has resulted in a big question on the independence of the judiciary.
Many articles have been written and published calling into question many of the judgments delivered by him.
Was my reaction because of my poor view of his judgments, or was there a greater underlying principle which was being violated?
We must remember that Justice Baharul Islam had resigned as a Supreme Court judge in January 1983. He became a member of the Rajya Sabha on a Congress ticket in June 1983. This clearly showed a political alignment.
If Gogoi and the Bharatiya Janata Party are to be blamed, Bahrul Islam and the Congress were also blameworthy.
Suppose Gogoi had been made head of the National Human Rights Commission or the National Green Tribunal or governor of a state, would it have made a difference to the knee-jerk reaction from me and many others critical of this appointment?
This temporary outcry will soon be forgotten and we will continue in the same fashion as before.
It may be worthwhile to examine the cause for our discomfort.
Many judges and bureaucrats, when they retire, are likely to be able to work very well. They will therefore seek some post-retirement job to earn some money and use their skills.
Citizens perceive that these jobs in government are often given as post-retirement sinecures for favours done; or as a way to get docile, subservient pawns who will do his master's bidding.
Some people argue that the President has a right to nominate 12 members to the Rajya Sabha and nothing has been specified in Article 80 about how these should be selected.
In a democracy no action of any of the functionaries of the government should be arbitrary.
The nominated members in the Rajya Sabha are meant to be people with eminence in certain fields who are unlikely to be elected, but would bring their wisdom to the house.
These members should also be selected in a transparent manner so that they may actually not be mere figureheads and lackeys of the government.
All the judgments over which questions are being raised by everyone were delivered by benches on which there were other judges apart from Gogoi.
Should we believe that all of them were judges of straw who did not have a mind of their own and meekly surrendered the judgments to Gogoi because he was the Chief Justice? Or is this a question mark on all judges?
Our governance suffers because of a very large number of important positions being filled in a completely arbitrary manner. This leads to intense dissatisfaction with their work.
Most of our commissions, lokayuktas, regulatory bodies and tribunals do not deliver as an effective check and balance for the Executive.
Most of them do not deliver satisfactorily to citizens.
Often the people heading these are again trying to see if they could convince those in power that they will not upset the apple cart.
The consequence is that most these checks and balances of our democracy do not deliver. This is one of the major reasons for our poor governance: lack of institutions which are truly independent.
The selection of judges of our high court and Supreme Court is also by a highly suspect and opaque methodology.
This arises from the fact that all these posts are filled in an arbitrary method. Most of these are picked by bureaucrats and politicians in power.
Over the years all governments of different political parties have contributed to this sad state of affairs. In most cases the final selection is made by the political bosses, with the bureaucrats providing the notings and background notes to justify these.
In the case of judges they have snatched the power and with great opacity select and transfer all judges.
Perhaps India is the only country where judges select themselves.
The legitimacy of all these positions -- our checks and balances of democracy -- is suspect.
Our elected representatives owe their position to a reasonably transparent process.
Most of the officials of the executive arm of government are also selected by a reasonably transparent process.
On the other hand we have a completely arbitrary and non-transparent process for some of our most important positions and then complain about their integrity and performance!
We need to evolve a method to get the right people in these positions.
Firstly, a set of criteria should be decided with desired traits, qualifications and experience for the heads of all our regulatory bodies, commissions and other such positions.
Currently there is a laid-out criterion for selecting even the police constables, but none for these high positions!
Secondly, there should be an open interview of shortlisted candidates for various positions and reasons for selection must be recorded and publicly announced.
If we have a proper and transparent process we may get our checks and balances to function effectively, otherwise we will keep wailing about our poor governance.
After this, civil society organisations must set up ways to monitor their working and give their evaluation regularly on Web sites.
The Gogoi episode can lead to our evolving a rational way to get better people who will head our checks and balances of democracy.
---
Shailesh Gandhi is a former Central Information Commissioner.