The pandemic has changed the way people see the government.
It has eroded trust in the administration's ability to tackle a crisis, any crisis, observes Devangshu Datta.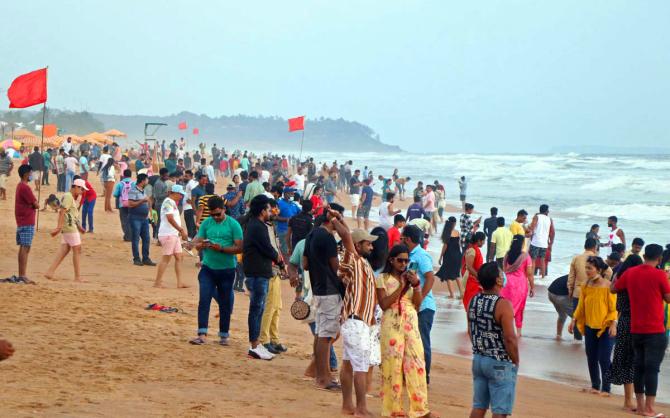 Mortality data from the Civil Registration System and the National Health Mission (NHM) broadly bears out extrapolations of analysts about the actual impact of the pandemic.
The NHM collects data from about 200,000 rural health centres, covering roughly a third of the population.
The NHM segment shows excess mortality of roughly 300,000 in May 2021, compared to May 2019, which was a normal month, as opposed to May 2020. Similarly, in April 2021, the NHM recorded 100,000-plus excess deaths, compared to April 2019.
If we multiply by three to account for population outside the NHM's footprint, that is roughly 900,000 excess deaths all-India in May, and another 300,000 excess deaths in April.
Yes, this is a crude method of estimation and yes, all those deaths would not have been from Covid. But it's the best one can do, given paucity of data and delayed release of whatever data there is.
The official death toll from Covid since March 2019 is 412,000.
The numbers above indicate that, in the two months of April and May this year alone, roughly four times as many people died of Covid as officially acknowledged to have died in the 15-month period of March 2020-May 2021.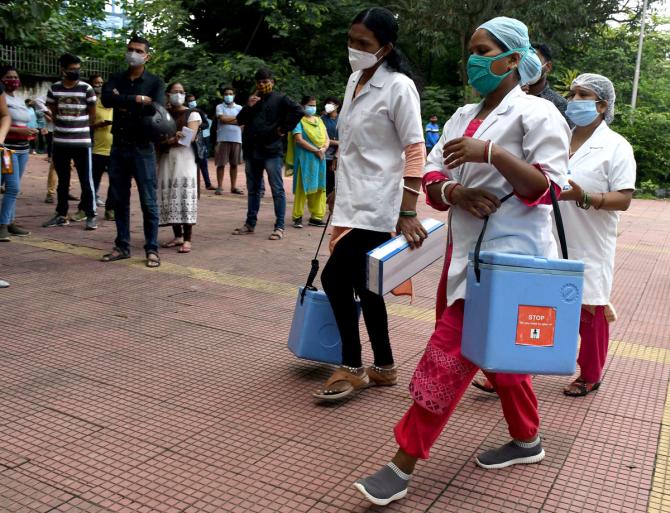 Data analyst S Rukmini describes three methods used to check these calculations.
One is a compilation of excess Covid-19 death calculations by different people on a state-by-state basis.
The second is a theoretical calculation, extrapolating from sero-surveys and assuming an infection-to-fatality rate.
The third is extrapolation from a national household survey.
She states all three methods converge and are consistent with each other, and estimates the actual number of Covid deaths all-India, through the entire pandemic, would be 2.5 million or thereabouts.
Other data analysts such as Professor Chinmay Tumbe, and Professor Murad Banaji have similar extrapolations.
As Ms Rukmini also pointed out, the very poor state of Jharkhand possessed the capacity to undertake an effective household survey for Covid mortality over 10 days during the second wave. There is no apparent reason why this couldn't be done in other states.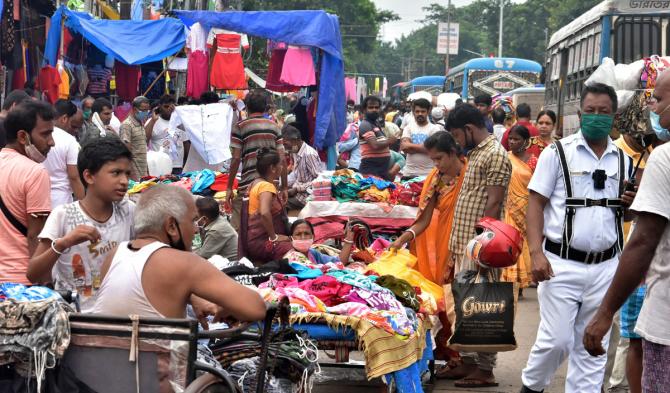 Even the official numbers suggest a tragedy of dimensions not seen since Partition. As at Partition, by far the larger proportion of the deaths were unnecessary.
During Partition, there wouldn't have been such a massive bloodbath if the British had not been in a tearing hurry to leave.
During the 2020-2021 pandemic, there wouldn't have been such a high death toll if people had been advised to maintain social distancing, and if the healthcare system had a sufficiency of oxygen, and a sufficiency of vaccines to move the population closer to herd immunity.
The Centre was anxious to 1. declare the pandemic over as it did in February 2. hold a Kumbh Mela one year early, perhaps because Uttarakhand and Uttar Pradesh have elections slated for 2022, and 3. hold assembly elections in Tamil Nadu and West Bengal, and panchayat elections in UP.
None of those objectives were consistent with increasing oxygen production, stocking up on vaccines, or advising people to maintain social distancing.
So instead of herd immunity, India seems to have received the gift of herd mortality.
People saw the breakdown of the healthcare system; they saw corpses stacked on the street and floating down rivers; they ran from pillar to post begging for oxygen cylinders, and they spent weeks trying to register on the Cowin app to get vaccinated.
What's more, even though unemployment is rife and there's widespread economic distress, people are forced to pay for vaccines. This is a cruelty no other country has imposed on its citizens.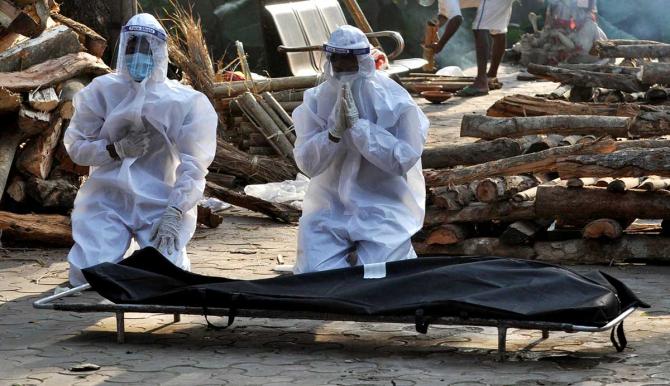 Death tolls in such huge numbers cannot be hidden and they cause tectonic shifts in behaviour.
Partition changed the subcontinent's socio-cultural fabric. The pandemic has changed the way people see the government. It has eroded trust in the administration's ability to tackle a crisis, any crisis. It has also caused utter cynicism about official pronouncements.
Eventually, we may be able to discard masks (they also work against flu and other airborne diseases). It will take longer before trust returns.
Feature Presentation: Ashish Narsale/Rediff.com