As the NDA government completes two years in office, there are more questions on Swarupa Dutt's mind than answers.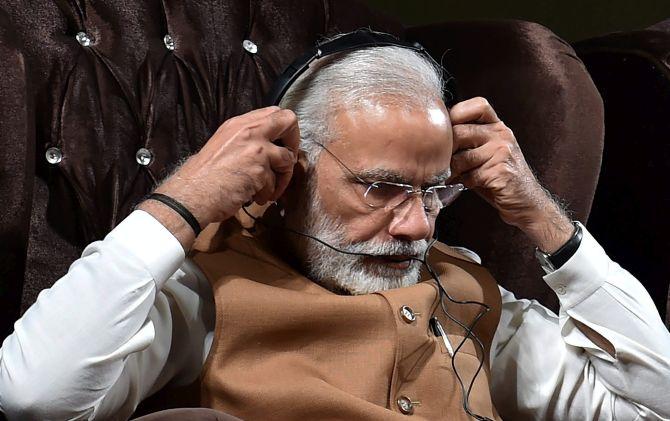 Dear Prime Minister Modi
I thought of you last night.
I thought about the mega celebrations planned by your party as it steps into its third year in power.
I thought of that euphoric time two years ago when the nation celebrated as you swept into 7 Racecourse Road on a historic mandate.
But mostly I thought about the great, sweaty, tired masses on the stranded suburban trains in Mumbai, whose journey home last night was a nightmare that need not have happened.
Since it Is unlikely that you or your hand-picked Railway Minister Suresh Prabhu is aware of what happened, here's a quick rundown.
It drizzled last evening; barely enough to wet the roads, but apparently enough to cause signal failure.
It was 9:10 pm when I boarded the train at Parel station. I live in Thane, and on a normal day it takes 40 minutes to travel the 27 km.
Last night I took me five hours.
Five hours, Mr Prime Minister.
Five hours stuck in a train without working fans, not knowing when I would reach home. Five hours during which I was grateful there was no medical emergency at home because I wouldn't have been able to make it.
There were no announcements, not at the stations, not inside the train.
Should I jump off the train and walk in the dark till I reach another station. Or wait it out?
Should I get off at the next station and take a cab home?
How does one take a decision if there is absolutely no information?
My colleague Divya Nair, who took a fast train to Thane and fared slightly better logging three hours, tells me that her compartment was just adjacent to the motorman's cabin and he told her he had no idea what lay ahead.
A pregnant woman also heading to Thane in my compartment got off at Kurla station because she simply had to use the loo.
Have you tried using a public toilet at a railway station, Mr Modi?
I haven't, but my nose tells me that the experience can be pretty much vile. Your abhiyan for a Swachh Bharat has clearly overlooked these toilets.
Another woman who got in at Ghatkopar station told me she waited at the station for nearly an hour for a train and then tried to take a cab, or an auto or book an Ola or Uber. There was simply nothing available. So after spending another fruitless and, I imagine, frustrating 40 minutes on the road, she returned to the station just in time to board my train.
She was enraged, Mr Modi, and so was every other woman in the compartment. Enraged that all it took was a slight drizzle for a signal failure. Enraged that this happens several times every year.
A report in the Mumbai Mirror says there were 15 major and 85 minor technical disruptions on the suburban rail network in the first nine months of 2015. These included burnt pantographs, tracks fractures, derailments and signal failures.
As Mr Prabhu, a Mumbai man, will tell you, local trains are the lifeline of Mumbai. Eighty lakh people use the rail network every day and during peak hours there are 6,000 people to a train.
An RTI inquiry, Mr Modi, has revealed that around 27,000 commuters fell off crowded local trains in the last 10 years, of which around 7,000 commuters died. That's 7,000 families losing a loved one only because there just aren't enough trains to go around. Have you considered a parallel metro train line to the existing suburban network? It would help.
You, on the other hand, want a Bullet train to Ahmedabad, which according to a report by IIM Ahmedabad will need to make at least 100 trips every day to make it viable for the railways. And I do understand it would look remarkable on your CV, but can we not put that Rs 1 lakh crore to better use? May be a throw a trifling to ensure there is loan restructuring for debt-ridden farmers forced to commit suicide. Or may be imposing restrictions on sugarcane crops which are water guzzlers, never mind the Pawars that be. That would save many lives a day, Mr Modi.
You have announced 40 developmental programmes, but not a single one talks about improving existing infrastructure, developing existing programmes. The challenge is to improve existing programmes, find the leaks and plug them and make them work seamlessly. Again, I do see the reasoning. Ribbon-cutting ceremonies do get more eyeballs (read votes), than back-to-basic programmes.
But remember Thane Municipal Commissioner T S Chandreshekhar from the 1990s? He was singularly responsible for transforming a one-horse town into a mega city. All he did was focus on the basics -- laying gutters, building footpaths, public lavatories, streetlights, signal systems, laying roads, broadening existing roads, ensuring uninterrupted water supply, desilting lakes...
No new yojanas (you love that word, don't you?), just simple bijli, sadak, paani, the surefire vote-garner. But real estate boomed, municipal coffers bloated and the quality of life in the city improved.
Will your smart cities have pavements we can walk on?
Will they have ramps for the disabled, the elderly, the sick?
Will public toilets be handicapped-friendly? Or will sanitation workers still die cleaning drains?
How will you get your drains desilted, manholes cleaned? Once cleaned, will the muck be removed immediately or forgotten till it dries and scatters in the wind?
Will trees be pruned so that falling branches don't cripple pedestrians?
How will you ensure uninterrupted water when we are still a monsoon dependent nation? And, while on water, is the BRIMSTOWAD (storm water drain project) for Mumbai fully functional? Would you know of it?
So many questions, Mr Prime Minister. I wish I could say, your government knows all the answers.
As you celebrate your 3rd year with a 62 per cent approval rating, according to The Times of India, and a thumbs up on every parameter according to our own Pulse of the Nation poll, here's the thing. India still believes you are our best bet. It believes you will deliver, that you need more time.
The NDA won 6/6 seats from Mumbai in the 2014 Lok Sabha polls. You have a captive vote bank of 80 lakh commuters and nearly 3 crore Mumbaikars. Just focus on the basics, Mr Modi, and you can repeat your performance.
And while I say congratulations, I must add that your detractors are wrong to say intolerance has increased in India after you took over. A woman in the compartment last night told me she was new to the city. She is from a small town in UP called Bahraich and said Mumbai was a culture shock but she loved its pace. "Thoda problem toh hoga hi. Tolerate karna padta hai," she advised.
Yes, Mr PM, we have been tolerant. So far.