Squashing erstwhile 'separatists', marginalising the 'mainstream', and squeezing funding channels have all evidently had an impact -- at least for the moment, notes David Devadas after a visit to Srinagar.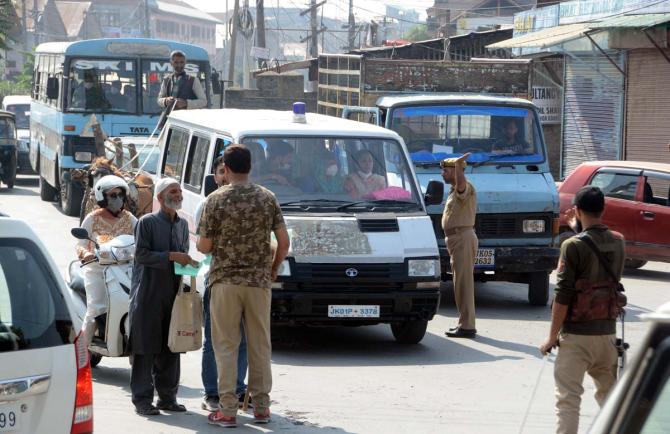 For years, those who have written about Kashmir have speculated about how the place would explode the day separatist leader Syed Ali Shah Geelani passed away.
What actually happened was... well, more or less nothing.
It says something about the mood of the people there, and of the State apparatus.
Kashmir has been largely calm ever since the Constitutional changes two years ago -- indeed, since the Centre took direct control in June 2018.
The question is, how deep does the calm go? Will it last?
The portable ECG machine beside the nonagenarian leader's bed flattened a few minutes after 10 pm on September 1. When I woke the next morning, my phone had no connectivity.
There were a couple of WhatsApp messages from Kashmiri friends, though, reporting the death. So, clearly, word of his death had spread in the first couple of hours after it happened.
It struck me that I had been surprised to see three army Casper APCs stop at Nehru Park, at the edge of the Dal Lake, soon after 10 pm the previous night. Several army men had alighted, some of them with phone cameras working. I had thought of taking a picture of them, but the Kashmiri friend with me worriedly advised against pointing a camera at them.
They must have been setting up barricades, I thought the next morning. So, when I went out to the lakefront around 8 am, I half expected to be prevented by a strict curfew. Not so. Although a number of police and CRPF men were deployed, a few vehicles plied. Some of them were passenger SUVs, which stopped to pick up pedestrians asking for a lift.
By evening, when I went for another walk along that lakefront, the deployment remained, but the rest of the scene was almost normal. Many tourists and locals were around. Cars passed, some were parked. A large number of shikaras plied. Many strolled, some ate tuji barbecue, lavasa with chutneys, spicy noodles, or other food.
I stopped occasionally to stare wide-eyed, recalling explosive situations from the past. Much of the city had come to a halt when Hurriyat leader Abdul Ghani Lone was assassinated 19 years before.
And this was Geelani.
Some people took to the streets in parts of downtown Srinagar and in Kulgam in south Kashmir, I was told, but they were soon pushed back by curfew.
Shopian, a stronghold of rebellion since at least Dogra times, was placid -- and quite normal by Saturday. I'm told that even feisty stone-pelters of the past few years weren't interested to go for the funeral.
Indeed, a Shopian-based friend observed that relatively few would have gathered for the funeral even if there had been no restrictions -- except for those whom Pakistan and the Jamaat mobilised. Both would have seen it as a show of strength.
Most shops had remained shut in my touristy vicinity too, until Thursday afternoon, but Kashmiri generosity remained. When I went to buy yoghurt from a shop that was open, the grey-bearded shopkeeper asked if I had had lunch.
"If you don't get food, come around to my house behind this shop. Eat with us," he said with warmth. That was classic Kashmiri hospitality -- unparalleled. Yet, I found it remarkable on a day such as that particular Thursday.
The yoghurt was to go with the biryani I had bought by then, on my way back from a house where I dropped in during the late morning -- having got a lift towards that area.
I had gone without notice, of course, since my phone wasn't working.
Luckily, they were not only at home, but had a BSNL number. That network was functioning. So, I was able to ask a friend who works for an airline to book a ticket for me. That not only got done, a ticket was delivered to me that evening. (Many thanks!)
Although I had committed to attend a former student's wedding in south Kashmir the next week, I had decided not to stick around without phone or net connectivity. I've dealt with enough such impositions over the years to last a lifetime.
I had chosen to stay away in 2019 too, when a lot of journalists had had to beg for a few brief minutes of connectivity during the weeks following the Constitutional changes. I had just flown to Delhi at the end of that July, and decided to stay put until connectivity was restored.
On Friday morning, I woke to the chanting of aurad-e-fathiya from a nearby mosque, and found myself wondering whether Geelani would have approved, or considered those 14th century compositions shirk or bidat.
Out for a last walk along the lakeside, I heard some sounds that sounded like chanting wafting across the water. It was surely too far from the Hazratbal mosque on the other side of the lake, I thought, and perhaps too late for aurad after 7 am.
So, I asked a passerby what those sounds were. That's a wedding celebration, he said, gesturing towards the houseboats in the direction of Rainawari. I shook my head.
Nothing seemed to be following the script so many of us had imagined for years.
There were several roadblocks on the road to the airport. I was glad I had arranged for a vehicle to pick me up several hours before my flight. Some passengers who had come from Manasbal told me at the airport that they had had to go through a dozen roadblocks on what would normally have been an hour's journey from their part of Kashmir to the airport.
One had to go through a veritable melee at the Hyderpora crossing, weaving through dozens of vehicles to try and show a ticket to abrasive policemen, evidently of the Special Operations Group.
Geelani's house is just off the road to the airport, a little beyond that crossing, and the government was determined to prevent people from getting there. Dozens of policemen and officers stood around the turn into the lane to his house.
The man who had come to drop me to the airport was scared by the bandobast, and I had to keep urging him to edge farther. I kept reminding him he needed to get back well before Friday prayers -- in case there was trouble then. But, when I checked after arriving in Delhi, I was told things had remained largely calm.
It's tough to unpack the silence, and the apparent normalcy.
There has been cynicism about Geelani, and other leading lights of the Hurriyat, since at least the day during the 2008 uprising when Geelani, standing beside Mirwaiz Omar and Yasin Malik, asked the gathered vast throng to endorse him as the movement's leader.
Instead of the roar of acclamation he expected, there was no more than a confused murmur. Young men, and then teenagers, took the lead thereafter, in 2010 and 2016 respectively.
There has been no public distress about the Hurriyat, Jamaat, and other 'resistance' leaders in jail over the past couple of years. Many say (among themselves) that those in jail got what they deserved, alluding to the massive wealth and influence they had accumulated.
There's a more general dimension to the normalcy, though, beyond a particular death. I have rarely experienced such smiling welcomes as I did over the past few weeks, even in shops I entered for the first time.
That sounds very positive. And yet, happy calm is so uncharacteristic of the normally emotional, ebullient, distressed and dissatisfied behaviour patterns of the place.
People have obviously absorbed the lesson that there is a price to pay for straying from prescribed behaviour patterns, but how deep does that acceptance go, one wonders.
The herd mentality that is another longstanding characteristic is at play. Even when militant commander Burhan Wani was killed five years ago, one saw an uneasy watchfulness the next morning. By the day after, the lesson had been absorbed that unrest was the order of the day.
Over the past three years, it has been equally obvious that it is not. The police, backed by the CRPF, ensure order.
One has to wonder, though, how much anger and resentment lurk behind the surface calm, and may surface at some point. People at the grassroots spoke of China last year, and have been talking of the Taliban over the past few weeks.
One thing seems evident, though -- from what didn't happen after the Constitutional changes and after Geelani's death: political, monetary, or/and foreign support are key factors for unrest.
Squashing erstwhile 'separatists', marginalising the 'mainstream', and squeezing funding channels have all evidently had an impact -- at least for the moment.
David Devadas is the author of The Story of Kashmir and The Generation of Rage in Kashmir (OUP, 2018).