The days of a thousand cuts are over.
These mini wars will remain under the threshold of undeniable war, but will escalate closer to that threshold when their big brother pushes in.
Chinese aggression has changed the matrix, the strategies, and surely the objectives too, warns David Devadas.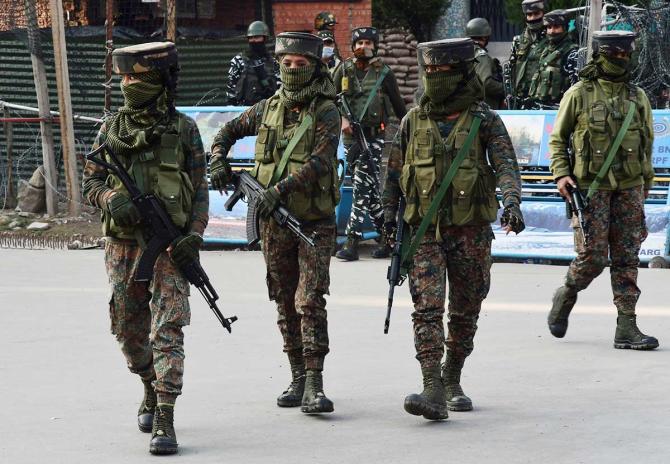 Let's make no mistake, we're heading into war.
Okay, that may be too big a dose of bitter tonic, very bitter tonic. So let's just say we seem to be entering a really bad phase, at least in Jammu, Kashmir and Ladakh.
Let me also say, in the most soothing tones I can muster, that I very sincerely hope I am wrong. But, you know, experts from time immemorial -- Sun Tzu to von Clausewitz to our very own Chanakya -- have told us to overestimate enemies rather than be caught unprepared.
So, given China's 10 new airfields and missile silos and vast troop deployment, war is not out of the question. We are certainly staring at a war-like situation.
Plus, our enemies on either side are hand in glove. Pakistani officers have now been deployed along with the PLA on our eastern flank. And PLA troops have been in Pakistan-held parts of Jammu and Kashmir for years.
They are an axis of powers (along with Afghans, Turkey and Azerbaijan) that are as menacingly placed as Germany and the Soviet Union were placed with regard to Poland in 1938.
Okay, that's another very big dose, and very bitter, but we did say to overestimate one's enemies.
In any case, let's agree that it's not a nice situation for India to be in.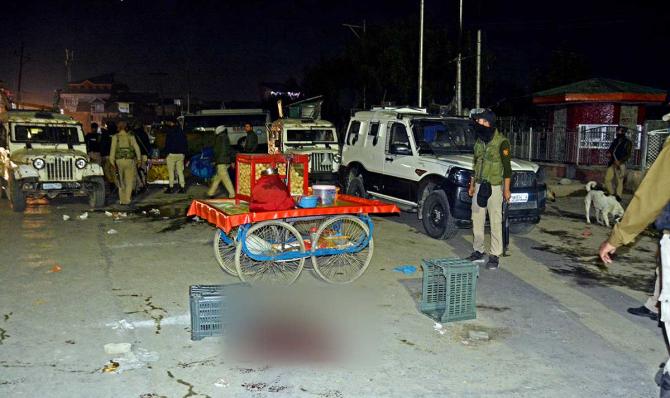 Preparatory murder spree
In this light, I fear that the targeted killings of non-Muslims in the Kashmir Valley over the past fortnight could be a preparatory step for something much bigger.
Whatever's coming, its planners don't want their argument about a 'Muslim region' diluted.
Of course, a hopelessly ill-prepared and uninformed State apparatus is doing exactly what those planners would have scripted. They are corralling those poor targets in secure camps in Kashmir, from where they are facilitating their transfer elsewhere.
Ironically, many of the Kashmiri Pandits among them were ushered back into the Valley by the same clueless State apparatus over the past year after the Chinese turned up in Ladakh.
It's all tragically witless. Those in charge don't seem to see the big picture.
I've predicted for more than a decade that China, Pakistan, and street unrest in Kashmir would converge as a terribly lethal threat to national security.
I've also predicted for a decade that the (then covert) Doha talks of the US with the Taliban's representative would lead to the US handing Afghanistan back to the Taliban, and Afghans would then lethally invade Kashmir. A decade ago!
Yet, oblivious to the writing on the wall, our State apparatus has spent vast amounts on projection campaigns. Would you believe it? They are organising a conference on human rights abuses by terrorists at Srinagar's cantonment right now.
They avoided doing it 15 years ago, or even 10, but are doing it at a time of such immense danger. Following an agenda mindlessly, they are stuck deep in a PR and propaganda rut. It would be laughable if it weren't so tragic -- for us as a nation, forget those who anyway stand to gain from doing it.
Changed tactics -- and objectives
As for what's happening in Rajouri, that could well be a glimpse of what's coming.
I get the impression that our Western neighbours are running a micro war there. It's possible Pakistan's special forces are there without uniforms, or battle-hardened Afghans. Possibly both.
The fact that the army chief went to see what's going on demonstrates -- sadly, to its organisers as much as to us -- that the State apparatus doesn't know what's happening.
Those who are paid to know evidently couldn't predict, get information on, or comprehend it when it hit them. After all, it didn't fit with their money-spinning PR campaigns.
If this is indeed a mini war, we could be in for several more. Of one thing we can be sure. Whatever's coming will have very different strategies, tactics -- and objectives -- from what we've seen over the past three decades.
The days of a thousand cuts are over. These mini wars will remain under the threshold of undeniable war, but will escalate closer to that threshold when their big brother pushes in.
Chinese aggression has changed the matrix, the strategies, and surely the objectives too.
By papering over our soldiers' superb showing at Galwan, withdrawing from the Kailash range, and denying Chinese incursion last year, those in the corridors of power have boosted the morale of the enemy axis.
This doesn't augur well. For, let's be aware that the UK and at least Leftist Democrats in the US don't want Jammu and Kashmir to remain in India.
Negative consequences
Those who demolished the state of Jammu and Kashmir two-odd years ago clearly had no idea of geopolitics or strategy. They probably didn't mean to give China a handle to claim Jammu and Kashmir, but they triumphantly did just that. Yes, they and their clueless backers were actually triumphant about it.
They kept talking of Article 370 (which they rendered inoperative simultaneously), but that was inconsequential compared with scrapping a state of the Union of India. By doing that, they demolished the federal structure.
Not just that, they scrapped the constitution of Jammu and Kashmir which, after Herculean manoeuvring and cajoling of the state's constituent assembly, had declared that 'the state of Jammu and Kashmir is and shall remain an integral part of India.'
That constitution also said that the state's borders couldn't be changed. But that's just what they did -- changed the borders when they hived off Ladakh.
They thus destroyed India's strongest case in international fora. But they didn't care, buoyed as they were by the rah-rah chants of the market yellers they have dressed up as 'media.'
I sincerely hope the war clouds that currently appear quite dark will clear. If not, those manipulators will just blame others for their momentous, historic blunders. And our beloved Mother India will suffer even more.
David Devadas is the author of The Story of Kashmir and The Generation of Rage in Kashmir (OUP, 2018).
Feature Presentation: Ashish Narsale/Rediff.com