'In a relationship that does not permit cricket, how can the prime ministers embrace and send a false message,' asks Ambassador T P Sreenivasan.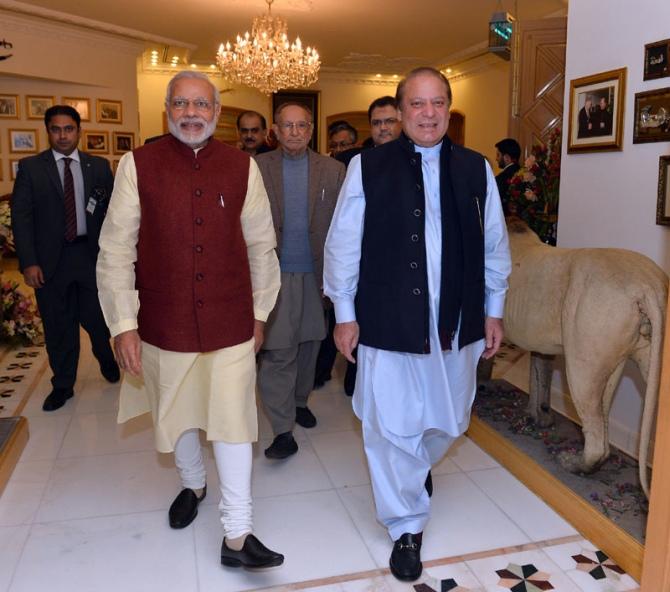 Breakfast in Moscow, lunch in Kabul, evening tea in Lahore and dinner in Delhi are 'such stuff as dreams are made on' for any statesman. Prime Minister Narendra Modi literally accomplished this feat. But his history making stop over in Lahore, which had the least substance, dominated the news, robbing the glow of Moscow and Kabul.
Instead of celebrating the 16 pacts signed in Moscow, covering defence, security, energy and trade and the pathbreaking address to the Afghan parliament, the world went agog with birthday diplomacy with Pakistan that created an unreal image of goodwill, camaraderie and trust.
A facade of friendship where it does not exist may do more harm than good. A calibrated approach, reflecting the reality of the relationship is the need of the times towards Pakistan. History has been created without doing justice to the history of nearly seventy years.
Even the short public memory will recall that the last time an Indian prime minister went to Lahore on a goodwill mission to meet the same prime minister of Pakistan to usher in peace ended in the Kargil conflict, causing fears of a nuclear war.
It was India's decision not to cross the Line of Control in retaliation and the parleys by President Clinton on July 4, 1999 with Prime Minister Nawaz Sharif in Washington that prevented a conflagration. Past history should be a guide even when efforts are made to create history. George Santayana's warning that 'those who do not learn history are doomed to repeat it' should not be forgotten.
India has already made substantial concessions to Pakistan by agreeing to a 'comprehensive dialogue' without insisting on progress on the trials of the planners and perpetrators of the Mumbai attacks.
India and Pakistan have embarked on a dialogue process after the two prime ministers famously whispered in Paris, the national security advisers met on neutral grounds to avoid the sensitive issue of the Hurriyat and a visit by External Affairs Minister Sushma Swaraj in the guise of attending a multilateral meeting on Afghanistan in Islamabad. The foreign secretaries are set to meet in January 2016.
Evidently, a meeting between the two prime ministers at this stage may not have served any purpose. The prime minister's decision to drop by in Lahore for a birthday bash was, therefore, prompted by a desire to go down in history as an innovative statesman. The fact that he chose the birthday of Jesus Christ, Mohammed Ali Jinnah, Atal Bihari Vajpayee and Nawaz Sharif in itself has earned him a place in history.
No effort has been made so far to make out that the visit had any substance. It is the symbol that has been stressed in official pronouncements. 'That's like a statesman. Padosi se aise hi rishte hone chahiyen (This is how it should be with neighbours),' the external affairs minister tweeted. She has forgotten that she herself did not agree to the resumption of cricket between India and Pakistan when she was in Islamabad.
In a relationship that does not permit cricket, how can the prime ministers embrace and send a false message?
In fact, it is the message to the world that the two prime ministers shaped by their Lahore meeting. Both of them are under pressure from the US, the UK, France and now Russia to remain engaged, as they fear that India and Pakistan have embarked on a nuclear arms race.
Recent reports in the Western press have been highlighting the nuclear danger on the sub-continent, with Pakistan developing tactical nuclear weapons and India building thermonuclear weapons 'in secret.'
A recurring theme in these stories is the lack of safeguards against accidental use of nuclear weapons and the danger of their reaching the wrong hands. With such existential threat in mind, they have been weighing heavily on India and Pakistan to pursue peace.
The Lahore embrace may have gladdened their hearts and made them feel comfortable about arms sale and assistance to Pakistan. Prime Minister Modi also had the compulsions of an image makeover in the context of the most recent developments in India.
The reassertion of the importance of Russia in India's development and the hazardous visit to Afghanistan with the highly symbolic act of dedicating a temple of democracy in that volatile country were more than enough to make his most recent voyage memorable and meaningful. His speech in the Afghan parliament was a masterpiece in itself.
'Eight centuries ago, a famous son of Balkh province, one of the greatest poets in human history, Jalaluddin Rumi, wrote, "Raise your words, not your voice. It is rain that gives flowers, not thunder",' Prime Minister Modi said in an unusually poetic speech without raising his voice.
It captured the long, heroic history of the Afghan people and the bonds between India and Afghanistan. He had a gentle dig at Pakistan for questioning India's presence in Afghanistan, including the mysterious Indian consulates, which never existed. But it was soon followed by a prediction that 'Pakistan will become a bridge between South Asia and Afghanistan and beyond.' Many will find that ominous prediction fearful.
The Lahore visit has, if anything, only detracted from the importance of Prime Minister Modi's successes in Moscow and Kabul. If he had returned to India without a detour to Lahore, the analysts today would have sung his praises as a statesman and ace diplomat rather than speculate on his motivations for a risky adventure.
It is unimportant whether the visit was undertaken on the spur of the moment or whether it was pre-planned. But diplomatic surprises are often well choreographed.
It is also not unusual for leaders to keep matters confidential for reasons of security till the mission is accomplished. But since India has a stake in Prime Minister Modi's success, we shall await with bated breath the outcome of the birthday bash.
T P Sreenivasan -- (IFS 1967 a former Ambassador of India and Governor for India of the IAEA -- is the Executive Vice-Chairman, Kerala State Higher Education Council, Director General, Kerala International Centre.