'If I'm able to help even a few patients during this terrible time, I'll feel I've done my duty,' Ward boy Karan Solanki tells Geetanjali Krishna.
Illustration: Dominic Xavier/Rediff.com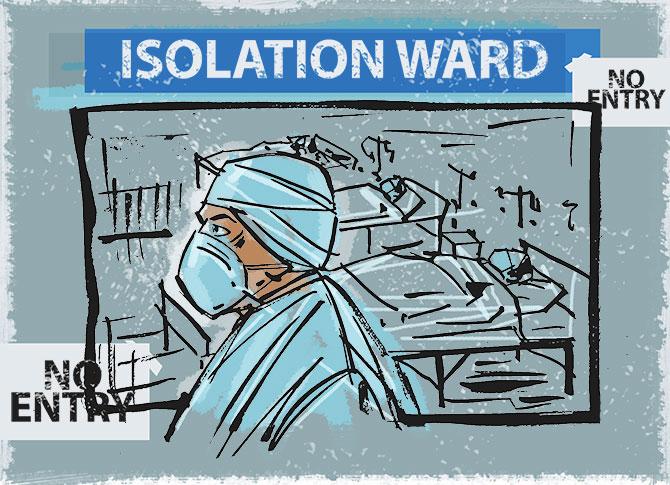 In these pandemic-crazed times, every day I give silent thanks to all the doctors, nurses and paramedics who are risking their lives at the frontline of our battle against the coronavirus.
But a telephone call with a 30-year-old tenth-pass hospital employee last week made me realise that there is another category of frontline workers that tends to go unnoticed and perhaps, under-appreciated.
This is the category that Karan Solanki falls in. He is part of the cleaning staff at the Narayana Health SRCC Children's Hospital in south Mumbai's Haji Ali and doubles up as a ward boy.
When COVID-19-positive paediatric patients started being referred to his hospital, the administration asked the support staff to volunteer their services.
Many were understandably nervous about being exposed to the virus. But to everyone's surprise, Solanki immediately raised his hand.
"Like the others, I was also scared," he told me when we chatted just before his shift began. "But then I thought I'd received so much by way of training and support from the hospital, I should also do my bit."
Solanki is an employee of the Security and Intelligence Services Limited which offers cash logistic, facility management and physical security solutions to companies and organisations.
Through them, he has been attached to the SRCC hospital for over a year. After he volunteered to work in the hospital's COVID-19 wards, Solanki asked his company what would happen if he were to contract the virus.
"My supervisor assured me that not only I, but the rest of my family too would be taken care of if any of us were to contract the infection," he said.
"Plus, the hospital also said it would take full care of me if I got sick."
Once he was satisfied that his family and he'd be well looked after, Solanki tackled the tougher job -- telling his family what he was going to do.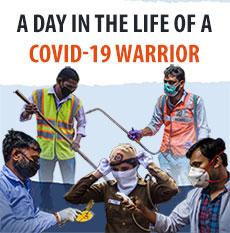 Separated from his wife and childless, Solanki lives with his brother, sister-in-law and grandmother.
He also takes care of a teenage orphaned niece. "My family was totally against my decision," he narrated. "In fact, they begged me to leave my job."
However, Solanki remembered his father, who died last year, who always taught him to be brave and do his duty.
So he quietly left his house with a bag of clothes.
"The hospital has provided us with rooms so that we don't return to our homes and families and spread the disease," he told me. "I haven't seen them for eight days now."
Initially, there were 10 patients in the ward. "Most of them had their parents with them," he said. "My job was to clean the ward, change their sheets and bedpans."
Although Solanki said he wears full personal protective equipment including two layers of face masks while discharging his duty, he is often worried about getting infected.
"Then I look at the innocent, agonised faces of the patients, grit my teeth and carry on," he said. "They are human beings who need our care; the fact that they are infected with a deadly virus isn't their fault."
We had to hang up soon after as it was time for Solanki's shift.
"I don't know what will happen to me," he said in parting, "but if I'm able to help even a few patients during this terrible time, I'll feel I've done my duty."