This was not Sharad Pawar or Prithviraj Chavan speaking.
It was Uddhav Thackeray, the undisputed chief of the Shiv Sena!
Aditi Phadnis reports.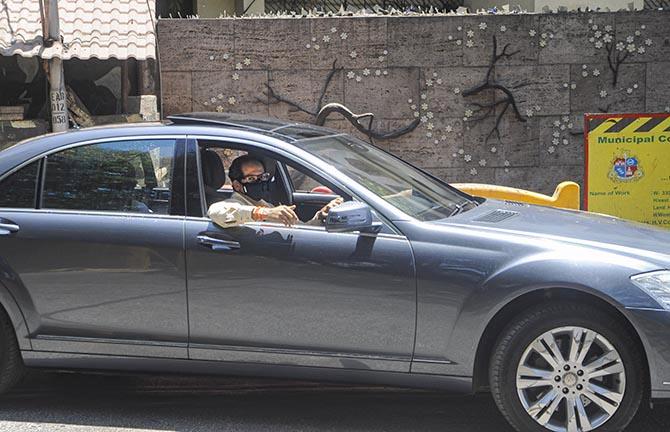 Those of a certain age must have blinked to hear Maharashtra Chief Minister Uddhav Thackeray's address on April 14 as migrants thronged the Bandra railway station expecting to get on to trains to make their way home and had to be lathi-charged.
First, he spoke in Hindi.
Obviously, speaking in Marathi to a labour force that is primarily from Uttar Pradesh and Bihar, with a small (and increasingly dwindling) section from south India, would have been somewhat pointless.
But for a Shiv Sainik, this was a big, big concession.
And then, what he said! It's fit to take your breath away! 'You're safe in my state. Don't worry. The day the lockdown is lifted, not only I, but the Centre also will make arrangements for you... the challenge is to tackle coronavirus by staying back. This is Maharashtra and we are one country,' he said.
This was not Sharad Pawar or Prithviraj Chavan speaking. It was Uddhav Thackeray, the undisputed chief of the Shiv Sena!
When he launched the Shiv Sena with a dozen people, Bal Thackeray's central attack was on migrants who were pouring into Mumbai and adjoining areas, taking away jobs that should have gone to Marathi-speaking people.
The hangover of the Samyukta Maharashtra movement (Movement for United Maharashtra) which created the modern linguistic state of Maharashtra in 1960 had started to subside.
Marathi youth of Mumbai who courted arrest and zealously participated in the movement to create Samyukta Maharashtra with Mumbai as its capital were waking up to the rude awakening that though Mumbai was Maharashtra's capital, they were not really in control of it.
Thackeray detested non-Marathi-speaking migrants with a passion.
Businesses were owned by Gujaratis, Marwaris and Parsis and white-collar jobs were going to south Indians, who were fluent in English and trained in accountancy and shorthand.
And the new rulers of Mumbai, chief ministers and ministers, were not interested in their plight as their constituencies were in far-flung rural Maharashtra.
Every week, his magazine, Marmik, would publish lists of new recruits in public sector undertakings like the SBI, Reserve Bank of India, Air India and LIC to drive home how sons of the soil were ignored.
This list was titled Vacha ani swastha basa (read and keep quiet).
His rallying cry in the 1960s was 'baja pungi, hata lungi' (un-translatable: pungi is the Maratha trumpet).
'Yandu-gundu' was his generic term for describing migrants (who tended to speak in rapid-fire Tamil/Kannada/Malayalam).
The north Indian migrant came in later, wave after wave, the bhaiyas of UP and Bihar, as part of the milk delivery service.
But there was a problem with the sons of the soil narrative -- it was too self limiting.
Bal Thackeray's Shiv Sena never grew beyond Mumbai and neighbouring Thane as Maharashtrians in the rest of Maharashtra did not see outsiders as a threat.
To overcome this, one phase of Sena politics ended and another began: The phase of Hindu nationalism.
Over the years, as it has evolved, the Sena's political philosophy has also grown in different directions.
By the time the 1990s came around, aggressive Hindutva posturing and the active role played by Sena in the 1992-1993 Mumbai riots helped the party extend its support base in Mumbai.
Many non-Maharashtrian communities like Gujaratis, North Indians and Kannadigas helped the Sena win 31 assembly seats out of 32 in Mumbai in the 1995 assembly election.
But for many it was the defining of the 'Marathi manoos' that defined the Sena. And a Marathi Manoos was Maharashtrian and Marathi-speaking.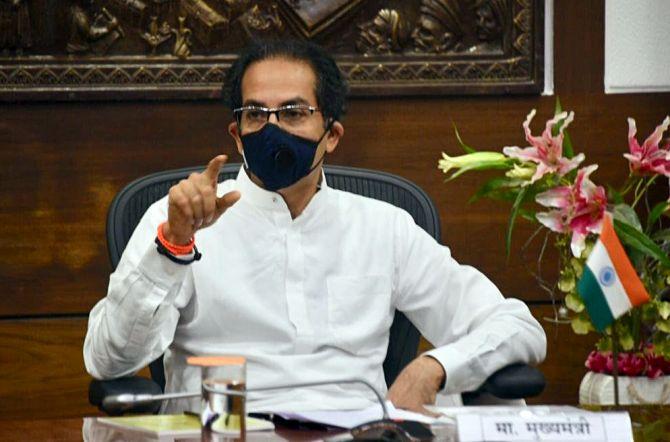 Cut to 2020.
Not only is the Sena in alliance with its once bitter enemy, the Congress, it is now making migrants from the rest of India its best friends.
But this is just part of the party's transformation.
Try as he might, Balasaheb was not able to extend the Sena's reach to western Maharashtra, Vidarbha and Marathwada.
Its centres were power were Mumbai, at best Pune and Nasik.
He was unable to get farmers to identify with Sena's politics.
A lot has changed. Ahead of the 2004 state assembly polls, Uddhav launched a campaign Mee Mumbaikar' to reach out to people across linguistic denominations.
It was meant to reach out to north Indians, specifically.
'Mumbai served those who came here... hence, it is essential to dump narrow identities like religion and caste to work for Mumbai and ensure that it regains its past glory,' Uddhav is quoted as telling Dhaval Kulkarni, author of The Cousins Thackeray: Uddhav, Raj And The Shadow Of Their Senas.
Every rural Lok Sabha constituency in the state now has between 70,000 and 100,000 Sena votes.
And COVID-19 has laid bare, Mumbai, indeed Maharashtra's need of the migrant.
Politically, how will Sena respond?