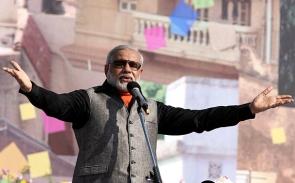 The political situation in the country is fluid and could change significantly. But as things stand, India could be headed for an unstable minority government dependent on uncertain "outside" support, says Praful Bidwai
Had the United Progressive Alliance intended to court unpopularity ahead of the next Lok Sabha elections, it couldn't have done so more effectively than by dithering on progressive measures like the food security act, land acquisition bill, universal healthcare, and social security for unorganised workers. The UPA finally passed a food security ordinance -- but only after greatly diluting the universal food provision recommended by the National Advisory Council.
Some of these measures were promised way back -- in the Congress's 2004 manifesto. The unorganised sector commission report was ready three years ago. The food security bill was listed in UPA-2's "first 100 days" agenda, but was repeatedly deferred. The UPA has been half-hearted about such pro-poor initiatives.
Equally glaring is the UPA's pro-rich rightward policy lurch, reflected in recent announcements of yet more sweetheart deals with big business, further liberalisation of organised foreign investment in retail by relaxing the single-brand rule, and raising ceilings on foreign investment in numerous sectors, including defence production, telecom, aviation and the media.
As if this weren't bad enough, the government has doubled the price of Krishna-Godavari natural gas payable to Reliance Industries -- despite internal opposition and at the expense of downstream power and fertiliser producers and consumers -- only to benefit a powerful corporation. It's claimed that this will stimulate investment in gas exploration, but experience suggests it won't.
The UPA seems bent on pushing through the shady Jet Airways-Etihad deal, with an unjustifiable tripling of the seat quota for Abu Dhabi, which will hammer the last nail into Air India's coffin.
Public-private partnership projects worth a massive Rs 1.15 lakh crore are being rolled out by end-2013, including 60 airports, power generation and transmission schemes (Rs 40,000 crore), and economically unviable elevated-rail corridors (Rs 30,000 crore). This is being done to signal "investor-friendliness" (read, private super-profits at public expense).
Meanwhile, the Cabinet Committee on Investment, recently created to bypass environmental and forest rights clearances, is railroading through environmentally harmful projects, including hydropower dams of the kind that caused Uttarakhand's flood havoc.
This wilful betrayal of the promise of pro-aam aadmi growth will further dent the UPA's credibility, which is already damaged by countless corruption scams in natural resources sale. These led to the inglorious resignation of several Cabinet ministers and almost singed the Prime Minister's Office. It would be a miracle if the UPA, weakened by the Trinamool Congress and Dravida Munnetra Kazhagham's exit, doesn't pay a high price for all this in the next elections.
Ironically, the opposition Bharatiya Janata Party, with all its bluff and bluster, has failed to exploit the UPA's embarrassment politically. Why, it even allowed the Union budget to sail through Parliament and didn't move a no-confidence motion, as was logical!
One reason is that the BJP cannot rope in Mulayam Singh's Samajwadi Party or Mayawati's Bahujan Samaj Party because they are under CBI investigation and loathe an early election. But more important, the BJP is itself in a mess despite -- rather, because of -- Narendra Modi's aggressive entry into national politics, celebrated by his acolytes as a political game-changer which could catapult him into the country's top job.
Modi's appointment as the BJP central election committee's chief produced a near-cataclysm. BJP veteran L K Advani dramatically resigned from three party positions -- only to withdraw his resignation within 48 hours, after the Rashtriya Swayamsevak Sangh intervened, confirming its stranglehold on the BJP.
It's tempting to see this as an ignominious defeat of an old man who remains unreconciled to the coming to an end of the BJP's Vajpayee-Advani era. But that would be wrong. Advani succeeded on three counts. First, he infused contention and conflict into what many BJP insiders regard as a "natural" decision to give Modi his due.
This highlighted both the BJP's fractious nature and Modi's deeply polarising persona. Advani acted thus not because he has suddenly turned secular -- he remains as Hindutva-obsessed as Modi -- but because he leads an intra-BJP axis that distrusts Modi.
By deploring the BJP's "functioning" and "direction", and implicitly accusing Modi of being "concerned just with [his] personal agendas", Advani struck a chord with those who see Modi as an autocrat with scant respect for the Sangh Parivar's discipline, leave alone consensual decision-making. Modi, a megalomaniac, has reduced the RSS to a non-entity in Gujarat, and may undermine the Parivar nationally for purely personal reasons.
Second, Advani presented himself as an alternative pole or centre of power in the BJP, who can articulate the ambitions and concerns of party leaders who enjoy some popular support. They want a say in allotting election tickets and would resist Modi's attempt to monopolise the process.
The leaders include Madhya Pradesh Chief Minister Shivraj Singh Chouhan (who openly challenged Modi's claim on Gujarat's unique "development" record), Chhattisgarh CM Raman Singh, and former Rajasthan CM Vasundhara Raje. They will rally around Advani in limiting Modi's influence in the election committee. Advani will remain important in this regard.
Third, Advani's stance instantly evoked sympathy from some BJP allies, and precipitated the Janata Dal-United's departure from the National Democratic Alliance. This was expected. After all, Nitish Kumar has long opposed Modi's prime ministerial bid, and cannot afford to lose his Muslim base, with its 17 percent vote-share in Bihar.
Less expectedly, the Shiv Sena also hit out at Modi's elevation, and more recently, against his revolting attempt to hog the Uttarakhand limelight by ludicrously claiming that he rescued 15,000 Gujarati pilgrims within a day. The Sena is extremely wary of the BJP's attempts to woo its rival, the Raj Thackeray-led Maharashtra Navnirman Sena. It also carries an anti-"outsider" anti-Gujarati animus. It's hard to say which of these factors prevailed. But both are real.
With the JD-U gone, the NDA has lost its only inclusive, avowedly secular, "social justice"-oriented, face. It's now reduced to the BJP plus two religion-based parties. The NDA is in power in just four states. It's but a pale shadow of the alliance which once included 23 parties ruling in a dozen states.
Here is the greatest obstacle to Modi's Rambo-like bid for India's prime ministership. In mowing down whoever lies in his path, Modi personifies individualistic aggression. At the same time, he invokes Atal Bihari Vajpayee's "soft" legacy and ability to carry along others. The two just don't go together. His claims to "development" and "good governance", demolished by numerous analysts, have been rejected by the Planning Commission too.
Modi's strenuous attempt to build bridges with the Muslim community isn't working, as the June 30 fiasco in Gandhinagar showed. The event was boycotted by most invited Muslim scholars. Former Sachar Committee official Syed Zafar Mahmood was applauded when he accused Modi of promoting hatred against Muslims and undermining their constitutional rights.
Even more damaging is the CBI charge-sheet in the Ishrat Jahan case, which points to a cold-blooded fake "encounter killing" on Modi's watch in Gujarat. The charge-sheet suggests police officers committed murder with a likely nod from the top. Modi cannot evade constructive responsibility for this and other "encounters". This can only complicate matters further for the BJP.
The BJP can make a convincing bid for national power only if it wins about 180 Lok Sabha seats on its own. To do this, Modi must raise the BJP's all-India vote-share from the present 19 percent to 24-25 percent, the same as it polled in 1998 and 1999. This entails winning an extra 25-30 million votes. It's hard to see how Modi can do this with his "Gujarat model" appeal. This pertains to an already developed, highly urbanised state. Most of the electorate doesn't even know about it.
Consider the larger picture. The BJP is wholly out of electoral reckoning in West Bengal, Andhra Pradesh, Tamil Nadu-Puducherry, Kerala and Karnataka, which count for 170 Lok Sabha seats. It's a small player in Uttar Pradesh and Bihar, whose 120 seats are crucial to winning bulk votes.
Modi can deliver very little in the Hindi belt unless there's a Hindutva wave, which is non-existent. The BJP will also find it hard to improve on its low score (nine of 48 seats) in Maharashtra unless it seals a three-way alliance with the two Senas -- impossible as of now.
The BJP is near saturation in its "base" states. In Chhattisgarh, it holds 10 of 11 seats. In Gujarat and Madhya Pradesh, it can at best build marginally upon its 31/55 majority. It's likely to do better in Rajasthan and Delhi. But these would probably be only incremental gains.
A big, programmatically cohesive, regional-party Third Front isn't emerging. A major Left-party bloc could give it direction. But if the Left wins only 30-odd seats, as seems likely, it won't be effective.
This situation is fluid and could change significantly. But as things stand, India could be headed for an unstable minority government dependent on uncertain "outside" support.