Was Wang Yi's visit intended to remind India of 1962, asks Claude Arpi?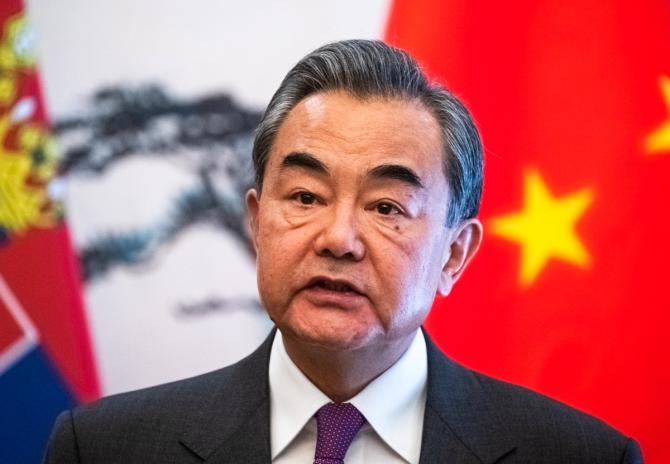 On August 14, a mysterious visit took place in Tibet.
Beijing issued a communique mentioning that State Councilor and Minister of Foreign Affairs Wang Yi 'conducted an investigation in Tibet and held discussions with leaders of the autonomous region party... Wang Yi introduced the current international situation and the main status of diplomatic work.'
It further emphasized that in recent years, the Tibet Autonomous Region (TAR) had adhered to the strong leadership of the Party Central Committee; the release continued with the usual stuff; complimenting the TAR leadership for following ]'the guidance of Xi Jinping Thought on Socialism with Chinese Characteristics for a New Era.'
Nothing mysterious in this.
As a good Communist, Wang Yi repeated the words of his boss, Xi Jinping, 'Tibet's security and stability are related to the overall development of the party and the country and the diplomatic front could only work if the comrades of the TAR earnestly implement the party's strategy for governing Tibet in the new era, establish the 'four consciousnesses' and strengthen the 'four confidences' to achieve the 'Two Maintenances'.'
That is the usual Communist jargon.
The communique ended saying that during his visit, Wang Yi went to the border areas of Tibet 'to conduct field investigations on poverty alleviation, border infrastructure and construction of well-off villages.'
So why call the visit 'mysterious'?
For a number of reasons.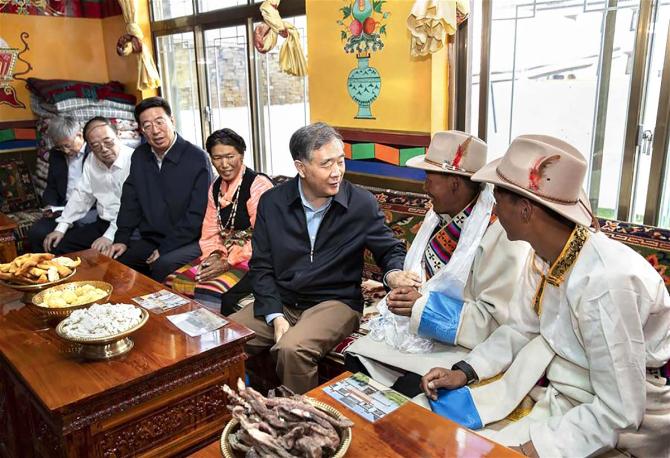 First, it was the third 'important' visit by a Chinese big shot to Tibet in the last five weeks.
On July 9, Xinhua reported that Wang Yang visited the mountainous region. Wang is a member of the all-powerful Politburo's Standing Committee and chairman of the Chinese People's Political Consultative Conference National Committee; in other words, No 4 in the Red hierarchy.
Wang spoke of 'continuous efforts to consolidate the foundations of enduring peace and stability in southwest China's Tibet'.
Please note 'China's Tibet'.
Do we need to write 'India's Tamil Nadu' or 'India's Uttarakhand'?
Does it mean the Communist leadership is not sure that Tibet is part of China? Otherwise, what is the need (apart from insecurity) to repeat this formula in every article or press release?
In Lhasa, Wang Yang observed: 'The efforts should centre on safeguarding the country's unity and strengthening ethnic solidarity, resolutely combating separatism, forestalling and defusing major risks and challenges and continuously consolidate the foundations of long-term peace and stability.'
Wang Yang, who spent three days in Tibet, did not speak of the situation on the frontier with Ladakh.
He visited several villages 'relocated' under the pretext of poverty alleviation, pastoral areas, industrial parks and religious sites in Shigatse and Lhasa.
During a symposium, he mentioned his favorite themes, 'raising the social awareness of religious believers, as well as the promotion of patriotism to adapt Tibetan Buddhism to the socialist society.' In other words, monks should be good Communists.
What makes Wang Yi's visit strange is that another 'important' visit had taken place four weeks after Wang Yang's.
From August 3, Vice-Premier Hu Chunhua, a member of the Politburo and head of the national leading group on poverty alleviation, also 'inspected' many sites in Tibet.
Two weeks later, Chinese Web sites were still urging the Tibetans to 'carry out the spirit of Vice Premier Hu Chunhua to extremely high altitude areas'.
Apparently, Hu, who served in Tibet several years ago, 'went deep into the eastern part of Ngari Prefecture, western Nagchu City and other extremely high altitude areas to investigate poverty alleviation and animal husbandry development.' He had to give feedback to the leadership assembled in the seaside resort of Beidaihe for the annual ultra secret conclave.
It was reported that Hu Chunhua went to the home of herders in remote Dawa village in Tsochen county in Ngari Prefecture to check the production and conditions of farmers and nomads living in high altitude areas.
It was probably the first time that these neglected populations met a politburo member (and for many, Xi Jinping's heir-apparent).
The Chinese media reported that Hu 'successively' walked into the most remote counties of Ngari Prefecture; he went deep into villages, visited enterprises and grassroots organizations (incidentally, Hu speaks good Tibetan).
So, what was the need of a third visit?
According to The South China Morning Post (Jack Ma's newspaper is fast becoming a mouthpiece for Beijing), Wang Yi's visit to Tibet was to 'send message to India over border dispute'.
The Hong Kong newspaper says: 'China's Foreign Minister Wang Yi made a rare visit to Tibet on Friday, including a trip to the disputed border with India, as the three-month military stand-off between the two countries continued to drag on with little sign of resolution. Although a terse statement issued by the foreign ministry did not mention India, Wang's border trip was described by Chinese observers as an unusual and symbolic gesture.'
But there is more to the mystery of Wang's visit.
Why was his 'inspection' not mentioned by Chinese and Tibetan Web sites dealing with Tibet (contrary to the two earlier VIP visits)? After hours of search, I could only get a screenshot which appeared two days after the 'important' visit (soon after this was removed).
About the threat to India, Beijing seems to be shooting from the South China Morning Post's shoulders.
The 'mysterious' border area that Wang Yi visited is most likely Tsona county, north of Tawang district of Arunachal Pradesh.
Was the visit intended to remind India of 1962?
In which case, the foreign minister should have done some homework; despite the overall defeat of the Indian troops in 1962, he should have known how valiantly Indian troops fought on the front, just south of the place he visited, particularly the 2 Rajput battalion in the Namkha Chu area who inflicted heavy casualties to the People's Liberation Army; ditto in the east in the Walong sector or in Rezang La in Ladakh.
Would China decide to 'teach another lesson' to India, there will be many Rezang Las or Walongs and this time, India would use the Indian Air Force, without speaking of severe economic and political retaliations (Beijing could forget about its dear 'One China Policy') -- Tibet and Taiwan could immediately be recognized by India.
There is no doubt that Wang Yi (who is also the Special Representative in the border talks between India and China and the counterpart of Ajit Kumar Doval, the national security advisor), has been sent by the top leadership who is bound to have discussed India's stand in Ladakh.
What report could he give? He did not meet the top brass of the Tibet Military District, including the powerful Political Commissar Lieutenant General Zhang Xuejie and the Commander, Lieutenant General Wang Haijiang, who were nowhere to be seen during Wang's visit to the border with India?
How powerful is such a message, with most of the Chinese media, particularly in Tibet, banned to report about Wang's visit?
Strange are the ways of a State which suddenly realised that it has taken too big a piece to chew; if Xi Jinping thought that the Ladakhi adventure would a quick and easy one to digest, he has not probably fully read Sun Tzu's The Art of War.
That is not all; Gyaltsen Norbu, China's selected Panchen Lama, described by Radio Free Asia as 'a senior Buddhist monk hand-picked by Beijing to replace a candidate more widely recognized by Tibetans as authentic', is also on an 'inspection' in Tibet.
While the Panchen Lama recognised by the Dalai Lama is languishing in an undisclosed place in Beijing, Norbu arrived in Lhasa on July 31; he was 'greeted by Chinese authorities, students, and civil servants', said the Chinese media.
The photos however show a handful of people around him.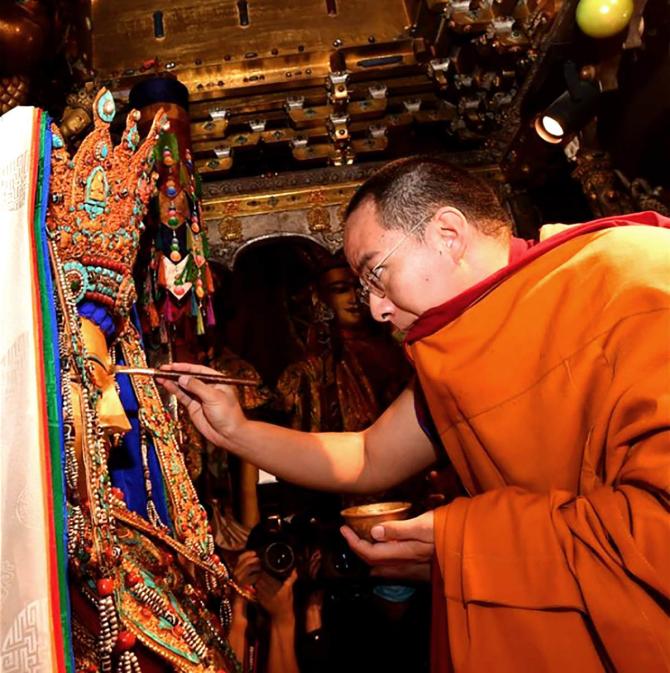 On August 3, he went to pray at Lhasa's Jokhang temple: 'Few in Lhasa appear to have been aware of the Panchen Lama's visit', wrote RFA, adding that 'access to the Jokhang and Lhasa's central Barkhor old town area are usu ally tightly restricted... but a few days ago even more police were deployed there than usual. Gyaltsen Norbu was probably visiting then... Not many Tibetans know about the China-appointed Panchen Lama, and only those who don't know his background will care much about him'.
All this shows that all is not rosy in 'China's Tibet', the region is boiling.
And if the Communist leadership counts on the Tibetans to defend the Middle Kingdom's frontiers, they may be in for an unpleasant surprise.
Claude Arpi is one of the earliest contributors to Rediff.com.
Feature Presentation: Rajesh Alva/Rediff.com