'There is much to glean from such exercises. And make it known that we are ready to take them on together!', says Air Commodore Nition Sathe (retd).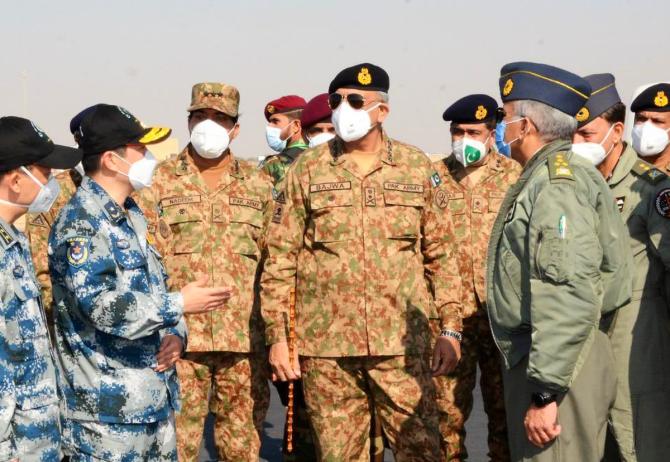 The Pakistan air force and China's People Liberation Army Air Force began a joint air exercise on December 9.
As described to the media by Chinese and Pakistani generals, this exercise was meant to improve the 'combat capacity' of both air forces substantially and also enhance 'interoperability' with greater 'strength and harmony'. These exercises have been hosted alternatively between China and Pakistan since 2011.
Exercise Shaheen IX (Eagle), as it has been called, is being seen against the backdrop of the current India-China standoff.
Shaheen VIII was held in Hotan 300 km north of Leh when India-Pakistan relations were rock bottom in August 2019.
Shaheen IX was held at a 'forward' Pakistan air force base in Sindh, in all probability at the newly inaugurated base at Bholari, 300 km from Karachi. This base is known to have the F-16 squadron.
The Indian Air Force also conducts similar exercises as part of defence cooperation with friendly countries like the US, Australia and Singapore to name a few.
'With Shaheen IX held against the backdrop of deteriorated India-China-Pakistan relations, is there cause for worry for India?' ask some.
What really happens during such exercises? An expert, who has taken part in such IAF exercises, tells me that the forces are divided into 'Red' and 'Blue' and the air defence on both sides gets activated.
"Then we fly strike missions on simulated targets, carry out dissimilar air combat (combat between two different types of aircraft), practice air defence missions so as to thwart each other's air defence capability and some such 'combat' missions," he says.
"We also practice large force engagements and check out our capability of controlling multiple missions at the same time in a crowded air space," he adds.
"Most importantly," he explains, "we practice long range missions which require force multipliers such as AAR (Air to Air Refueling tankers) and the use of AEW (Airborne Early Warning) platforms like the AWACS etc."
Are the missions in such exercises close to real, I ask him.
"We do not live and work together and therefore everytime we meet for such exercises, it is time to understand the way of working on the other side right from scratch! Safety being paramount, we do not have 'free for all' situations being practised in such exercises," he explains.
"We carry out pre-briefed manoeuvres and, as such, the learning value is that much less! The question of formulation of new 'tactics' does not therefore arise," he adds.
"Yes, we get to do some exciting things like flying in their cockpits, flying alongside them in formation and things like that, but that is just about it."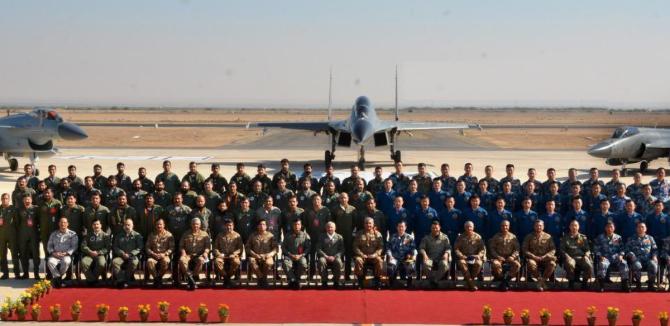 Does it enhance 'interoperability'? "Interoperability requires a much higher level of integration," he replies. "We would need to live and train together for months and years if we want to achieve this."
"Also, we do not discuss intimate issues about air combat which we have learnt in-house with even our friends."
"Especially when there is a language barrier, the problem of integration becomes a little more complex and difficult."
Talking of interoperability, I am reminded of flying with a Russian pilot on a routine check flying on a new aircraft that was being inducted.
Although we were 'crew' inside the same flying machine, the language posed a serious barrier to operate and was a safety concern too.
I remember we had a situational emergency during flying and both of us could not understand what the other was doing. We relied on our basic instincts and landed safely.
Even if the Chinese and Pakistani air crews speak the same English (or Chinese for that matter), I wonder how well the crews would be able to communicate with each other.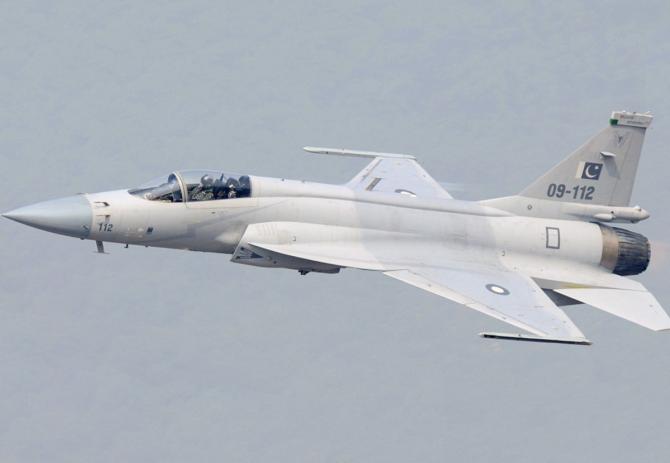 The Chinese JF-17 and other higher-end technologies are what the Pakistanis are looking for in these times when defence relations with the US have declined leading to poor availability of the Pakistan air force's best aircraft -- the F-16.
The Chinese on the other hand are looking to learn some flying lessons from the Pakistan air force -- the PAF being the Chinese gateway to Western flying concepts and air combat tactics.
Language aside, the variations in the operating procedures between the two air forces -- even if they both fly the same machine -- would make integration difficult.
Each of these exercises is, therefore, designed not for achieving what is said in their briefs, but more for military, political and diplomatic signalling.
My take is that these exercises are showcasing cooperation rather than capability.
We, as concerned neighbours, must not look at this exercise as a threat, but use it for intelligence gathering. There is much to glean from what we 'see' happening in such exercises.
And make it known that we are ready to take them on together!
Air Commodore Nitin Sathe retired from the Indian Air Force in February 2020 after a distinguished 35 year career.
The author of three books, you can read Air Commodore Nitin Sathe's earlier features here.
Feature Presentation: Rajesh Alva/Rediff.com