Can the masters of yesteryear, a Wodehouse, an RK Narayan, a Scott Fitzgerald and yes, a Le Carre, with the sensibilities of a bygone era still captivate a modern reader's attention?
Difficult for me to say. But le Carre is making a brave and hitherto successful effort, says B S Prakash.
Illustration: Dominic Xavier/Rediff.com.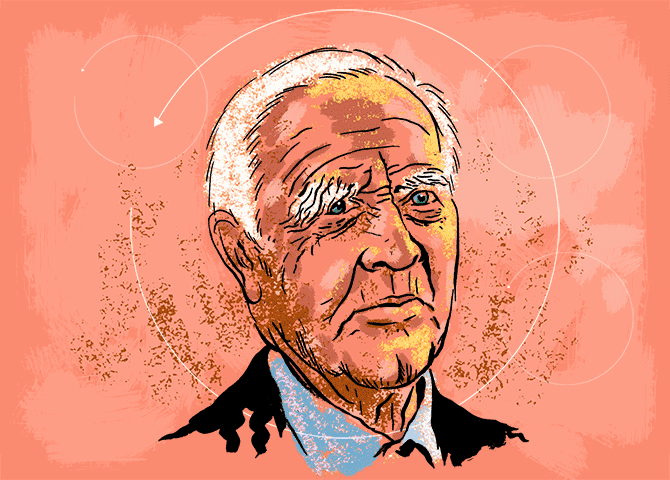 What makes a celebrated writer go back to his novel penned over 50 years ago and recreate its back-story in another novel, now, in a contemporary setting?
The writer is John le Carre (the name by which David Cornwall got known), 86 years old, and with 25 novels in his oeuvre. For those who do not know him, he is acknowledged as one of the great English novelists of our times, and not just in his genre of spy-fiction.
Literary critics tend to agree that of the famed English writers of our times, three, PG Wodehouse, PD James and John le Carre, have transcended their specialised genres — humour, crime, and espionage, respectively — and are great masters of literature as such.
His latest book The legacy of spies published recently is making waves, as his books have nearly always done for the last 40 years. Those who have followed him after the end of the Cold War (I have been a keen and admiring reader of every one of his novels since my college days in the '60s!) are familiar with his themes once the ideology of the Cold War conflict had lost its relevance.
The new problems and evils of the world that became his material were: corporate oligarchs, arms merchants, unscrupulous pharma companies, exploitation of the Third World by the erstwhile masters, and above all, an imperious America -- a technologically sophisticated war machine that is naïve and arrogant in its understanding of the world.
The characters of le Carre that his fans grew up with and who became legendary in their own right, such as George Smiley, the elderly and brainy mandarin-spy; Kalra -- his nemesis in Moscow; Connie Sachs, an Oxbridge scholar extraordinaire and a researcher of the plots weaved in Kremli -- and others of their tribe had disappeared.
Each new novel set in exotic or horrific locales — Panama, Ingushetia, Kenya, Georgia — had new complexities and fresh characters. But le Carre's old faithful readers never forgot Smiley or his acolyte Peter Guillam who were further immortalised in classic BBC TV dramas or in carefully crafted movies such as Tinker Tailor Soldier Spy.
So in 2017, twenty years after Smiley had disappeared from the printed page, what has made le Carre bring him back, albeit fleetingly and almost regretfully? Too much of the plot of the latest novel cannot be revealed, since the pleasures of the unravelling of its story is akin to a chess-game and should not be spoilt for the potential reader.
But this much one can say to whet the appetite of millions who know about The spy who came in from the cold, le Carre's classic from 1965. That story involving The Wall in Berlin separating and symbolising the barrier between the erstwhile east and west Europe at the height of the Cold War, is the backdrop and the reference point in the current novel.
The characters in that novel, all long retired, and living not so peaceably in England, are being woken and hauled up for their beliefs and behavior, all those years ago.
In the practice of their spy craft, did they only deceive or also destroy lives? Did they sacrifice their agents as 'pawns', as means to a greater end, and if so, were they justified? Was there torture, extraordinary rendition, 'fake news' and other forms of unethical behaviour?
In any case, what is ethical and unethical in an ideological war and how can it be understood in the current post-ideological State?
Some of these dilemmas may remind an Indian reader of the Kulbhushan Jadhav case, whatever the facts are in that complex saga. Some aspects may remind us of the ill-fated Rohingyas and the difficult choices for the Indian State in dealing with them: are they to be treated as refuges or illegal immigrants or potential terrorists?
Another contemporary feature that le Carre had foreshadowed is the rise of the ultra-nationalistic party 'Alternative for Germany (AfD)', in an earlier novel – A small town in Germany.
But why does le Carre revive the past, since he had moved successfully to the ills and the villains of the present? The novel towards its end provides a glimpse of his motivation. But more than the novel, the series of interviews and broadcasts that he is currently engaged in provide a clue.
Le Carre today emerges as an embittered and deeply aggrieved intellectual with liberal impulses despite a deeply conservative professional background. During the Cold War years, le Carre consistently questioned the moral certainties and the political posturing of both sides. He was sensitive to the human tragedies on either side of the iron curtain and excelled in portraying the ambiguity in the decisions and actions of that era.
One of the finest examples is in The spy who came in… which leaves the reader befuddled as to which side was right. Not for him the trumpeting of the virtues of the West, or the vices of the Soviet system. Both sides were caught in a vicious and dehumanising conflict that fortuitously came to an end.
That being said, all along le Carre had admiration for open and free societies, where an individual can retreat and retire to a quiet corner, a dream that many of his protagonists aspired to.
Post Cold War, however, in his view, the military-industrial complex in America is forever in search of new enemies and conflicts. In the last decade, his novels have shown an underlying antipathy towards the American establishment, even while invoking the liberal values of the West.
In the recent period, the application of labels without reflection -- nationalism, anti-globalism, communism, Islamic extremism -- and the exaggeration of threats that can result in calamities brought about by the powerful American interests, seem to alarm him.
Some of his novels are about the damage and destruction caused by American might with a simplistic understanding of the threats that it conjures up. Another tragedy for him is Brexit and the underlying sentiment of Britain distancing itself from Europe.
In the novel Smiley in his old age seems to be lamenting both these factors: an unthinking Trumpian America without any moorings, and a Britain that is divorcing Europe. 'This is not what we fought for,' is the cry of the cold warrior as he weeps about a world without credible convictions.
How does this nostalgic and melancholic mindset appeal to a contemporary audience? Can the masters of yesteryear, a Wodehouse, an RK Narayan, a Scott Fitzgerald and yes, a Le Carre, with the sensibilities of a bygone era, still captivate a modern reader's attention?
Difficult for me to say. But le Carre is making a brave and hitherto successful effort to assess the past in terms of the present and vice versa.
B S Prakash is a former Ambassador and a long-standing Rediff columnist.