The defence minister has 20 months to learn the military's ethos, culture and to publicly bat for an organisation that feels increasingly marginalised and underappreciated, notes Ajai Shukla.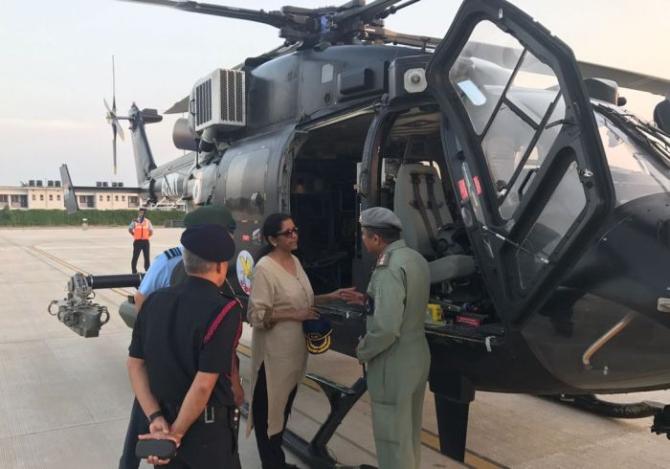 IMAGE: Defence Minister Nirmala Sitharaman understands the working of a helicopter at the Naliya air base in Gujarat. Photograph: Kind courtesy @nsitharaman/Twitter
Early morning on May 24, 2004, when Pranab Mukherjee, the surprise defence minister of the surprise United Progressive Alliance government was leaving for his first day in office, this correspondent buttonholed him between his front door and his car.
"What will be your priorities as defence minister?" I asked.
The Congress party's most formidable intellect pondered for only a moment.
"Can you ask me that after three months please? I've been the finance minister, foreign minister and held numerous posts in government and Parliament. But the defence ministry is a mystery to me. It will take me some time to understand," he replied.
Nirmala Sitharaman, with only a fraction of the governmental experience that Mukherjee brought to the defence ministry, will surely take that long to grasp the technical, financial and administrative intricacies that make the defence ministership a politician's most challenging, coveted, and even glamorous assignment.
Were she a full-term defence minister, Sitharaman, feted for being only the second woman to hold the job, would have had the time to understand and reform the ministry according to her priorities.
She could then have addressed issues such as reversing the military's 'self reliance index' that currently stands at 70 per cent imported equipment and 30 per cent indigenous.
However, she has just 20 months, of which the last 12 will see the government in election mode, leading into the 2019 general election.
Challenges for Sitharaman

The new defence minister will have to come to grips with three separate armed forces, numbering 1,400,000 men and women
There are also five departments to deal with, each headed by a secretary.
She is responsible for spending the annual defence budget -- Rs 359,854 crore this year.
In the short time at her disposal, Sitharaman will have to come to grips with three separate armed forces, numbering 1,400,000 men and women, steeped in tradition and distrustful of civilians.
There are also the ministry's five departments, each headed by a secretary -- the departments of defence, defence production, defence finance, research and development and ex-servicemen's welfare.
Getting these to work in unison would be an achievement for Sitharaman that none of her predecessors have managed.
Each of these departments patronises and protects sprawling fiefdoms.
R&D includes 50 laboratories of the Defence Research and Development Organisation, which controls a budget of Rs 14,818 crore and opposes equipment import reflexively, even when it is critically needed and an indigenous solution is not in sight.
Defence production feels obliged to feed business to its 39 ordnance factories and nine defence public sector undertakings, often at the cost of more efficient private sector producers.
In numerous court rulings, the ironically named department of ex-servicemen's welfare has been castigated for lavishing time and public money on litigating endlessly against retired soldiers who had the temerity to approach the courts for retirement and medical benefits they feel were due to them.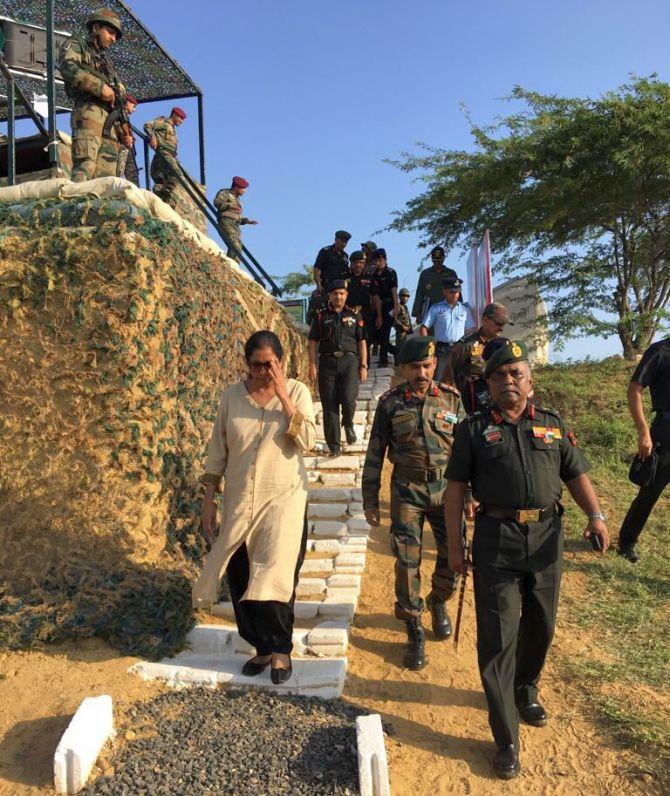 IMAGE: The defence minister visited soldiers posted close to Sir Creek, the international border area in Gujarat. Photograph: Kind courtesy @nsitharaman/Twitter
As Bharatiya Janata Party spokesperson from 2010 to 2014, and as minister of commerce and industry since May 2014, Sitharaman has evinced the discipline, dignity and work ethic that an inherently conservative military would appreciate.
But winning the military's loyalty and confidence would require Sitharaman to do more than just paying lip service to 'hamaare bahadur jawan (our brave soldiers).
She would have to learn the military's ethos, culture and to publicly bat for an organisation that feels increasingly marginalised and underappreciated.
In all this, Sitharaman's hands would be tied to some degree.
Given the prime minister's office's proclivity to micromanage governance; and the defence ministry's reliance on the finance ministry for the allocation and disbursement of funds and clearances for procurements, both these organisations retain a veto power on the defence minister's initiatives.
For example, Sitharaman is theoretically responsible for spending the annual defence budget -- Rs 359,854 crore this year.
Of this, the capital allocation for new equipment is Rs 86,488 crore, a ridiculously low proportion that Parliament's defence committee has slammed as inadequate.
Yet, year after year, the defence ministry surrenders large chunks of this allocation (it returned Rs 7,000 crore last year) because the finance ministry, which must endorse large procurements, deliberately delays clearances until the money lapses.
Sitharaman must try to remedy this situation.
Defence analysts routinely chorus the imperative for allocating 3 per cent of Gross Domestic Product to defence, from the current allocation of 2.14 per cent (or 16.8 per cent of government spending).
Sitharaman would probably realise that, given Prime Minister Narendra Modi's focus on job creation and social sector spending, raising the defence budget substantially is a pipe dream.
But she could focus on improving efficiencies and optimising duplicated structures, besides fully utilising the existing defence allocations.
Getting such a process underway, and thus establishing her credentials as a serious reformist, would require Sitharaman to focus laser-like on creating the structures of tri-service command.
Fortunately for her, the spadework has already been done. The Naresh Chandra Task Force in 2012 recommended appointing a four-star permanent chairman to the Chiefs of Staff Committee, and the integration of the defence ministry with the three service headquarters.
Last year, the D B Shekatkar Committee made similar recommendations.
Last fortnight, Arun Jaitley implemented 65 measures proposed by Lieutenant General Shekatkar (retd), but ducked on the vital tri-service reforms, which, when implemented, would save Rs 25,000 crore annually, according to the report.
IMAGE: Nirmala Sitharaman at a daily meeting with the three service chiefs. Photograph: Kind courtesy @nsitharaman/Twitter
Captains of defence industry wonder what brief Sitharaman would receive from the prime minister, since that would determine her direction.
If her brief as defence minister were to strengthen combat capability and fill in equipment voids, acquisition policy reforms are essential to enable expeditious decision-making.
One of her National Democratic Alliance forebears, Manohar Parrikar, tried hard to simplify procedures, but bureaucratic safe play ensured that his flagship Defence Procurement Procedure of 2016 remains as hidebound as its predecessors.
Similarly, his Strategic Partner policy -- which sets out procedures for building up Indian private firms as defence specialists -- has been defanged by bureaucrats who want to avoid the exercise of choice and discretion.
Fortunately for Sitharaman, she will inherit more capable bureaucrats than her predecessors had to work with.
The new defence secretary, Sanjay Mitra, has a reputation for dynamism unlike his predecessor, G Mohan Kumar, who spent long years opposing ministry reform.
A new secretary for defence production will also be in place in October, and Sitharaman would do well to influence this selection.
If Sitharaman's brief is to quickly galvanise job creation, she already has templates to work to.
Earlier this year, CII handed Parrikar a list of 30 to 40 defence contracts languishing in the pipeline, each worth under Rs 500 crore.
If these were pushed through quickly, a range of Indian defence firms would get work, for which they would step up hiring.
Says one defence entrepreneur, who hopes to win one of these contracts: "If I get the production order, I will hire 40 to 50 people right away."
For Sitharaman, whose report card will be evaluated going into the 2019 election, short-term objectives and initiatives will take precedence over long-term structural changes.
The lessons of Doklam are still fresh: Operational readiness has to be addressed on priority.
It remains to be seen whether this hard-headed minister with a reputation for demanding results from her subordinates can get the defence ministry dinosaur moving.