Nirmala Sitharaman has a God given opportunity to orchestrate a transformation in India's defence capabilities.
One hopes she has her own counsel and does not overly let the PMO run her ship, says Group Captain Murli Menon (retd).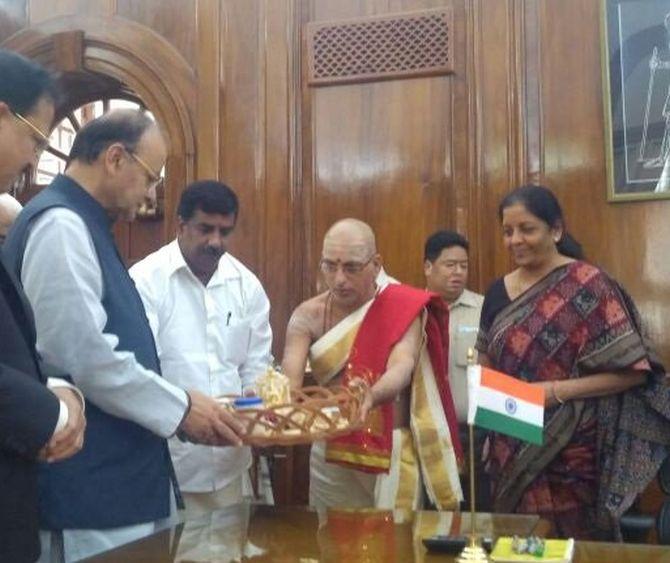 Having an otherwise uninitiated, but statedly beyond reproach integrity-wise, female Raksha Mantri could well turn out to be a blessing in disguise for the armed forces provided, of course, Nirmala Sitharaman has her own counsel and does not overly let the PMO run her ship.
The lack of a full time RM had been badly felt, especially during the recent travails of the Chinese standoff and border tensions with Pakistan.
Any country, more so one the size of India, with its many faceted threat perceptions does not have the luxury of not having a regular incumbent at the helm of its defence affairs.
So it is as good a time as any to look askance at what ought to be the immediate priorities for the new RM.
The first that comes to mind is to temper and objectivise the long pervading bad blood between the bureaucracy and the military.
A no nonsense RM should be able to send the appropriate signals to her minions as to how her ministry needs to be run to achieve national interests and not parochial ones of either the bureaucracy or any particular service.
Inter-service rivalry needs to be moderated by the RM (at times this has been fanned by vested interests in the defence ministry) and a long term track for perspective plans drawn up in all fields of military endeavour -- from acquisitions to training to HR to welfare.
It is indeed unthinkable that an experienced and versatile armed forces such as ours has still not put in place a periodic operational review (such as the well known QDR in the USA) to bring out possible flaws in cadre management, organisation and other matters military.
The ongoing restructuring in the army as mentioned in the media, of trimming the flab such as postal services, military farms and the like, would be part of such a periodic exercise.
Never having done the exercise before, even a decade-wise review may be sufficient in our context, rather than the four yearly one undertaken by the Americans.
Such a periodic review at the highest level of government would help maintain the teeth-to-tail ratio and improve overall fighting efficiency.
---
---
Any new incumbent to the defence portfolio is bound to be given a series of presentations by the service chiefs, defence secretary, DRDO chief and others. Ms Sitharaman would do well to update herself on the threat perceptions on land, sea, air and space (and cyber domain I dare say!) to know what is it that the constituents of her ministry train to hone their skills at.
She must thereafter ensure that her RM's operational directive is effectively crafted to counter these threats.
The RM's job is to task the army, navy and the air force appropriately and it is, of course, the job of the service chiefs to get it done, come war.
There can be no doubt in any one's mind that a military is essentially meant for war... to protect the nation's sovereignty in all spheres.
Especially in the newfangled domains such as space and cyber/info warfare out of the box thinking needs to be encouraged to stay up to date globally.
A strong handicap for our defence forces has been the lack of a Chief of Defence Staff. Political ambivalence and service rivalries precluded the CDS becoming a reality hitherto.
Finally, we seem close to political acceptance of a four star CDS. Ms Sitharaman needs to push this for quick implementation so that her government can indeed get a single point professional advice on military matters.
An integrated defence ministry with civilians and uniformed personnel working side by side should be the ultimate objective.
Once she has her ideas clear on what makes her ministry tick, the new RM needs to address issues plaguing defence acquisitions.
The ill effects of Bofors, Augusta and other PR fiascos such as Sukhna/Adarsh scams need to be addressed squarely but not with paranoia.
The new RM would do well to learn from the mistakes of some of her predecessors, especially the one in the last government who had a spotless reputation, but things did not get done.
One recalls an episode not too long ago when George Fernandes was the RM. A capable and honest bureaucrat wished to opt out of his assignment to the ministry because he was apprehensive about his decisions in the ministry leading to some character assassination issues.
George Fernandes apparently advised the IAS officer to focus on the job at hand and the fact that he had been chosen exactly on that account as his track record showed that he could deliver defence management as he was expected to.
So the culture should be to run a clean ship without fear or favour. Matters, especially those to do with defence, do not lend themselves to delays or unthoughtful decisions.
Another priority for the RM is to enforce accountability at all levels of her ministry.
Whenever there is a proven professional weakness exhibited by any level of military leadership, punitive and corrective measures should be taken promptly.
There has been a tendency in the past to hide operational weaknesses, be it in Kargil or elsewhere. The RM has to ensure that the highest standards of military leadership exists in all arms of the armed forces.
Besides, rank weaknesses in leadership, security breaches in the sensitive ministry also need to be countered.
Performance audit and use of technology should be adopted to ensure that there is no breach in security across the board and especially in defence acquisitions.
Over the years it was a given that big ticket defence deals came with kickbacks to individuals and the coffers of the ruling party. This culture has to be changed through increased transparency and stringent punitive measures against defaulters.
Another important matter on the new RM's agenda would be induction of women into combat roles in the military. With a woman as the defence minister now one should expect to see some real progress here.
Recently the Royal Air Force opened up its combat arms to women. India has little choice in this matter and it would be difficult to keep women out of combat, both on account of equality considerations accepted worldwide and the dire shortages in officer manning in the three services.
Perhaps short service options for women could be retained for those who wish to opt for it. But no able woman aspirant should be kept away from combat duties in the army, navy, air force or the coast guard.
Our ordnance factories need a serious review on their efficiency indices and contribution in real terms to the nation's war effort.
In this context the RM needs to put in place a national military strategy.
This is the starting point for our national security doctrine, single service and joint doctrines as also finding expression through the RM's Op Directive to the service chiefs.
There is also a crying need to rationalise and review the Manual of Aid to Civil Authority which is currently archaic.
The home ministry has numerous forces under its writ to quell routine public disorder and manage disasters, the armed forces should only be called in dire situations and their services need to be paid for by the government -- state or central.
In this regard, a related issue is the dress/accoutrements used by the fighting arms. It is understood that in the recent Jat agitation, the army had to identify themselves using placards, as several central paramilitary forces were wearing similar combat fatigues!
No central paramilitary force should be allowed to use army pattern fatigues. Perhaps a lesson from good neighbour Sam is in order... the Pakistan army does not allow any other outfit to wear khakhi, including the Pakistan Rangers!
A last aspect that comes to mind as to feature on the new RM's immediate agenda is the performance and accountability of the DRDO.
For far too long the defence forces have been kept as captive customers for substandard products of our public sector defence industry.
Now with private players like Mahindra and Reliance increasingly entering the arena of defence production (see the Lockheed tie-up with Tatas for the F16 offer to India) the DRDO needs to be charged with competitiveness and innovative zeal to come up to world standards in cutting edge technologies rather than spending tax monies on mundane hardware such as INSAS rifles being churned out by the ordnance factories, or operationally unviable efforts such as the Arjun MBT or the LCA.
Defence is no more a luxury for our country, but an absolute necessity not only to secure the nation's frontiers but also to contribute to its overall development.
Nirmala Sitharaman has a God given opportunity to orchestrate a transformation in India's defence capabilities including indigenous industry and the overall efficacy of the Indian military as a viable fighting entity.
IMAGE: India's first full-time woman Defence Minister Nirmala Sitharaman takes charge as a priest holds prayers on September 7, 2017. Her predecessor at the MoD Arun Jaitley was also present. Photograph: ANI