'As we were setting up our base camp, one of the women with professionally used brooms squatting in a corner and having chai approached us, with a grin. "Namaste Saheb, Acche Din to aahi gaye. From which party?"'
Ambassador B S Prakash and a group of retired bureaucrats join the Swach Bharat Abhiyan.
Illustration: Uttam Ghosh/Rediff.com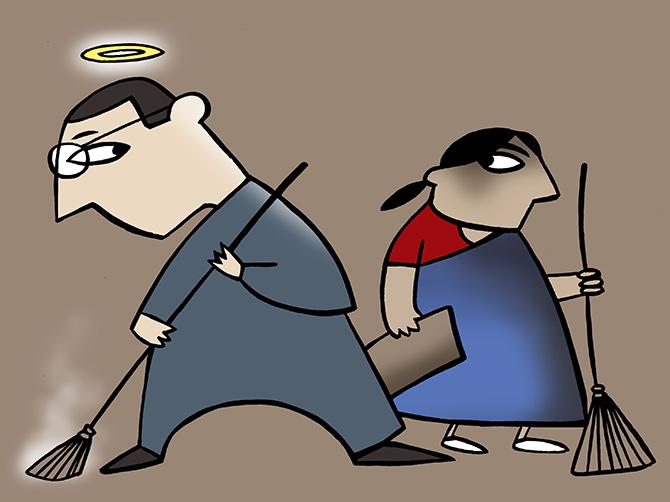 It is not easy to wield a jhadu, either nationally ala Modi, or locally as we tried to do, inspired like 'countless millions' (as the saying goes), by the Swach Bharat slogan.

Who are the 'we'? With some trepidation, I introduce this collectivity. Many of us reside in a housing society in a so-called middle class locality in Delhi. (Class and caste are crucial in all narratives about cleaning up India and hence this form of introduction is necessary).

Like many in the upper middle class, we believe that we are good citizens and have a social responsibility. Other classes may find us irrelevant or obsolete: These adjectives are hurled at us, as most of us were government officers with a well developed sense of self-importance, but are now 'retired.'

True to tradition, we are now free to comment or criticise national policies and practices, that we formulated or executed, and failed to implement.

But stop. Something has changed in our adda and gossip sessions in the last six months. The cynicism has evaporated, at least for the present, and we too have become Modi supporters energised by his vision and passion, and above all by the Swach Bharat Abhiyan.

And thus it came to pass, that we resolved one day to do our bit in our neighbourhood for the great cause.

Our volunteerism could not be in our own housing complex; after all, it is quite clean and we pay our sweepers well. A social mission had to be undertaken elsewhere and we selected an open area, an obvious eyesore, at one end of the market nearby.

There was a cluster of shops, kiosks, and a milk booth, but indescribably dirty areas in between them. Also some haphazard activity, some vehicles parked, sheds under dusty trees and so on. You get the picture.

A group of us, all well meaning and high spirited individuals with no desire for praise, fame, or political fortune, congregated at the spot, equipped with brooms, bins, and the rest of the requisites.

No banners, no loud speakers, no cameras, and no celebrities. And yet in no time a small crowed collected, bemused or bewildered, but some looking bothered too.

As we were setting up our base camp, as it were, we had seen a group of cantankerous women with professionally used brooms -- unlike our sparklingly new ones -- squatting in a corner and having chai from a vendor under a tree. Now, one of them approached us, with a grin.
"Namaste Saheb, Acche Din to aahi gaye. From which party?"

"Not from any party, we are volunteers from the society over there. And who are you people?"

"We are the karmacharis from the municipal corporation, for cleaning this area."

"Good, so, there are people already assigned, here. Then why is it in such a bad state? Don't you clean here, ever?" I asked.

"This is an open area between shops. So, it is not for the municipality. Our job is to sweep the roads. It is for the DDA (Delhi Development Authority) to pave this area and develop it."

"But then why are you here?"

"Because of Modiji, the local councillor has told us to come here too, though it is not our job. In any case, everyday some volunteers like you are selecting this space and coming here for seva. But both the AAP party and BJP also come. Yeh to tamasha ban gaya hai."

Having said this, they finished their tea and got ready to leave, their long brooms, sweeping the rubbish from the road to 'our' target area.

We were not disheartened. We had seen on TV, a VIP group trying to sweep the area in front of Rashtrapati Bhawan by first importing rubbish on to the set; Nita Ambani's delicate flourishes with a silk jhadu; Sachin Tendulkar's graceful straight drive of a sweep executed with a shortened stick with feathers attached to it.

Ours was at least real people trying to remove real rubbish.

Another old man with a thick file was waiting to talk to us. He had learnt that we were retired bureaucrats. He earnestly began telling us about the heroic struggle that he had waged, that had all been recorded in the file: Letters to the MCD (Municipal Corporation of Delhi), DDA, CPWD (Central Public Works Department), the lieutenant governor, the high court, recently Modiji himself, also letters under the RTI, PIL, the Green Tribunal...

My head was spinning. Why? For what? How come? This dump was such a battleground, I had to ask.

He started explaining the complexities and some more busy bodies gathered reinforcing or contradicting his points. From what I could dimly gather, this dusty piece of land, so near our society was a mini Kurukshetra.

It was still DDA land, where a plaza with a fountain was to come up. But meanwhile a Shiv temple had taken root, which could not be touched. Some old taxis had also been parked illegally near the small temple and they belonged to the local don who was refusing to move.

More recently, it was rumoured that a drug dealer had set up an operation under the cover of a cigarette shop and the litter of the beer bottles that we saw around was a by-product.

When the Aam Aadmi Party activists had come, the taxi don and the drug lord had come together. The local police, the municipal workers and the sanitary inspector were aware of these complexities and were ready to leave the area in peace.

But of late, earnest, do-gooders like us were infringing on the area. The future depended on the forthcoming Delhi elections, added another bystandee. Only the next MLA can determine whether a clean or a chaotic area will be of benefit, said a third. By the time, I learnt all this, my friends had done their shramdan.

Whew! I now understood why our teachers used to say that 'Cleanliness is next only to Godliness.' Each as difficult to realise as the other?

But wait, even with all my ingrained nihilism, something was stirring inside me. 'We must come back and resume this work,' said a friend, wiping his sweat. I nodded as I felt the same way.

An awakening of social conscience or Modi magic at work?
ALSO READ: