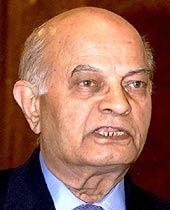 India's first NSA Brajesh Mishra's combination of hard-headed realism and outspokenness ensured that he always spoke up for India -- not necessarily for the BJP, notes Jyoti Malhotra.
In March 1998, just before I K Gujral's government finally caved into the world of realpolitik, I asked Brajesh Mishra, then head of the Bharatiya Janata Party's foreign affairs cell, what would be the top priorities of the BJP if it came to power.
"We will go nuclear," Mishra said simply. Listening to me echo some of the protestations so common in the Indian press at the time, which really amounted to US warnings of what it would do to India if it mustered the political courage to split the atom, Mishra stopped me short. "Forget about them, just listen to what I'm saying."
He was as good as his word. On May 11, barely two months later, "the Buddha smiled" for the second time in the Pokharan desert, a coded message that had been used by nuclear scientists Raja Ramanna and his team in May 1974 to tell then prime minister Indira Gandhi that their nuclear test had been successful. Then, Indira had backed down in the face of international fury, unwilling to let India face the full brunt of economic sanctions that she knew would follow. The first smiling would henceforth always be known as a "peaceful nuclear explosion."
On May 11, when the earth shifted and Buddha smiled again, Prime Minister Atal Behari Vajpayee hurriedly summoned the media and informed them that the world had changed. India was now the world's sixth overt nuclear weapons power.
In the days, weeks and months that followed, the triumvirate of Vajpayee, Mishra and then deputy chairman of the planning commission Jaswant Singh (he would become foreign minister six months later) confronted, side-stepped, cajoled, bullied and simply ignored the international brickbats that kept pouring in.
These three men would write and rewrite India's foreign affairs and security policies as well as its nuclear doctrine and bequeath to the country the idea that it was possible to make strategic choices that allowed it to engage more than one great power at a time.
With the second nuclear test on May 13, 1998, claimed by India as a thermo-nuclear test, all hell broke loose again. The US came down with the might of its sanctions -- although this would last only two years, as Jaswant Singh engaged then US president Bill Clinton's deputy secretary of state Strobe Talbott in a conversation that would result with the famous Clinton visit to India in 2000.
Soon after the nuclear tests, Brajesh Mishra did something only he could do. Showing a rare spunk not commonly found alongside the presence of a tough spine, Mishra had Vajpayee write a letter to Clinton, explaining why India had gone nuclear.
"...because of a bitter dispute with our neighbour in the north," said Vajpayee's letter, referring to India's long-standing dichotomous relationship with China, at once fearful as well as envious, with which it had fought a border war in 1962.
Bill Clinton promptly had the letter leaked to the 'New York Times.'
The letter exposed India's insecurities as well as its prevailing sense of bravado and the 'Times' hoped it would embarrass India into making amends in some way. After all, in 1995, when then prime minister PV Narasimha Rao had ordered that the nuclear site in Pokharan be prepared for a possible test, US intelligence agencies had found out and leaked the news to the 'Times.'
Rao's foreign minister, Pranab Mukherjee, denied the story to the international press attending a SAARC summit being held in Delhi at the time, even as Rao gave orders to fill up the hole in the Pokharan desert.
But Mishra was canny enough to understand that you had to reach out to the world's most powerful country, while at the same time holding your ground. So when Pramod Mahajan, Vajpayee's key political aide at the time, began making disparaging noises about the Americans, Mishra had Vajpayee tell him to quieten down.
Similarly, when then home minister L K Advani beat his chest and pointed out that the tests had changed the "geo-strategic" picture of the region -- referring to Pakistan -- Mishra realised the remarks would go down badly both in Washington and in Islamabad. Soon, Vajpayee was telling Advani to hold his peace. (Of course, Pakistan would retaliate with tit-for-tat tests in the end of May 1998.)
At the same time, overtures to the Clinton administration were being made through Naresh Chandra, India's ambassador to the US. Soon enough Jaswant Singh was winging his way to Washington DC to charm the younger man into understanding that India's nuclear tests were hardly about Delhi flexing its muscle in the neighbourhood, but really an assertion that the world's largest democracy could hardly be taken for granted for much longer.
Over the next six years, Brajesh Mishra would become the eyes and ears of his prime minister, at home and abroad. He had been a career diplomat, joining the Indian Foreign Service in 1951. He was the charge d'affairs in Beijing soon after the 1962 border conflict with China when, at a May Day parade, Mao Tse-Dong, ostensibly smiled at him and passed on the message that Asia's great powers could not remain estranged.
He was India's permanent representative to the United Nations in New York in 1979 when the Soviet Union invaded Afghanistan and Indira Gandhi famously refused to criticise the act; Mishra was forced to read out India's statement at the UN, but he soon quit the service afterwards.
Not for nothing was he Dwarka Prasad Mishra, former Congress chief minister of Madhya Pradesh's son. As principal secretary to Vajpayee, he was his eyes and ears, tempering the right-wing tendencies of several ministers in the government. He was at the centre of its most important decisions.
India's relationships with its neighbourhood were its highest priority, said Mishra. When Khaleda Zia became prime minister of Bangladesh in 2001 and its Hindu citizens began to flee to India in fear, Mishra was sent with a message to Khaleda. The hand of friendship to Pakistan culminated in the bus journey to Lahore in February 1999, even as it transpired that Pakistan's army chief Pervez Musharraf was plotting an invasion at Kargil.
Credit for persuading Clinton to force Nawaz Sharif to send Pakistan's Northern Light Infantry back across the Line of Control must be given to Vajpayee, Mishra, Jaswant Singh and Naresh Chandra. Sharif was called to Washington and roundly scolded by Clinton. The Kargil invasion ended as it had begun, with a whimper. Vajpayee and his key aides had been able to convince the world that a nuclear face-off between the world's newest nuclear powers, India and Pakistan, needed to be averted by Pakistan first respecting the Line of Control.
India won that particular bout. Two years later, in July 2001, Vajpayee was inviting Musharraf, the author of the Kargil invasion, to come to Delhi and Agra, showing it was willing to take the chance to make permanent peace with its enemies. The Agra summit failed because of Musharraf's arrogance, but on April 15 2003, with Brajesh Mishra in Tokyo, Vajpayee undertook another visit to Kashmir, where, once again, he extended the "hand of friendship" with Pakistan.
Of course, the visit to Kashmir had been carefully plotted by Vajpayee's key aides, including Mishra.
Brajesh Mishra was never able to persuade Vajpayee to side with the Americans in the invasion of Iraq, also in 2003, although he and Advani were said to have "promised" the Americans that India would support the US. But Vajpayee stood his ground: there was no way that Indians would hurt, injure or fire upon its old civilisational compatriots, the Iraqis, not even if Saddam Hussein was a dictator.
The BJP lost the elections in 2004, but Vajpayee's government had succeeded in establishing several precedents that the Congress government happily took credit for. Amongst the most important was the travel permit for Kashmiris across the Line of Control that began in 2005, although successive bureaucracies have succeeded in almost killing that initiative.
The overture with the US -- Vajpayee's visit to the US in 2002 when he described the US as a "natural ally" of India -- has of course been taken up with the most enthusiasm by Delhi. With Pakistan, Manmohan Singh has desired to make that trip to Islamabad (as Vajpayee and his team did in January 2004) since he became prime minister in 2004, which for a variety of reasons hasn't materialised.
Brajesh Mishra's combination of hard-headed realism and outspokenness ensured that he always spoke up for India -- not necessarily for the BJP. So when Manmohan Singh staked his government in 2008 for the Indo-US nuclear deal, Mishra earned the ire of his partymen by openly coming out in support of the agreement.
He indicated that if the BJP had returned to power in 2004, it would have signed a similar pact with the US with the utmost alacrity -- and with fewer conditions.
Mishra was awarded the Padma Vibhushan during the first Manmohan Singh government. He showed India how important it was to introduce steel in the spine, but equally important to bend like the Ashoka tree -- a tree that bends, and therefore doesn't break -- both with friends as well as with those who have fallen off the path. If India wanted to become a power to reckon with, he said, it would need to show both strength and generosity.
Brajesh Mishra would have been 84 years old on Saturday. His old friend Atal Behari Vajpayee, ill at home with a stroke, cannot mourn him publicly, but in the passing of the old order one thing is certain: Brajesh Mishra was a true son of India.