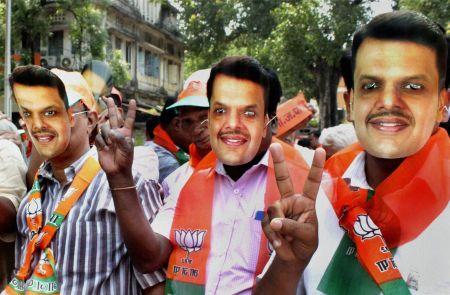 'The biggest loser is Raj Thackeray's MNS. The MNS may inspire fear, but fear doesn't fetch votes.'
A Ganesh Nadar offers his take on the election results.
One good thing about these assembly elections is that when each party contests on its own, it knows its actual strength.
For 25 years, the Shiv Sena had convinced the Bharatiya Janata Party that it was the big brother in Maharashtra and it required a Narendra Modi-Amit Shah combine to finally call its bluff.
All the BJP wanted was to be treated as an equal, but the Shiv Sena refused. Now the Shiv Sena will have a tough time getting the BJP to treat it as an equal.
In 25 years, the BJP and Shiv Sena ruled Maharashtra for just five years. The Congress and Nationalist Congress Party ruled the state for 15 years, so why did that alliance split?
After 15 years, both parties, it seemed, wanted to avoid the anti-incumbency vote, which is probably the main reason why the Congress and NCP parted ways.
After being denounced as corrupt at every BJP and Shiv Sena rally, the Congress and NCP still won around 30 per cent of Maharashtra's seats.
The BJP was expected to win a majority in Maharashtra. It likely failed as its performance in Delhi in the last four months has been nothing to write home about. Prices continue to rise. While oil prices fell the world over, they continue to rise in India.
If you want two words to describe the Congress loss in Haryana -- it is Robert Vadra. His alleged land dealings tainted the Congress government in that state.
Since Bhupinder Hooda's Congress government in Haryana did not thwart its favourite son-in-law, it was left to voters to teach the Congress a lesson.
From 4 MLAs in the previous assembly, the BJP is headed for a majority in Haqryana. And for that they have to thank Bobby Vadra.
The irony is that Congress workers think the answer to their problems is Vadra's missus. In Delhi there are already demands that Priyanka Gandhi Vadra joins the Congress to 'save' the party.
The BJP government in Delhi has so far chosen to ignore Vadra and his alleged real estate shenanigans. The minute Priyanka takes centrestage, her hubby will be her Achilles heel.
The biggest loser is Raj Thackeray's Maharashtra Navnirman Sena. The MNS should turn to social service now that its days in electoral politics are almost over. The MNS may inspire fear, but fear doesn't fetch votes.
Image: BJP workers wear masks of Maharashtra BJP President and likely chief minister Devendra Fadnavis as they celebrate the party's performance in the assembly election in Nagpur. Photograph: PTI