The news reports of the response that Tejaswi has been generating at his election rallies must definitely put a smile on his father's face, observes Asmita Bihari.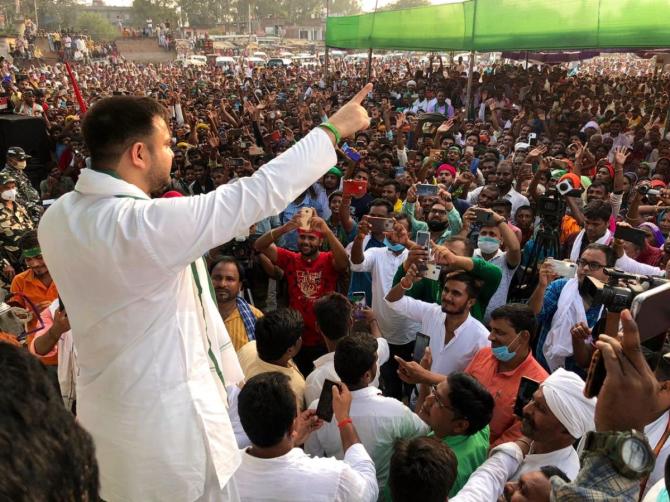 A Bihar election for the first time since the 1980s is without the might and mirth of that great champion of the lower castes, Lalu Prasad Yadav.
Bihar 2020 election rallies are a drab affair minus Lalu's chutzpah and quick wit.
Lalu endeared himself to the state's backward castes who had been ignored by upper caste politicians in the state. All that changed during his term as chief minister from 1990 to 1997 and then again under his wife Rabri Devi from 1997 to 2005.
There are innumerable stories of how Lalu would not think twice in stopping his convoy outside a hutment on the side of the road and sit with the family on the charpoy, just as someone would visit a relative.
His simplicity made countless Biharis think of him as one of their own.
Everything from his attire to the rustic language he spoke was something that could relate to and adored.
Even after becoming chief minister, he continued to stay at the staff quarters at the veterinary hospital -- where he had stayed earlier with his brother -- for sometime before he moved his large family to 1, Aney Marg, the CM's official residence.
A son of a Charwaha who had become chief minister he would not let post or the privileges that come with it form a bay between him and the Bihari people.
Everything Lalua, as he was fondly called, did was a rage.
The Lalua haircut. The Lalua beedi. The Lalua jokes. Even a Lalua Chalisa.
This was at the peak of his Lalu popularity.
Before the hero of the masses became embroiled in a slew of corruption cases, was convicted and sentenced to a prison term.
Languishing in the prison hospital in Ranchi in neighbouring Jharkhand, Lalu must be restless, missing out on the election campaign, a most important test for his younger son Tejashwi.
The outcome of the Bihar 2020 election will in a sense decide the political fate of the Lalu Prasad Yadav clan.
A family that has endured several setbacks since Narendra Damodardas Modi and his party came to power at the Centre and via the back door in Bihar in July 2017.
It was Lalu, remember, who had halted then BJP supremo Lal Kishenchand Advani's Rath Yatra to Ayodhya in Samastipur in September 1990.
Like the Congress, its partner in the Mahagathbandan, Lalu's RJD is one of those rare Indian political parties who has refused to play footsie with the BJP.
Lalu -- who breathes politics 24x7 -- must be aware of all that is going on in the lead-up to the election.
He would have loved to be there beside his son, giving him precious pearls of wisdom.
But the news reports of the response that Tejaswi has been generating at his election rallies must definitely put a smile on his father's face.
And perhaps even a hopeful song on his lips.
Lalu may not have encountered Kenny Rogers's music, but never has the late country singer's words rang more true in the electoral battlefield of Bihar:
Promise me, son, not to do the things I've done
Walk away from trouble if you can
Asmita Bihari is a non resident Bihari.
You can read his earier columns here.
Feature Presentation: Aslam Hunani/Rediff.com