'Should the new ISIS leadership opt for a consolidation, the Afghan-Pakistan border would be an attractive place,' warns Brigadier S K Chatterji (retd).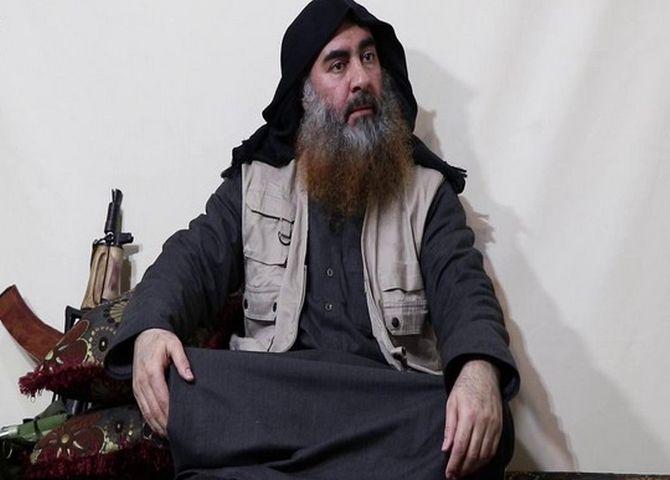 Abu Bakr al-Baghdadi's death brings the curtain down on the life of one of the most brutal exponents of violent jihad. His only peer was probably Osama bin Laden.
The conduct of the operations by the US army's Delta special force follows an arc quite similar to bin Laden's killing in May 2011.
Both were intelligence-based operations sanctioned by US presidents. In both cases, the US relied on its special forces.
In bin Laden's case, the US navy's Sea Air and Land (Seals) team killed him in his hideout in Abbottabad, Pakistan.
In Baghdadi's case, the US army's Delta team launched a heliborne raid. The Delta team blasted through the wall of the building he was hiding in, killing his fighters and two of his wives, before Baghdadi ran into a blind tunnel to blow himself up along with three of his children with a Delta team dog chasing him into the tunnel.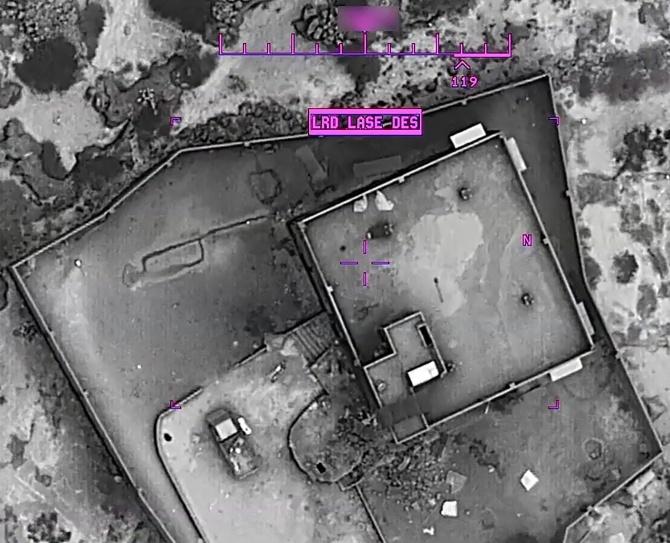 Baghdadi's death will definitely be a telling blow for ISIS. Post the confirmation of his death, his nominated first replacement has also been eliminated in another attack.
The Islamic State of Iraq and Syria -- also known as Islamic State of Iraq and the Levant, and Daesh -- started out as small group; an affiliate of al-Qaeda. At some stage Baghdadi rebelled, shrugged off al-Qaeda's control, branched off on his own.
Baghdadi's approach, when compared to al-Qaeda's legacy, displays both congruence and contrasts, with major strategic differences, evidenced more and more as ISIS strode from strength to strength.
Their differences and commonalities are of relevance in appreciating global jihad's future course with many jihadi groups having linkages with either one or the other group.
To take a measure of the contrasts first, al-Qaeda advocated, like all jihadi groups, the concept of an Islamic caliphate.
However, it understood that establishing the caliphate was improbable immediately and did not try to capture and hold territory. Al-Qaeda banked on established groups like the Taliban in Afghanistan to locate its establishments.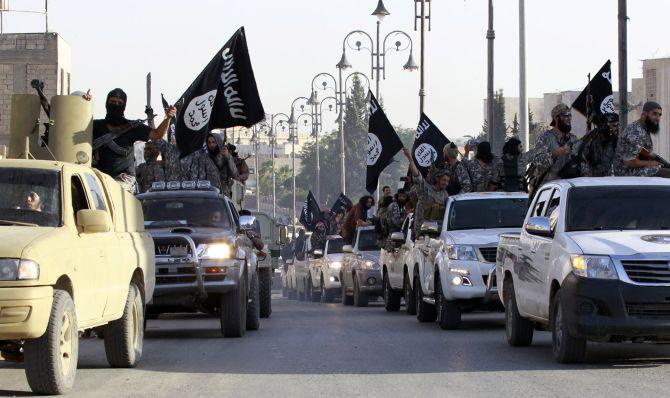 Baghdadi's strategy was different. He was a man in a hurry. He unfurled the caliphate map that extended far beyond Syria and Iraq, to include West Asia, the Central Asian republics, Afghanistan, Pakistan and India, and also beyond to Southeast Asian nations.
ISIS captured and administered large areas in Iraq and Syria. It gave the jihadi world perhaps the first feel of a new caliphate spread over almost 90,000 sq km with a population of over 10 million people.
Baghdadi was enthroned as its first caliph, and died, in the words of US President Donald J Trump, a 'dog's' death.
Al-Qaeda's strategy did not require a standing army nor did it attempt to raise one. Its functional model was based on dispersed cells that formed the pivots for planning, recruitment and operations.
Baghdadi's jihadists were an organised force that could undertake both offensive and holding operations. In the fifth and final phase of the battle for Raqqa, ISIS's de facto capital, the Syrian Democratic Forces fought from June 5 to October 17, 2017 before finally capturing the city.
Al-Qaeda, notwithstanding its display of violent acts intermittently, was primarily concerned about being the ideological demi-god of Islamist fundamentalism and shaping its discourse.
It allowed local groups to organise their activities, something akin to a franchise, within the ideological guidelines of al-Qaeda.
ISIS drove relentlessly for the fruition of the jihadi dreams of a Caliphate and contested al-Qaeda's global influence. While ISIS did make a dent and drew away some of al-Qaeda's affiliates, the latter was largely able to hold its flock.
Among the similarities between the groups, foremost has been the wanton use of violence as a tool for gaining ascendance over the populace.
The attack on the twin towers in New York by al-Qaeda was the first example of a successful execution of killing at a colossal level by any jihadi group.
ISIS too displayed no qualms about well-planned pogroms. Both groups attempted to generate fear by public display of extreme violence and using the media to instill fear in the populace.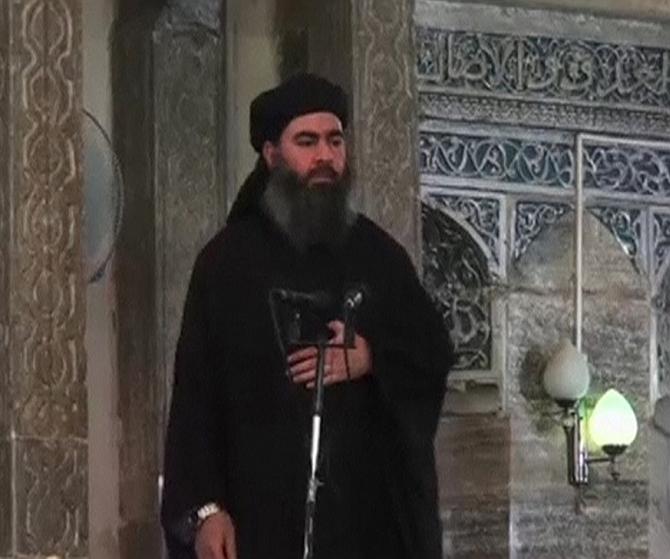 Now that Baghdadi is dead, and so is his senior most lieutenant, al-Qaeda is again at the helm of Islamist jihad with no single group capable of contesting its position.
As such, we could witness a strengthening of its affiliates in various countries, working fairly independently in their own areas.
Either way, the road hereafter provides all the ingredients for a fairly violent chapter to unfold. Jihadi groups have all along proliferated in areas that are disturbed, violence prone, with poverty deeply entrenched.
Islamist radical groups have multiplied when nations have supported them, provided weaponry, given them moral, material and logistics wherewithal.
Notwithstanding ISIS or al-Qaeda's comparative standing and the setbacks that both have periodically experienced, neither did bin Laden's death nor will al Baghdadi's lead to jihadi establishments losing faith in themselves to achieve their objectives.
WATCH: He died like a dog. He died like a coward: Trump on Baghdadi's death
At its peak ISIS had approximately 40,000 foreign fighters from over 100 countries.
Women from even Asian countries joined the movement in consonance with the tenets of ISIS.
A large percentage of these have returned to their countries or areas in turmoil where ISIS affiliates or other groups are already on the rampage.
With Baghdadi's death, more of them could try and flee. The unstable conditions in Syria, especially with the US troop withdrawal, has already led to ISIS fighters breaking free from camps guarded by the Kurds.
The African continent could be an attractive destination. It is already on the boil with al-Qaeda in the Maghreb, Boko Haram, and Al Shabab being the major operational groups.
North African countries are particularly affected with most of the terrorist groups owing their allegiance to al-Qaeda.
Boko Haram in Nigeria had declared its affiliation with ISIS a couple of years ago, followed by a small faction of Al Shabab in Somalia.
At the level of fighters of various groups, switching from one to the other group is not uncommon. ISIS's loss could just as well be al-Qaeda's gain.
In the Asian continent, there are enough hot spots that could be coveted destinations for ISIS fighters. The worst status is to be found is in Afghanistan and Pakistan.
While the former is combating terror with the assistance of the US-led resolute support mission, the latter abets terror groups creating instability in India and Afghanistan.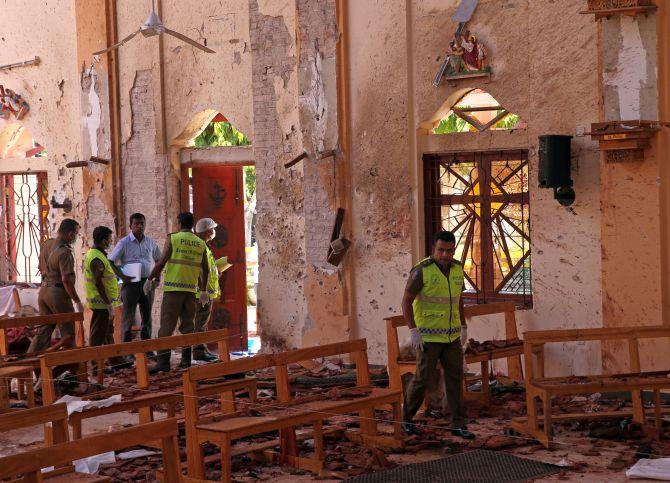 The scourge extends beyond India to Sri Lanka where the April 21, 2019 Easter Sunday attack left 259 dead. Radicalism is also fairly entrenched in Southeast Asian countries.
Though Baghdadi's death is unlikely to serve as a strong catalyst for a spurt in terror activities -- be it Asia or Africa, with Baghdadi's image having already suffered immensely since ISIS lost the battle in Syria -- it could attempt to refurbish its reputation by resorting more to small scale sporadic acts as has been experienced in Europe in the form of lone wolf attacks, or by small group of two or three terrorists.
Should the new ISIS leadership opt for a consolidation, the Afghan-Pakistan border would be an attractive place.
An arrangement with al-Qaeda, and thereby the Afghan Taliban, could provide it an area to undertake stabilisation of the group.
ISIS has around 2,000 cadres operating in Afghanistan and the Afghan government's assessment is that Baghdadi's death will prove to be a major blow.
Baghdadi may have died a dog's death, but there are enough of ISIS terrorists scouting for a way out of the Syrian trap. Free nations will have to fish them out before they ingress across their borders to trigger death and destruction.
Of great value will be sharing of intelligence between nations as is obvious in the case of Baghdadi's killing with the American president thanking Russia, Turkey, the Syrian Kurds, Iraq and Syria.