'Islamic State is the monstrous child of both the American invasion of Iraq and the failure of the world to support the Syrian revolution.'
'IS has made Al Qaeda out of fashion.'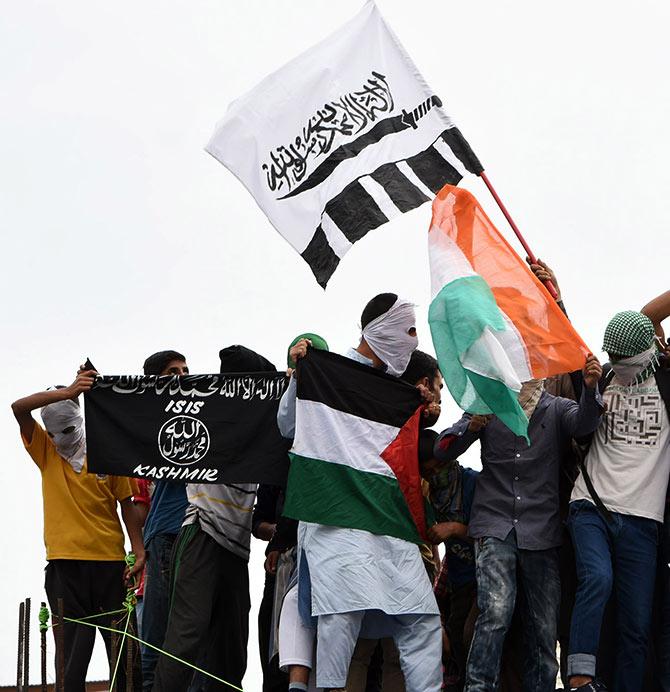 IMAGE: Waving the ISIS flag in Kashmir. Photograph: Umar Ganie/Rediff.com
In June 2013, French journalist Nicolas Henin was captured by Islamic State terrorists and spent 10 months in captivity with James Foley and others who were beheaded soon after the Frenchman was released.
Henin, who has been reporting from the Middle East for more than a decade, spent much of his time in Iraq and Syria witnessing the events that led to the rise of Islamic State.
Talking about his kidnapping in his recently released book, Jihad Academy: The Rise of Islamic State, Henin says, 'What I went through was a nightmare. Yet this nightmare is nothing compared to the scale of the tragedy being suffered by the people of Syria and Iraq.'
In an e-mail interview with Syed Firdaus Ashraf/Rediff.com, Henin explains how the growth of Islamic State is result of the West's limitation in seeing IS merely as a terrorist organisation while ignoring its political message and goals.
What is the reason for the rise and success of Islamic State?
The main reason for its success is the weakness and repeated mistakes of all of its opponents. We are focusing on IS as if it as our archenemy. We should, to some extent, ignore it or at least belittle it.
The main mistake in our understanding of the IS phenomenon is to consider it evil. It is only the symptom of evil. The (real) evils are the violence, the authoritarianism and the sectarianism that are spreading through the Middle-East.
Do you think, after the abolition of the Khalifa post the Ottoman Empire in 1919, the Muslims of the world want some kind of Caliph ruling them?
For sure. A Caliphate is the wish of many Muslims and was in place all through their history, till 1924.
It doesn't mean it is a threat to the believers of other religions. The point is that the Caliphate established by IS is a fantasy. The Caliphates in Muslim history were either Shia or not Arab (Ottoman)!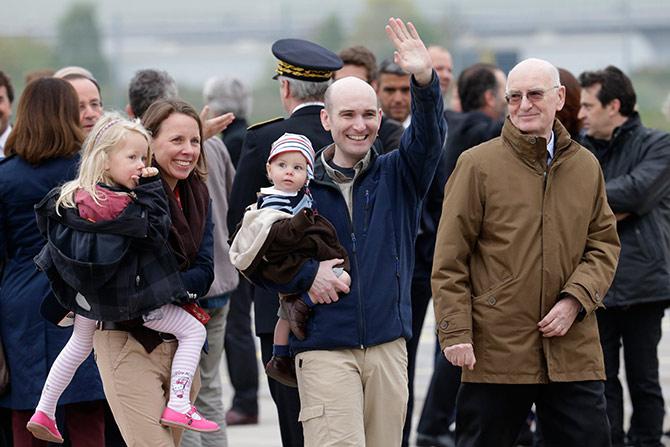 IMAGE: Nicolas Henin, who had been taken hostage by Islamic State, with his family moments after his arrival on French soil. Photograph: Philippe Wojazer/Reuters
Do you feel some sections of the Muslim population around the world have not been adjusted to the idea of 'nationalism,' which they feel alien to their faith?
Would you agree with the argument that Muslims are first loyal to their faith and then to their nation, as a result of which they are joining IS?
There is for sure a crisis among the populations of the Middle East that have been deprived of their basic rights for decades. But they follow the news and the moves of the world and they, like everyone else, are looking for more freedom and rights. This is what caused the Arab Spring.
This Spring has caused a backlash and the move backwards in terms of frustration is even more violent as the expectations were high.
Why is savagery and brutality a part of Islamic State? What message does Islamic State want to send to the world?
They use the violence as a message, as a way to impose their rule that is so extreme that it would barely be accepted by the local populations otherwise.
This violence is also directed at world public opinion to make us misunderstand the priorities in the region, to make us think that IS is the evilest player.
The Syrian regime is documented to be more criminal and is the cause and the reason for all this crisis (for every civilian killed by IS since the beginning of this crisis, between seven to 10 civilians -- depending on the source you look at -- have been killed by the regime).
What is life under Islamic State like? Do children go to schools or colleges? Are there functional government offices? What is the day-to-day life like for the common man under Islamic State?
IS plays as much as possible as a State, trying to satisfy as much as possible the needs of the population.
Of course, it is not playing this role well because of its lack of experience.
The most important thing to keep in mind is that we don't, in Iraq and Syria, have bad guys who popped up one day and destroyed everything to impose their rule.
We had failing and criminal State actors who created a vacuum and IS only filled it.
The Iraqi and Syrian regimes failed to address the problems faced by the Sunni Arabs. IS is unfortunately the main significant player which pretends to engage them.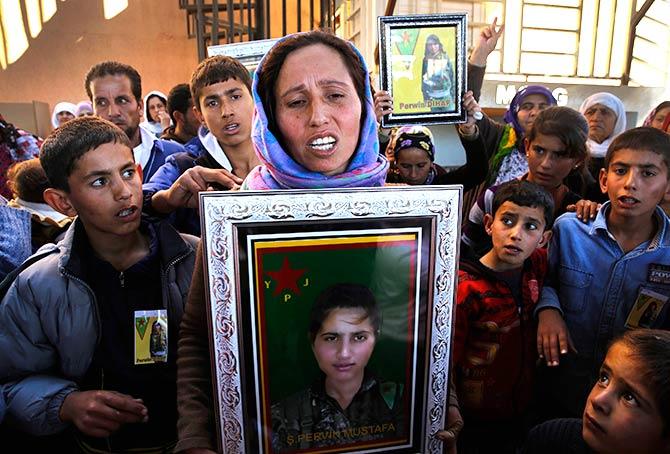 IMAGE: Jamila holds a photograph of her sister Perwin Mustafa Dihap, a 19-year-old fighter who died fighting Islamic State. Photograph: Yannis Behrakis/Reuters
What do women do? Are they free to go where they like? Is it true that Islamic State captures women to use as sex slaves for their soldiers?
IS is a repressive, totalitarian and extremely conservative group.
Women are its victims, just like anyone are. Everybody must follow their rules that are supposed to follow the example given by Prophet Muhammad, but is actually totally fantasized.
There are definitely sex slaves, but their (reported) number may have been increased by IS opponents.
I dislike the way most counter-narratives are built on rumours. IS is doing enough evil; we don't have to invent stories exaggerating some of their crimes!
Dabiq is the area Prophet Muhammad mentioned in the Hadith where the Christians and Muslims will fight their last battle. Is that why Islamic State captured Dabiq? As a symbol of their struggle for Muslims around the world?
It is a controversial way to read what a religious text is supposed to say.
This 'Dabiq prophecy' is a huge motivation for many foreign IS fighters, but is not acknowledged by the rest of the Muslims.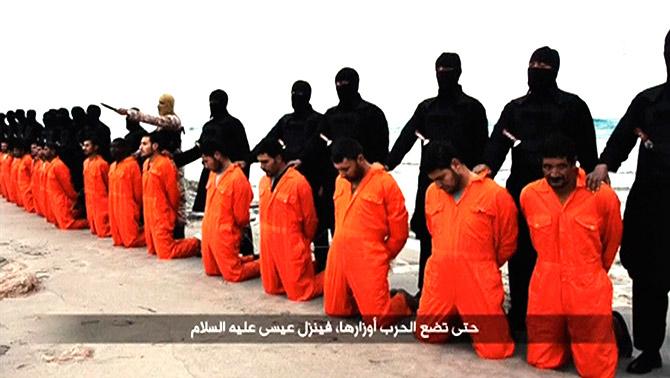 IMAGE: Men in orange jumpsuits, said to be Egyptian Christians, minutes before they were murdered by Islamic State. Photograph: Reuters
At least half a dozen Indian Muslims are reported to have joined Islamic State till date. Do you feel India, which has a huge Muslim population, can face the Islamic State threat?
The risk of terrorism is high everywhere in the world. I would be fool to deny it.
This being said, it's not India or France or the US that are the main targets and victims of terrorism these days: Syrians are paying a much higher price. It would be immoral and counterproductive to look only at our own security while denying them (the Syrians) their right to safety.
We have had instances of people waving Islamic State flags in Srinagar. Do you think Islamic State has the potential to grow in Kashmir?
IS flourishes wherever there is violence (especially repression by a State actor), authoritarianism and sectarianism (especially tensions between Sunni and Shia Muslims).
Without these conditions, its capacities are fortunately quite limited.
How different, according to you, is Al Qaeda from Islamic State?
Their ideologies are very similar.
IS has learnt from some of Al Qaeda's mistakes and its processes are quite different.
IS has made Al Qaeda out of fashion.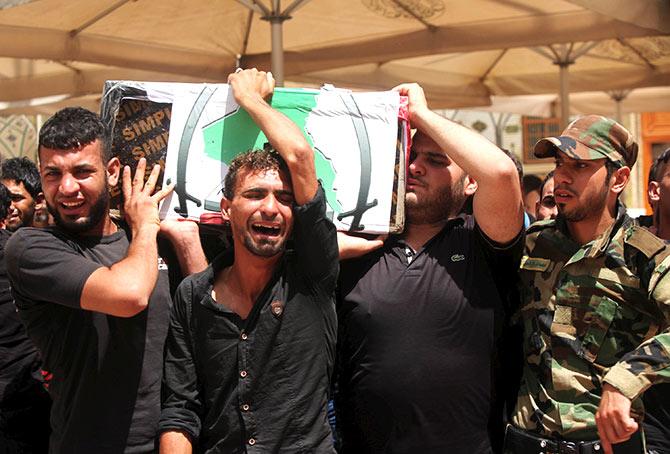 IMAGE: The funeral of a fighter killed in clashes with Islamic State terrorists. Photograph: Reuters
Where were you captured by Islamic State? How did you spend your 10 months in captivity?
I was taken in Raqqa (Syria), the de facto capital city of IS, and was detained for 10 months along with many other Western hostages. I had a really difficult time. But my sufferings are nothing compared to that of the Syrian people.
Can the Middle East only be ruled by terror and fear? Why is democracy not a viable solution?
Democracy is the solution, of course.
The international community failed to support Syrian democrats when they rose against their tyrant and this is one of the major causes for the birth of IS.
Is there anything good about Islamic State?
Only if the world looks at it in a pragmatic manner and starts fixing the region.
Many young Muslims from all over the world have joined Islamic State. What do you think compelled them to do this?
They mostly believe in humanitarian reasons. They think that going there will truly make them fight on the good side of history. But all this is IS propaganda. Its main motto is 'Jihad is cool.' My answer, from what I've witnessed, is that 'IS is bullshit.'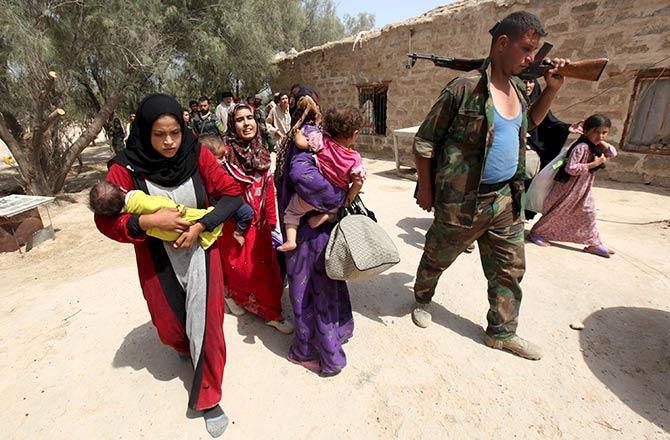 IMAGE: People flee Islamic State violence in Nibai, Iraq. Photograph: Reuters
How much territory is under Islamic State's control as of now? Do you think the current bombing of Islmaic State-held territory by Russia can help eliminate Islamic State?
IS managed to take control of large territories populated by Arab Sunnis in both Syria and Iraq. As long as the people in the region are not given hope, IS can continue to spread.
Russia is, for now, acting as IS's air force. It is almost only targeting rebels who are fighting IS on one hand and the (Syrian) regime on the other.
Putin's goal in Syria is not to eradicate IS but to maintain (Syrian President Bashar-al) Assad and/or its regime. Therefore, he is strengthening IS.
Do you think if the Americans had not got rid of Saddam Hussain, Islamic State would not have existed today?
More than the toppling of Saddam Husain, the occupation of Iraq was extremely destructive. It is when Al Qaeda in Iraq, the precursor of IS, was created.
IS is the monstrous child of both the American invasion of Iraq and the failure of the world to support the Syrian revolution.