'No other terror organisation has valued popular consensus as Islamic State does -- instead of repressing people, IS wants to gain their support. This is a major innovation in terrorism,' terrorism expert Dr Loretta Napoleoni tells Rediff.com's Archana Masih and Syed Firdaus Ashraf.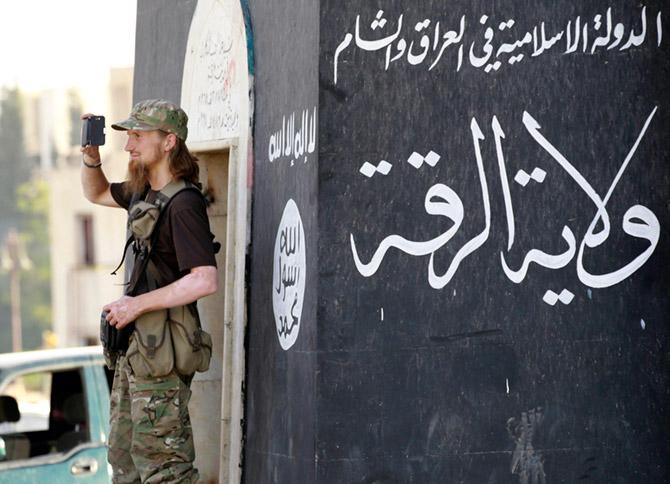 Image: An IS fighter films fellow fighters taking part in a military parade in Raqqa, Syria. Photograph: Reuters
Dr Loretta Napoleoni received a phone call from Italy when she was working as an economist in London in the 1990s. She was told that the Red Brigades -- the Italian Marxist armed organisation -- wanted to speak to her.
One of Dr Napoleoni's friends had become a leader of the organisation, but she did not know that till she was arrested. When the Red Brigades announced an end to their armed struggle, they sent a list of people they were willing to speak to -- Dr Napoleoni was one of them.
Having recently had a baby, she went back to her native Italy and interviewed the prisoners. This was to change her life.
She subsequently spent three years interviewing members of terrorist organisations. In 2003, she interviewed followers of Al Qaeda Abu Musab leader al-Zarqawi in both Europe and in the Middle East.
An expert on terrorist financing and money laundering, Dr Napoleoni advises several governments and international organisations on counter-terrorism and money laundering. Her latest and eighth book -- The Islamist Phoenix -- is a study of Islamic State.
'The IS doesn't want to destroy. They want to build the 21st century version of the Caliphate and that is what makes them so dangerous,' she writes in The Islamist Phoenix.
In an e-mail interview to Rediff.com's Archana Masih and Syed Firdaus Ashraf, she explains what sets IS apart from other terror groups and why it appeals to young Muslims.
What is it about IS that draws educated young people -- men and women -- from different parts of the world to join its ranks?
The message that IS launches to them is very seductive. These are people suspended between the Western world where they were born and their parent world, from which they have assimilated customs and culture.
They do not belong to either, they are misfits. As all Muslims do, they dream of a land where they would receive deliverance from centuries of humiliation, from colonialism etc.
This Muslim political utopia is today taking shape inside the Caliphate, for the first time. This is a very powerful call, and young people want to be part of this project, to help build the new State.
Have you been able to find out what life is like under IS? What is the currency they use? Do people go to offices? How does IS run its government? Are schools functioning? How do they pay salaries to employees and such other things?
IS is structured as follows: A military sector, an administrative, and a bureaucratic sector.
The latter runs the State as is done in any other State, so yes, people go to work in the morning and are paid salaries like any other State employees in the world.
Schools are functioning where there is no war or fighting, life has resumed a certain degree of normality.
IS has its own currency, but inside the Caliphate other currencies, including the dollar, are accepted.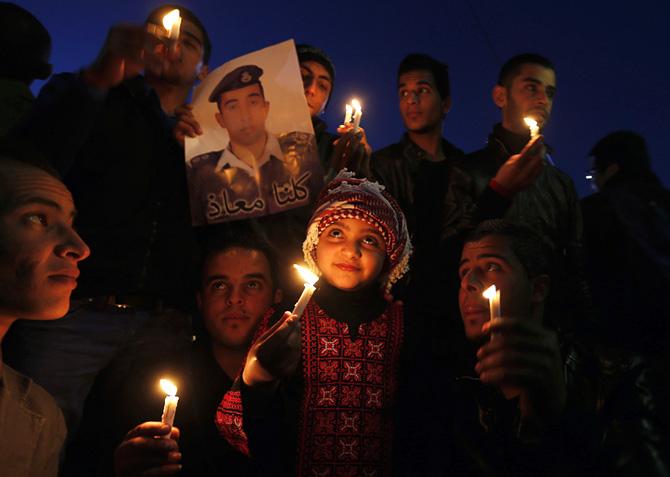 Image: Jordanians hold up a poster of pilot Muath al-Kasaesbeh who was executed by IS. Photograph: Muhammad Hamed/Reuters
Have there been other armed groups in the past that have attracted women like IS has?
I do not believe that IS is attracting as many women as has been reported by the press. Not larger numbers than previous armed organisations have.
What are the primary sources of its funding? What percentage of its funds, in your assessment, must be from the ransom extracted in lieu of hostages?
The most important source of funding comes from the running of the State, the territory they control, where they raise taxes as a normal State does. The ransom paid for hostages is a small percentage of their income.
In an increasingly globalised and modern world, how has IS been able to build a constituency that believes in the Caliphate?
Globalisation has facilitated the spreading of the message of IS, hence it has helped build an international constituency that believes in the Caliphate. IS is modern and pragmatic, and this has helped it consolidate its constituency.
Do you think capitalism has failed and therefore Muslims, who are in a minority in Weestern countries, are joining IS because they believe in the IS philosophy as the giver of a world of their dreams?
I do not think that there is a link between capitalism and the Caliphate, the Muslim political utopia has been there for centuries, only now it is taking shape.
However, I do believe that the economic crisis, the recession and deflation in Europe is making it harder and harder for young Muslims to integrate and for the Europeans to promote multi-ethnicity.
A better policy to fight the popularity of IS among young Muslims would be to integrate them into society.
What kind of a political-military-social vision does IS envision and what repercussions does it spell for other Islamic countries?
I think IS wants to consolidate its position in the regions it has conquered. Of course it wants to attack and conquer Baghdad, but I do not believe its aim is to invade Saudi Arabia, for example.
It is more likely that the simple consolidation of the Caliphate in the region will play a destabilising role in the neighbouring countries, encouraging the local populations to rise against the existing rulers.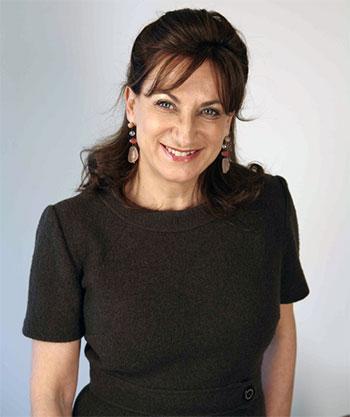 Is it true that IS was provided weapons by the US because it wanted to topple the Assad regime in Syria?
No, it is not true. Saudi Arabia and other Gulf States funded IS and offered training to its fighters to topple Assad.
It is likely the Saudis gave them US weapons they bought or received from the US. The US backed the policy of its allies, the Saudis.
Image: Author-commentator-expert on terrorism and terror financing, Dr Loretta Napoleoni.
IS's brutal barbarism -- crucifixion, beheading, burning alive -- is chilling. What accounts for such barbarism? Is it a way of shocking the world to heed its message or is it something more?
It is a way to terrorise the West and the world, in particular public opinion, to force governments to back off and let IS carve its own State and redraw the map of the Middle East.
In what ways is Islamic State different from the Taliban and in what ways is it similar?
Islamic State is modern and pragmatic. It seeks to create the 21st century version of the Caliphate, while the Taliban are stuck in the past.
Indeed, there are no similarities between the two apart from the imposition of the Sharia as the rule of law.
What distinguishes IS from Al Qaeda, the Taliban and other terror groups?
IS is an armed organisation that has successfully morphed into a State that is waging a war of conquest.
Al Qaeda never managed this, and the Taliban were handed over to Afghanistan by Pakistan.
No other terror organisation has valued popular consensus as IS does -- instead of repressing people, IS wants to gain their support. This is a major innovation in terrorism.
What have been its earliest acts of terror and what are the factors that have contributed to its steady and rapid growth in the Middle East?
IS is the latest incarnation of the group created by al Zarqawi in 2003, Twahid al Jihad. Its first attack was against the Shias in Iraq. Indeed, the fight against Shias still plays a big role in IS strategy.
The popularity of the group is linked to its success, it has established itself as the most efficient and successful group in Syria, hence the desire of jihadists to be part of it.
Was there a time in the Islamic world which was peaceful and prosperous which IS wants to implement today?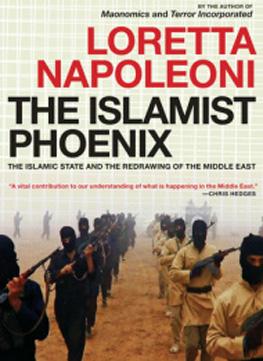 The Caliphate aims at creating a peaceful State, not a terrorist State, as the ancient Caliphate was. But to get to that State, terrorist tactics are being used.
It seems the idea of an Islamic Caliphate which ended in 1914 never died if you see the growth of IS 100 years later. Do you think nationalism is an alien concept to Islam?
No, I think nationalism in a broader sense is very much part of Islam. The simple fact that Arabic is still the common language confirms that a common trait links all different countries, and this element could be used as a foundation for the reconstruction of the Caliphate, which is not going to be a nation-State but a federation of people and tribes.