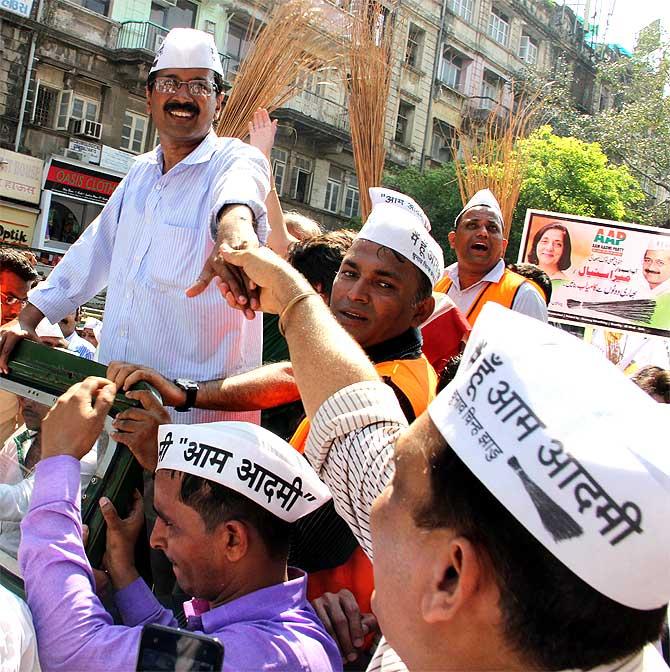 These elections will be remembered for the AAP and Arvind Kejriwal, feels Neeta Kolhatkar.
I personally don't support Arvind Kejriwal, but I like his calculating mind and the fact that he knows exactly what he is doing.
He is ideologically opposite to me, because I disagree when any politician says corruption is more important than secularism.
The Aam Aadmi Party is doing something constantly, keeping the administration, its opponents and the media on its toes. The party has pre-empted others.
Now compare this scenario to a regional party leader, whose foundation has been built on violence, holding the city to ransom, at any cost and dividing the population on the sentiment of Marathi Manoos, started by his uncle.
Raj Thackeray believes that if somebody challenges him or doesn't obey him they deserve the treatment given by his cadres, which ranges from throwing stones, burning buses and ensuring normal life is disrupted.
The state administration allows him his quasi law and order. The government needs him to counter the Opposition, and the media who thinks he is charming doesn't take him on.
Another rival to Kejriwal, Narendra Modi, refuses to be answerable to the victims of the 2002 riots in Gujarat, while he questions Nitish Kumar and Kejriwal.
Sociologist Father Rudolf C Heredia points to this paradox, saying the media has to be blamed for portraying Kejriwal negatively, while allowing others, most importantly, Modi to go scot-free. 'The media needs to expose that Modi is answerable to the people of Gujarat, the victims of 2002 riots.'
Such is the disparity in the leading pillars of our democracy. However, the fun part of our democracy is that despite all the complaints and murmurs of discontentment, all sorts of people are contesting elections.
The fact is Arvind Kejriwal has made some impact. The crowds came in large numbers in Mumbai to see Kejriwal. How will this translate into votes? That is where his party may just surprise us.
Among low income groups, especially in the metros, Kejriwal is the messiah -- a man who has shown people that they need no big money to enter politics, to make a difference.
However, he doesn't have candidates in all states, especially in Maharashtra. Overall, the only known face, associated with the common people or aam aadmi is Medha Patkar, who thanks to her Narmada Bachao Andolan, is known to fight for people's issues. The other AAP candidates vary from a builder, businesswoman, ex-banker and are mostly the elite.
Kejriwal is finding it difficult to find people to fit his criteria. In the AAP candidates' private lives there are contradictions, whether it is Anjali Damania, Mayank Gandhi (who is related to a family of builders), Meera Sanyal (who was in favour of Enron). "This is a disconnect," says commentator Prakash Bal.
Bal points out that Maharashtra is very unlike Delhi. Maharashtra is huge with varying geographical regions. Marathwada and Vidarbha are backward in the true sense. Konkan again is completely different. Western Maharashtra is developed more than other regions.
Traditional institutions work here and many leaders have been active here. AAP candidates will struggle to save their deposit.
One cannot deny that at a time when many had given up on politics, voting and hope of seeing change, here is a man who through his various activities and statements has ensured that the so-called Narendra Modi wave has been quelled.
Kejriwal ensures that the news television channels get a new point every day to speak about him and the AAP, whether good or bad.
These elections will be remembered for the AAP and Arvind Kejriwal.
Image: Arvind Kejriwal during his visit to Mumbai. Photograph: Uttam Ghosh/Rediff.com