A series of bypoll losses has pushed the Modi government into panic mode. Uncharacteristically, it's letting events dictate its actions, says Shekhar Gupta.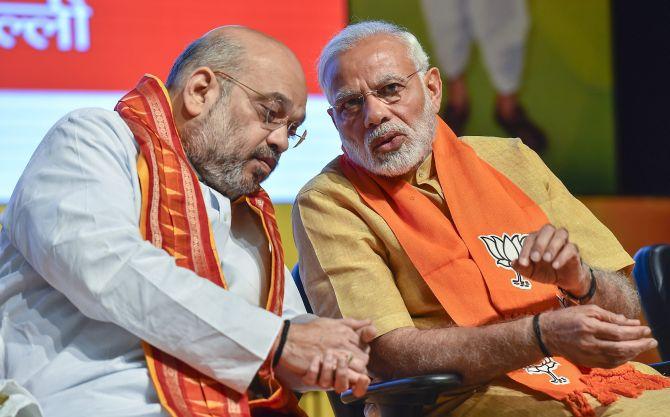 Photograph: Kamal Singh/PTI Photo
Throwing good money after bad money is an old truism. But throwing good money after bad politics? Every government does it in its last year.
But is Narendra Modi's also behaving like 'any other' government? With butterflies in the stomach?
Let's not judge, just look at the facts.
Last month, the government announced a Rs 70 billion package for the sugar/sugarcane industry.
Will it solve the problem, or even postpone it? Absolutely not.
The problem with sugar is, there is way too much of it, in the world, as in India.
If the mills pay the nutty minimum support price (MSP) mandated by the 'pro-farmer' government, they simply cannot recover their costs.
If the government wants to maintain 'more remunerative' prices, it has to ban imports, which it does.
And yet, if the prices remain unremunerative (for the mills), you fix an MRP.
It is one of those licence-control raj absurdities: Thou shall not sell sugar below this.
The retail price will now be 'controlled'.
About 80 per cent of the voters in 2019 will have no idea of this lousy, back-to-sixties economics. And lousier politics. Here's why.
Too many Indian farmers are growing too much sugarcane. People can't consume it unless you declare jalebis and gulab jamuns mandatory with each meal.
At today's global prices, you can't export it. This money will go down the drain with molasses.
However, you could have used it to incentivise tens of thousands of farmers to move away from cane, especially in water-short Maharashtra, whose sugarcane addiction is an environmental disaster.
The same farmers would do enormously better with growing fruit.
Spending even Rs 200 billion on that change would be investing good money after good economics and better politics. But you cannot see the gains before May 2019.
Now, you are guaranteed to leave everybody unhappy and asking for more. So go ahead, and feed the glut.
Let's not get distracted by flawed agricultural economics and stay with politics.
This cane capitulation came within a week of the by-poll loss in Kairana, Uttar Pradesh's cane or 'ganna' heartland.
You figured the angry farmers who voted for you in 2014 had now rejected you, making common cause with the Muslims they had rioted with.
The farmers are angry enough to forget polarisation.
In fact, you were made to pay for the imprudence of Yogi Adityanath invoking the long dead-and-gone founder of Pakistan in his election campaign to bring back the only trick he knows: Polarisation.
It just so happens that Jinnah rhymes with ganna and you gifted your rivals a devastating slogan.
Check out some other facts on the political side -- the panic with which it has moved to mend fences with allies.
Just the day after the Kairana loss, it conceded a demand of the Shiromani Akali Dal it had long denied -- of waiving the goods and services tax on the ingredients bought for the langar at gurdwaras.
The fraught relationship between Shiv Sena chief Uddhav Thackeray and Bharatiya Janata Party president Amit A Shah is well-known.
Now, in the same week as the sugar and langar giveaways, Shah landed at Thackeray's home, his hand-picked chief minister in tow.
Being his father's son, Thackeray didn't miss the opportunity to make a political point. He made the chief minister, who leads the state government in which Sena is the junior partner, wait outside.
Why would you take such humiliation?
Four years ago, the BJP came to power with a full majority, not needing any partners. It still professed coalition dharma, but everybody bowed to a prime minister with power and popularity unprecedented in a generation.
That's why Nitish Kumar, that compulsive and precise weathervane, dumped the secular platform for an anti-corruption one and defected to the BJP camp.
Now, he dares to talk of a local National Democratic Alliance within the NDA in Bihar. (Union Minister) Upendra Kushwaha, who leads a tiny Bihar party, the Rashtriya Lok Samata Party, with three MPs, is also giving warnings.
The message: You look weak despite your majority. Expect us to bargain harder.
Kairana is the latest trigger, but the Modi government's political momentum was broken earlier, in the same state.
The loss of both Gorakhpur and Phulpur -- the Uttar Pradesh chief minister and his deputy's pocket boroughs -- in by-elections brought to the BJP its first intimations of vulnerability.
It has made more panicky errors since.
One of its main planks in 2014 was a war on corruption. Its fearfully desperate embrace of the Bellary brothers with their mob back during Karnataka elections ended that.
The fact is, Modi was still quite popular in Karnataka and may have swung a majority by himself. But the Bellary brothers put doubts in the voters' minds. Evidence: They won only three of the nine seats in the district they were expected to sweep.
And the BJP lost its anti-corruption plank for 2019.
You cannot have the Central Bureau of Investigation suddenly discover before the Karnataka elections that there is no evidence against the Reddys of Bellary in illegal mining/iron ore export cases.
You can revel in electoral engineering. You can also over-engineer yourself into trouble.
The BJP appointed an agriculture minister not particularly for his intellect, or even native instinct.
For four years the farm sector has grown at about half the rate compared to the United Progressive Alliance's 10 years.
And remember even then, at 3.7 per cent average annual growth, there was farmer distress.
Your man has meanwhile delivered: A new organic manure drawn from the good bacteria found only in the dung of the desi cow, our most pujyaniya collective 'maata'.
This isn't a joke. The agriculture ministry is marketing this at a token price.
You buy a small bottle, and pour it in a pond of organic garbage. I bet it makes wonderful manure, but doubt if it will double farmers' income by 2022.
Sugar is not a new crisis. It's been building all these last four years, but who had the time!
The second is its arrogant choice of lightweight new chief ministers, each of whom is a liability now.
The three who won you nearly all the seats in their states are the ones who feel ignored, punch-drunk and sneered at.
The third is the price it is paying for treating allies with arrogance.
We know that this generation of politicians lacks the experience of ruling with a full majority.
The BJP needed to take a deep, humble breath and accept a basic fact, the reason people join politics: A share in the spoils of power.
The allies were given 'nothing' ministries.
The Akalis are the BJP's most loyal allies, and their ruling family's daughter-in-law is their only member in the Cabinet with the charge of food processing.
In her home state, she is derided as 'chutney-achar-jam-murabba' minister.
Do you remember Shiv Sainik Anant Geete's portfolio? No ally has been able to gift a governorship for its own faithful.
The BJP has run a coalition government but with winner-takes-all rules.
No surprise now it is letting events dictate its actions, like any other nervy incumbent, rather than be its usual, all-conquering cavalry, set for another big conquest.
By Special Arrangement with ThePrint