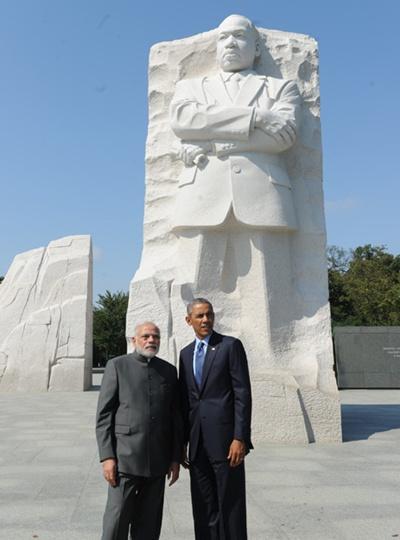 Obama's decision to visit India must be a result of his judgement that Modi is a man of action, feels Ambassador T P Sreenivasan.
Barack Obama's acceptance of Narendra Modi's invitation to be the chief guest at the Republic Day parade in 2015 is like Nixon's visit to China in 1972-- an unexpected and uncharacteristic initiative by a politician.
The visit will be immensely symbolic, but there is enough time for both sides to work out substantive agreements to transform the relationship. Modi has produced another rabbit out of his magician's hat, unleashing immense possibilities for India, the US and the world.
No one will know whether India had ever invited a US President to the Republic Day, ever since India began the practice of inviting foreign leaders to the parade in the fifties. Most likely, this is the first time that such an invitation was extended and, of course, this is the first time it was accepted.
Dr Manmohan Singh may have thought of inviting George W Bush, but the political climate may have not have been propitious for such an important initiative. President Bush had to go to Purana Quila, next to the zoo, to address the Indian people, as an address to Parliament was considered sensitive even after the nuclear deal was concluded.
Finding a politically correct head of State or government year after year for the Republic Day must be a minor headache for every prime minister. The chosen guest inevitably raises questions of appropriateness and propriety. Availability of the right dignitary is an issue when most heads are peripatetic.
When the jigsaw is finally resolved, the result may not convey the right message. We cannot go wrong with Bhutan, Mauritius and Russia, but even Sri Lanka can be tricky, depending on the temperature in Chennai and New Delhi.
France has been a favourite and has the unique distinction, with Bhutan, of having been invited four times. China and Pakistan are out of the question, particularly since 1962 and 1971.
There have been occasions when a dignitary backed out at the last minute and we had to resort to getting our all weather friends like Bhutan and Mauritius to fill in. Japan's Shinzo Abe's arrival last year was the most important political signal out of Vijay Chowk in recent years.
Modi's thought process in inviting Obama can be traced to the days when Modi was persona non grata in the United States. Having erased that chapter after the rock star reception he received in the Madison Square Garden, the next medal he could strive for was a visit to India by Barack Obama. It did not matter that Obama was considered a lame duck President by many.
Being a man in a hurry, he could not have waited till a new President was elected in the US. He calculated that Obama could not refuse the honour of being the chief guest at the Republic Day parade when India's hard and soft power would be on display. As for the domestic reaction, Modi is confident that the Congress will not oppose the visit and the Left parties are too weak to make much of a noise.
A visit to India at this time makes sense to Obama. He has just lost the mid-term elections and he is in a mood to assert his Presidential authority, as he has shown in dealing with immigration. Earlier, he had hesitated to take the immigration bull by the horns by saying that he was not an emperor, only a President.
American Presidents tend to behave like emperors in the last two years of their Presidency, whether they lost the mid-term elections or not. In a short ceremonial visit there is little risk of failure as it can be explained away. On the other hand, if substantive decisions are taken, it will be another feather in his cap.
Obama is free of the compulsions of the hyphenation of India and Pakistan, which prompted Bill Clinton to visit Pakistan almost stealthily for five hours after spending five days in India. No American President can even think of visiting Pakistan at this time. But Obama took the precaution of telephoning Nawaz Sharif to inform him of his visit to India and made a proforma promise that he would undertake a visit to Pakistan 'as soon as the situation normalises in the country.' They also discussed Afghanistan during the conversation.
Pakistan made an inevitable reference to India, including the suspension of the dialogue and firing on the border and urged Obama to raise the Kashmir issue with India.
The visit is likely to be substantive rather than ceremonial, given the developments between Modi's visit to Washington in September and now. Although some of our foreign policy experts said Modi got nothing out of the visit to New York and Washington, the signals were clear that the relations were on the upswing as Modi's priorities, foreign investment and strengthening of security coincided with America's strategic approach.
Many processes were set in motion during the visit and there are already signs of rapproachment like in the case of the WTO controversy. Having been rebuffed by China and Pakistan in his peace efforts, Modi chose to build bridges not just with the US, but also with Japan, Vietnam and Australia. He has not jumped on to the US bandwagon, but he appears to have developed linkages to counter China in the whole of the Asia Pacific, including the island States in the South Pacific.
Obama's decision to visit India must be a result of his judgment that Modi is a man of action and he is capable of taking decisive action to resolve the problems that have bedeviled India-US relations.
Even if the nuclear liability law may remain in the books, there will be enough compensation for the US by way of the 'Make in India' initiative, which will cover an investment friendly atmosphere and quick finalisation of arms deals. Like Nixon did in 1972 in China, Obama may find in India a golden opportunity to advance his country's political and economic interests.
It is rather unusual for US Presidents to reveal the precise dates of their visit abroad very much in advance. In the case of this visit, it became necessary to reveal the date of the visit, bringing in several security challenges. This must have been taken into account before the exchange of tweets between Modi and Obama to break the news to the world.
Image: Prime Minister Narendra Modi with US President Barack Obama at the Martin Luther King, Jr Memorial in Washington, DC, September 29, 2014.
Obama made an unprecedented decision to travel with a visiting leader to pay homage to the legendary hero of America's civil rights movement.
Ambassador T P Sreenivasan, (IFS 1967), is a former Ambassador of India and Governor for India of the IAEA. He is currently Executive Vice-Chairman, Kerala State Higher Education Council and Director General, Kerala International Centre. He has just published Applied Diplomacy Through The Prism of Mythology.
For earlier columns by Ambassador Sreenivasan,please click here.