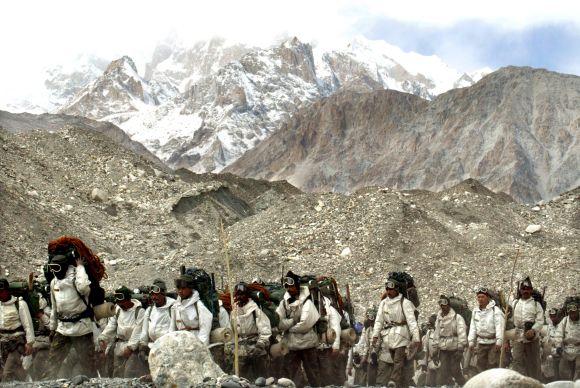 The Election Commission must ensure that soldiers, paramilitary forces and railway employees who work outside their home states are given proper avenues to cast their votes, says Colonel Anil A Athale (retd).
Like every election, soldiers doing their duty on the icy heights, at 21,000 feet on the Siachen Glacier, will be deprived of their fundamental rights as citizens. God and soldiers are remembered only in times of difficulty, but in India's case, they are also forgotten at election time.
The Americans go to any length to make sure that their soldiers, spread worldwide, get to vote.
The British ensured that polling booths were opened in the jungles of Burma for its soldiers during World War II in 1945.
On February 19, 2013, the Election Commission proudly announced that it had enrolled over 28,000 transgender voters. But the same Election Commission is deafeningly silent on the registration of soldiers and paramilitary personnel and how it is going to ensure that they exercise their right to vote.
I had taken up the case for soldiers voting rights through these columns.
The issue was raised a good two years before the general election of 2014, so that the Election Commission should not have the excuse of lack of time to carry out the necessary reforms. Except for a reply full of platitudes from the Election Commission, there has been no action.
Many others have been working on this issue. Rajeev Chandrashekhar, MP, has started a petition on this issue. The lawyer wife of an army officer from Pune, Neela Gokhale, filed a writ petition in the Supreme Court on December 13, 2013, seeking directives for an effective mechanism for the exercise of voting rights by armed forces personnel and their family members.
The petition was admitted in the Supreme Court and the Election Commission was directed to reply within four weeks. Much more time has passed, but the response -- if any -- from the Election Commission is not known.
The sad part of this drama is that if the courts cannot intervene soon enough, the Election Commission will have a ready excuse -- the lack of time -- to implement any measures.
In India's multi-cornered elections with its first past the post system and winner takes all regulation, votes have become extremely precious.
In the 2008 state elections Congress party candidate C P Joshi lost by just one vote, so did a candidate in the Karnataka assembly polls in 2004.
Some years ago, the person who cleans our car in Pune went all the way to Bengal just to vote. Two years ago, our maid servant, who hailed came from a village about 200 kilometres away, was sent a taxi to take her to vote in the village panchayat elections by one of the candidates.
No one should grudge the poorest or illiterate his or her right to vote, but does that mean an honest and useful citizen must be 'second class' and be denied her/his right to vote?
In any democracy, people get the government they deserve. The Election Commission seems oblivious to the need to provide a level playing field when it comes to the democratic rights of tax paying citizens.
Even the registration process is heavily loaded against educated and mobile professionals. The income tax returns and passport/PAN card are not accepted as proof of residence to secure a voter's card, but a ration card is. Very few in the middle class have that.
Migrant labour and slum dwellers get preferential treatment, they are also 'super voters'. They get to vote at their place of work -- be it Mumbai, Delhi or Kolkata as well as their native place in Bihar, Uttar Pradesh or Bengal.
The Election Commission has no mechanism to check double entry in voting lists even within a state, leave alone nationally.
The month-long staggered election schedule works in favour of these 'super voters'. Is it any surprise that the leaders from these states take more than a passing interest in their non-resident vote bank?
While the system favours internal migrants, highly accomplished and hardworking Indian citizens living abroad -- be it in the Gulf or the US -- have no chance whatsoever to vote in Indian elections.
The country eagerly awaits their inward remittances, a major chunk of our foreign exchange earnings, but voting rights is another matter. The Election Commission has made no effort to help overseas Indians exercise their right to vote.
Soldiers, paramilitary personnel, their families and police personnel are not the only victims of the Election Commission's lackadaisical approach. The Indian Railway employs 1.4 million people and doctors and hospital staff are similarly deprived of their right to vote.
The Election Commission's response has been postal ballots. Ballots that never reach in time and are seldom counted. Even the system of proxy voting tried out for armed forces personnel has met with limited success.
It is impractical for the personnel of all India services to constantly keep registering at every new place, every three four years!
Fortunately, technology today provides an answer to many of these problems. For the armed forces and paramilitary, the Election Commission could well device 'roving' vote gathering teams. These could go to various bases and register votes, constituency wise. Such teams should be accompanied by representatives of the national parties so as to ensure fairness in the process.
For the NRIs, the Election Commission should open similar centres at our consulates and embassies.
One very do-able reform of the electoral process is permitting early voting as well as late voting. It is well within the Election Commission's administrative capacity to open early and late voting booths at select locations like the district/ward offices and tehsil headquarters.
Late voting should pose no problem since the Election Commission spends almost a month in completing the election in phases.
The areas voting last may be at disadvantage in terms of the late vote, but that could be compensated by giving a longer period for early voting. This need not be an open ended process and could be limited to a week.
In order to check double voting, the Election Commission could consider holding the elections in urban areas with large concentration of migrants at the same time as the home states of migrants.
Early voting is practiced in many advanced countries and even a developing country like Thailand. The Election Commission could study their procedures as well the American system for overseas voters and implement it.
The Constitution has given full rights to the Election Commission for conduct and supervision of elections. These are statutory powers and not under the control of the government. While it is desirable if the Election Commission consults political parties, consensus or their approval is not a necessary condition to carrying out this reform.
These are practical and implementable suggestions provided the Election Commission is interested in increasing voter participation and the judiciary gives it the necessary push.
One hopes for the sake of Indian democracy that these two organs of the State do their duty, else the soldiers defending our borders, the paramilitary personnel who ensure a peaceful poll, rail employees who keep the wheels of the economy running and others on 24x7 jobs will be deprived of their voting rights in 2014 as well.
Image: Soldiers return after training on the Siachen Glacier.