Having made your point and got bail, it might be useful to reflect and reinvent your brand of journalism that am sure would still be unique, advises Sanjeev Nayyar.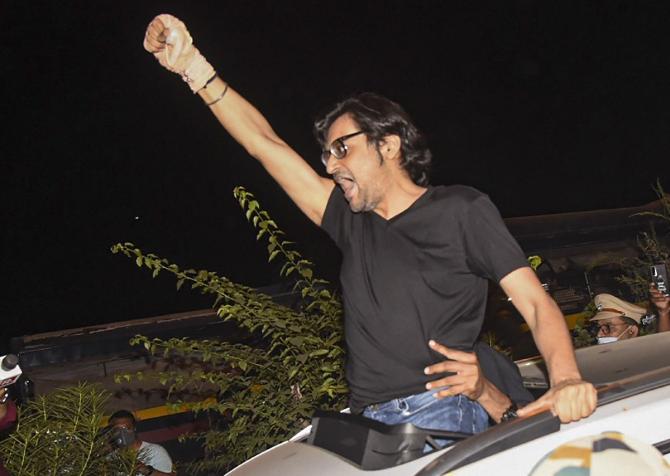 Mananiya Mahashoy Arnab
Many were happy to see you out of Taloja jail. They were happier to see that your spirit continued to remain high.
The Maharashtra government has helped you become probably the most famous Assamese in India. Although in all fairness this honour should go to Lachit Borphukan (external link), who defeated the Mughals in the Battle of Saraighat in 1671.
You are also probably the first entrepreneur-editor who was sent to jail in post-independence India.
Recently Anirban Chattopadhyay, editor of the Bengali paper Anandabazar Patrika, resigned (new link) days after being summoned by the Kolkata police, yet it did not create a national uproar like your case did.
The sort of sentiments your arrest evoked is unparalleled for which you have only the Maharashtra government to thank.
Their approach helped you earn public sympathy. The competition too helped your arrest get traction.
Having said the above, if you think your enemies have accepted defeat you are mistaken. It is important that you are more proactive in dealing with legal issues and cover your flanks.
You would be naïve to believe that those who wanted your release are all supporters of your way of television journalism and prime time debates.
Having made your point and got bail, it might be useful to reflect and reinvent your brand of journalism that am sure would still be unique.
Here are some humble suggestions:
Stop giving the Maharashtra government so much importance or taunting people by name. Focus on issues instead.
Since coming to power the state government is busy fighting COVID-19, Kangana Ranaut and Republic TV. Wish they had focussed onpeople's problems like managing COVID-19.
The best way to take revenge against opponents is to let your actions and work speak.
Thus, Republic TV could focus on what the government has not done, sufferings of the people of Maharashtra, cause of Sushant Rajput's death, West Bengal elections 2021, why Punjab may become a desert in 25 years, real cause of pollution in NCR, discriminatory nature of Articles 29/30, the Right to Education Act and use of temple funds by state governments, to name some.
Focus more on real issues. There are enough issues in our country to be raised and debated.
Please do not hound and harangue people physically on streets and in cars for sound bytes.
Even in emotional debates only one person should speak at a time.
Give fixed time slots for opening remarks and rebuts.
Defamation lines must not be crossed when making allegations without evidence.
Get a third party legal firm to do a compliance audit, especially with local government regulations.
Post-release you told employees that the Republic Media Network would launch news channels (external link) in every state language in the next 11-12 months and an international media project in the next 16-17 months.
Am sure your team have done the numbers and have an executable profitable plan. A word of caution nevetheless.
A former colleague who had worked on a regional channel plan for a television network, even though years ago, says, "Regional channels is easier said than done. It is not a viable business frankly unless you have deep pockets or large hearted supporters and interests. It's for buying leverage and power, not for business."
Like you, an Indian Army officer's son created an excellent bouquet of business, entertainment and Indian language channels only to sell out to a corporate house later because of being heavily in debt. The people of India would not like to see a repeat with Republic media network.
Arnab, you have at many more years of work life ahead. There is no hurry to launch all in the next 18 months.
You might like to consider doing a phased launch of regional news channels. This will allow your network to learn as you go along, reduce pressure on cash flows and manage growth better.
Your last employer erred in having only one prime time anchor in you and has been struggling ever since. Learning from that, Republic TV (English and Hindi) needs about two quality anchors besides you.
Also, today Arnab is Republic and Republic is Arnab. Remember fellow Assamese D K Borooah who said in the 1970s that India is Indira and Indira is India. If one sees the state of the Congress today, one might realise what was wrong with this approach.
Raising emotions, taking on the government are fine. but please realise that your network is currently 1,000 employee strong and growing. You owe it to them to provide job stability and build an organisation that outlives you.
We are concerned about you. So may I suggest you have five Ayurvedic herbs and spices regularly, -- Tulsi, Ashwagandha, Brahmi, Neem and Turmeric.
It might also be a good idea to recharge your batteries with a short holiday to Udaipur or Jaisalmer or Gokarna.
On return get a full medical check-up done.
Hope you will reflect on the above suggestions with an open mind.
Best wishes for Vikram Samwat 2077 and beyond.
Sanjeev Nayyar is a senior chartered accountant, ex Hindustan Lever, and founder www.esamskriti.com.