'The interests of the United States and India are sharply aligned on the issue of Pakistan-based terrorism.'
'In fact, assuming US-India security relations continue to deepen, Washington could in due course help enhance India's capacities to take out anti-India terrorists,' says Michael Kugelman.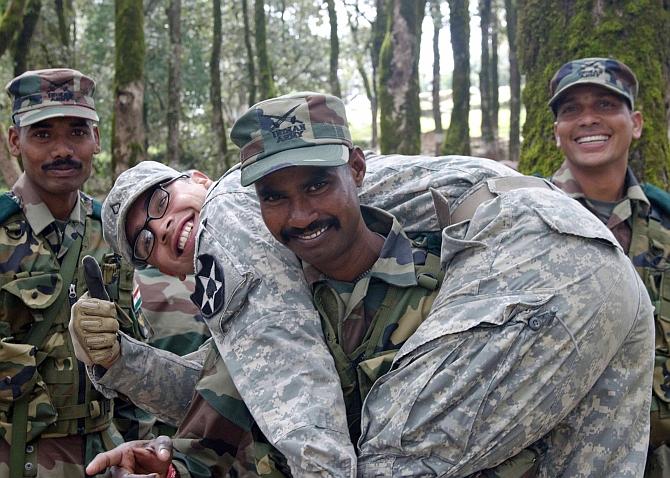 On Thursday, India may have fired the opening salvo of a new campaign of covert activities in Pakistan.
If so, it got off to a rather bizarre start.
India announced it staged a 'surgical strike' across the LoC that took out seven terror facilities and killed multiple terrorists. In effect, New Delhi went public -- in a big way, with press conferences and official statements -- about an operation that is typically kept under wraps.
It's easy to understand why India went public.
India's government needed to do something to convince the public that it is truly willing and able to act tough, not just talk tough, when it comes to Pakistan.
If it stages a covert strike and says nothing about it, then the public won't know about it -- and can't be convinced of its government's act-tough policy.
Much is unclear about this strike that India claims to have carried out -- particularly if Indian troops actually crossed into Pakistan-administered Kashmir or simply fired on it from the Indian side of the border.
And, in fact, there is no clear proof that the incident happened at all (though covert activities are not meant to leave evidence). Yet, for India, the lack of detail is immaterial. It's the incident itself that matters.
Then there was Pakistan's reaction: Utter denial. There was no surgical strike, the country and its media insisted. Instead, India had merely committed a LoC violation and engaged in cross-border firing, killing two Pakistani troops.
If, as Pakistan claims, India's operation was indeed a routine LoC violation, then the Pakistani reaction to it was anything but routine. Pakistani Prime Minister Nawaz Sharif decried India's 'naked aggression,' and called for a joint session of its parliament to convene next week. And it denied that anything happened other than cross-border firing.
Pakistan's denial of the strike, much like India's decision to go public about it, is easy to understand. If Pakistan acknowledges the strike, then it admits that India staged a major incursion into its territory -- an embarrassment for the Pakistani military that would resurrect memories of the humiliation it suffered after US special forces staged their raid on Osama Bin Laden's compound in Abbottabad.
There may have been a lot of surrealism and subterfuge surrounding India's claimed surgical strike and the response to it, but the implications are crystal clear.
First, the India-Pakistan relationship has entered a dramatic new phase.
New Delhi has telegraphed its willingness and ability to respond to Pakistani provocations -- and particularly terror attacks in India that New Delhi traces back to Pakistan -- with (limited) military force.
Immediate prospects for escalation will largely be determined by Pakistan's response. Will it do nothing and settle for more posturing and saber-rattling, a policy of relative restraint that would score it points in Washington but upset an angry public? Or will it mobilise more troops along the border? Or encourage its non-State militant assets to stage strikes in India?
Second, New Delhi can count on more support from Washington than would have been the case in previous years.
The US-India relationship is going places, and fast. Washington's public messaging in recent days has been notable for its strong pro-India stance.
After the Uri attack, the State Department said it stood behind India in its fight against terror. Then, more recently, a White House statement mentioned a phone call between US National Security Adviser Susan Rice and her Indian counterpart Ajit Doval that interestingly took place on September 28, the day before India's cross-border strike. It's worth quoting this statement at length:
'Highlighting the danger that cross-border terrorism poses to the region, Ambassador Rice reiterated our expectation that Pakistan take effective action to combat and delegitimize United Nations-designated terrorist individuals and entities, including Lashkar-e-Tayiba, Jaish-e-Muhammad, and their affiliates. In the context of the robust US-India partnership, Ambassador Rice discussed our shared commitment with India to pursuing peace and regional stability and pledged to deepen collaboration on counterterrorism matters including on UN terrorist designations.'
This rhetoric is miles away from the anodyne 'we-call-on-the-two-sides-to-work-their-differences-out-through-dialogue' official US statements of recent years.
This is not to say that Washington will implore New Delhi to stage more of these strikes -- but it is to say that Washington likely won't try to stop New Delhi from doing so.
The interests of the United States and India are sharply aligned on the issue of Pakistan-based terrorism. Additionally, as many in Washington like to point out, Americans died in the LeT-led attacks in Mumbai.
The US government appears to have lost patience with Pakistan and its refusal to crack down on terror groups on its soil that target Pakistan's neighbours. For this reason, it's not going to stand in the way of India's decision to take matters into its own hands and target these terrorists itself.
In fact, assuming US-India security relations continue to deepen, Washington could in due course help enhance India's capacities to take out anti-India terrorists -- through deeper intelligence-sharing and more weapons sales, including, perhaps, drones.
The third implication is that prospects for any type of India-Pakistan dialogue are officially dead for the more-than-foreseeable future. In fact, these prospects probably died after the Uri attacks -- a point amplified by Prime Minister Narendra Modi in a speech last weekend and underscored again in Foreign Minister Sushma Swaraj's speech at the UN General Assembly earlier this week.
Clearly, India has concluded that any policy space the Pakistani government may have enjoyed to meaningfully engage with India has now been completely eliminated. Such calculations likely figured in New Delhi's decision to stage its cross-border strike.
This isn't to say that tensions won't eventually subside, leading to fresh opportunities for a conversation. Though that's an outcome unlikely to materialise for quite some time.
What's in store for the immediate future?
Expect India to continue its efforts to isolate Pakistan diplomatically, both regionally and globally. This is admittedly a tall order, and particularly the global dimensions of this plan.
At the same time, also expect India to stage additional surgical strikes across the LoC in the coming weeks and months -- though without the fanfare and publicity that accompanied the one it claims to have staged on Thursday.
The question, as ever, will be how Pakistan chooses to respond.
A hot war between India and Pakistan remains unlikely, due to nuclear realities and capacity issues. Yet a covert war -- marked by Indian incursions into Pakistan to take out terrorists and terror attacks in India sponsored by Pakistan-based actors -- may already be under way.
What this means is that the anti-India terrorism that emanates from Pakistani soil is unlikely to be eliminated anytime soon, despite the new forms of pressure New Delhi is applying, both in the military and diplomatic realms.
Pakistan continues to provide an environment ripe for extremist ideologies, and its security establishment continues to have no incentive to sever its ties with the anti-India terror groups on its soil.
Meanwhile, India's heavy-handed shows of force in Kashmir give Pakistan a grievance to exploit, as well as a constant talking point that allows it to deflect attention away from its failure to crack down on anti-India terrorists, their facilities, and their sources of financing.
It's a reminder that the Kashmir issue, and the draconian and brutal tactics of Indian security forces there, continue to loom large in any discussion of India-Pakistan tensions.
IMAGE: An Indian soldier practices carrying techniques with his US counterpart during field trauma management training in the recent India-US military exercise in Uttarakhand. Photograph: Staff Sergeant Samuel Northrup/US Army photo
Micheael Kugelman is the Senior Associate for South and Southeast Asia at the Woodrow Wilson Centre in Washington, DC.