Our focus is not on substance, but communicating how we did not shake hands and how we made angry faces.
This is what India's foreign policy has become, notes Aakar Patel.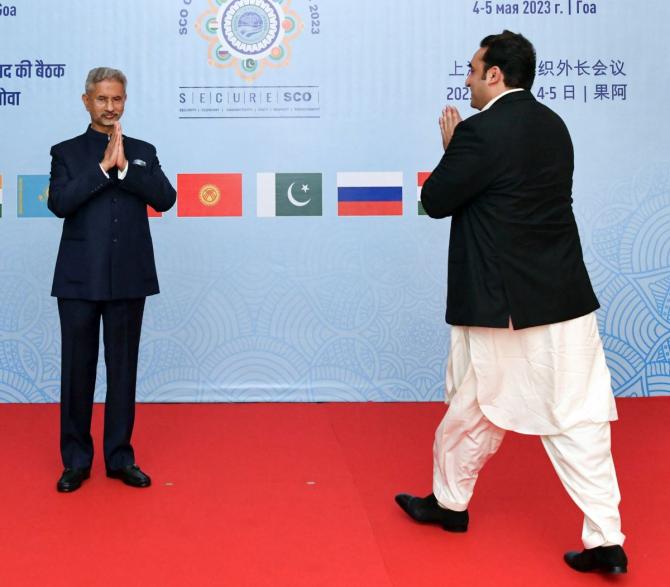 We hosted the foreign minister of Pakistan, a young dynast of the sort India is familiar with.
His mother, who was prime minister, was assassinated by extremists, his grandfather, who was prime minister, was assassinated by the judiciary and the army.
His uncles were assassinated, one by the police.
This is a person who has first hand experience of the dangers and problems of the sort of State Pakistan has formed itself into.
The story in Goa, of course, was the rude body language we apparently displayed to him, the apparent refusal to shake hands (and do namaste instead) and so on.
It was as if we were hosting someone unwelcome, which we were, and someone who had been forced on us with whom we had personal enmity.
He on the other hand though young appears to have acquitted himself well, going by some of the messages on social media, though I did not see the interviews he did.
He exposed himself to questioning by our journalists which our leaders do not do.
Let us turn to the issue, which is how we can improve relations with our neighbour.
The first question to ask is: Do we have any agency or do only they have it? This is worth considering because our position is that we can have no normalcy till they stop doing what they do.
Meaning that according to us, they are the ones who are in control of normalcy.
I have written before about the data on deaths in Kashmir from terrorism, which peaked two decades ago at over 4,000 and then fell each year under Atal Bihari Vajpayee and Manmohan Singh to go under 200 in a decade and remain there more or less in the years since.
Our government's view appears to be that all violence in Kashmir is externally induced and there is no local catalyst.
I say appears to be because it is not clear if we are saying this.
But if we are, then what we mean is that since there is no local component, we will only act on normalisation if violence becomes zero.
This is worth considering while we go through the options we have.
Former diplomat Satinder Lambah published recently a book called In Pursuit of Peace: India-Pakistan Relations Under Six Prime Ministers.
In it he lists the four point normalisation formula of then president Musharraf.
These were demilitarisation through phased withdrawal of troops, no change in the borders of Kashmir, free movement of Kashmiris across the Line of Control without independence and joint supervision in Jammu and Kashmir involving India, Pakistan, and Kashmir.
This did not go through. After this, under Manmohan another set of guidelines was produced by India.
These repeated all four of Musharraf's points and added more.
Three of these additional points were on trade: encourage meaningful across the LoC, removal of non-tariff barriers (meaning delays, inspections, red tape) for all locally produced goods, take measures to increase it and open more routes.
This did not go through either, of course, but it sounds like normalisation of the sort that would not only address our concern of violence against civilians and the armed forces but also be beneficial to our economy.
India produces goods that Pakistan (or for that matter Bangladesh) does not, but we cannot sell them these products because of trade barriers and reluctance to normalise.
Half of all manufacturing in India is in the automobile sector and the cars and motorcycles and tractors and rickshaws we have are cheaper than the ones sold there.
It would be in our interest to push for normalisation or at least to segregate normalisation on Kashmir from other issues like trade so that our economy benefits.
There appears to be no such desire, at least on the part of this government, as there was in the previous one.
And so in Goa, again we repeated our position, as we were expected to and this will continue into the future.
What Lambah said the government was considering in that period is no longer our thinking.
The other thing to consider is whether there is a second way of looking at the problem, and if the issue to be resolved is primarily in Kashmir rather than in Pakistan.
To go there we have to accept or at least have to consider the idea that if we resolve the problem inside then external mischief has limited efficacy.
This does not appear to be our understanding.
We assume that if Pakistan were to stop acting against us or were to somehow vanish from the face of the earth today, then from tomorrow there would be no need to maintain a heavy military and paramilitary presence in Kashmir.
This is either touchingly innocent or bafflingly stupid. However it is the position of the government, and not only this one.
So long as this line of thinking continues, and it is not difficult to see that it will, there will be no movement on our relations with our neighbour.
We have told ourselves that the key to the solution is with them and they are refusing to use it and because they are refusing to use it we will not talk to them.
Having thrown away our agency, our focus is not on substance, but communicating how we did not shake hands and how we made angry faces. This is what India foreign policy has become.
Aakar Patel is a columnist and writer and you can read Aakar's earlier columns here.
Feature Presentation: Aslam Hunani/Rediff.com