'Completely disregarding ground reports of starvation deaths owing to Aadhaar and potentially disguising these deaths to look like accidents appears brutal,' says Rajendran Narayanan.
Illustration: Dominic Xavier/Rediff.com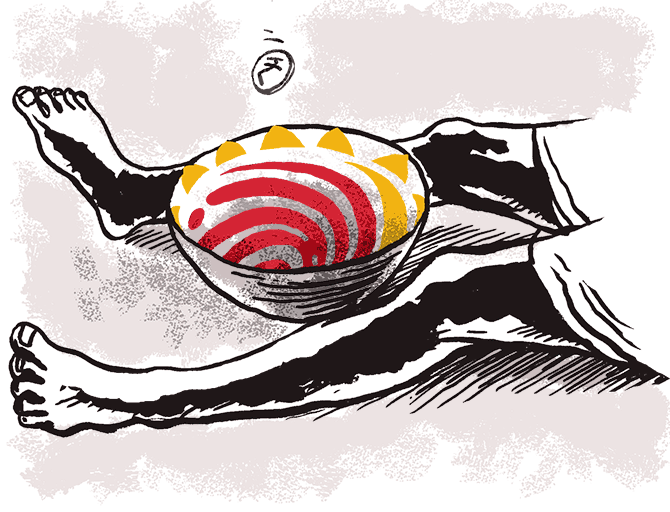 There have been repeated comparisons between Aadhaar and the Social Security Number (SSN) in the United States. Such attempts don't just compare the ideas of identity but also distinguish between the origin of the dissenting voices against Aadhaar and SSN.
It has been argued by some that the opponents of SSN were informed by right-wing ideology while those opposing Aadhaar are being led by a small group of Left-leaning activists.
First, there is a big difference between SSN and Aadhaar.
Till 1961, just like Aadhaar, the Internal Revenue Service used SSN to identify taxpayers without any legal framework.
In 1977, under the presidency of Jimmy Carter, SSN stopped being used as an identification document. It has since been used as a permit to work.
SSN does not establish anyone's identity. There is no correlation between the identity of the person presenting the card and the owner of the card.
However, Aadhaar is a unique digital identity that is being used to authenticate people.
Given that Aadhaar is a central compass connecting all data silos, it precludes the choice of an individual to exist in data silos.
The idea of transparency dictates that the State needs to be transparent to citizens and not the other way around.
This is at the heart of the 'Right to Privacy'.
Second, there is a misplaced notion that Left-leaning activists, a term perhaps used pejoratively in this context, are the only ones resisting the blind imposition of Aadhaar.
Such a one-dimensional categorisation of Aadhaar's opponents lacks nuance and obfuscates the core issues thrown up by Aadhaar.
It is important to frame the debate in the context of more democratic governance and no exclusion, as opposed to false binaries and collapsing unaries.
Sometimes, simpler existing systems produce better results than a blind move towards technocracy without testing the validity and reliability of one-size-fits-all technocratic solutions such as Aadhaar.
There is a high incidence of individuals' biometrics being used by operators to siphon off pension money and NREGA money from rural citizens.
The Web sites, in this situation, would indicate that money has been successfully paid to the beneficiaries; but in reality, it is held by payment intermediaries.
Take another example -- getting rations.
Aadhaar was meant to eradicate fraud in rations. However, it is common knowledge that the primary kind of fraud in the Public Distribution System is quantity fraud and not identity fraud.
Aadhaar has absolutely no way of checking quantity fraud, because there are numerous situations when the biometric authentication indicates a success but the dealer does not give rations to beneficiaries.
A utopian techno-fix like biometrics has meant that several old women and people with vulnerabilities have to walk several kilometres to their dealer.
Assuming that there is electricity when an old woman visits the dealer, assuming that there is network connectivity, assuming her fingerprints haven't eroded, and assuming the dealer is fair, she will be able to draw her entitlement.
Failure of any one of these steps means that she is denied rations. The side-effects of such so-called teething problems can be as innocuous as death.
There has been a spate of starvation deaths in the last few months owing to such technical glitches. Earlier, a woman would have sent somebody with her ration card without problems.
Consider the case of Premni Kunwar who died of starvation on December 1, 2017 in Jharkhand.
Despite successful biometric authentication, she was not given rations in November. Her Aadhaar number was linked to the pension account of a dead person (Santi Devi) in a different SBI branch in September 2017.
Santi Devi had died 25 years ago.
At the time of my visit to the SBI branch on December 22, the last update of the KYC details of Santi Devi's bank account had taken place on December 7.
The official UIDAI inquiry on this matter took place on December 8.
Completely disregarding ground reports of starvation deaths owing to Aadhaar and potentially disguising these deaths to look like accidents appears brutal.
The implications of such a callous approach to techno-centric policy-making violates Constitutional principles of Right to Life and is at odds with the Directive Principles of State Policy -- a set of fundamental guiding principles for the country which state that 'it shall be the duty of the State to apply these principles in making laws'.
In particular, the Right to Adequate Means of Livelihood and Right to Work are significant in this context. It is explicitly spelled out that it is the duty of the State to create a social order to promote the welfare of the people.
There is much at stake for a flourishing democracy when under-trial inmates of prisons are allegedly coerced to get Aadhaar numbers.
The Big Brother-style panopticon isn't fictional any more. It is alarming that the present government continues to trample on the fundamentals of our Constitution.
Rajendra Narayanan is Assistant Professor, Azim Premji University.